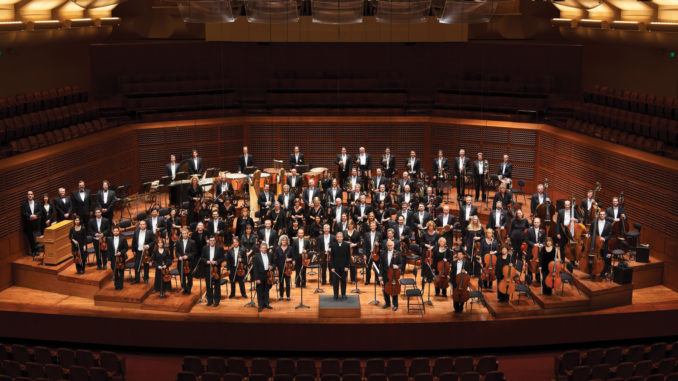 When Michael Tilson Thomas and the San Francisco Symphony programmed the pieces for this week's performances, they could not have known that Russians would be front and center in the news. Let's just consider it a happy coincidence that we get to meet three Russians from the comfort of Davies Symphony Hall, without even a hint of scandal.
The program opened with an unusual piece, written in 1926, but receiving its San Francisco Symphony premier performance: Gnesin's The Jewish Orchestra at the Ball in Nothingtown. Mikhail Fabianovich Gnesin (1883-1957) was a pioneer of Jewish art music and a major Russian composer of the early part of the 20th century. This light-hearted collection of short pieces is the incidental music to The Inspector General, a famous satirical play. Tilson Thomas seemed right at home conducting music from the Yiddish theater, having grown up in that environment, where his parents, grandparents, and even his great-grandparents worked. This piece for small orchestra, including harpsichord, incorporates a Slavonic dance, some Gypsy tunes, and even Klezmer music. It was a nice opening appetizer, though the mood of the concert was about to change dramatically.
In contrast to the Gnesin's light tone, the next work on the program was extremely dark and brooding. Dmitri Dmitrievich Shostakovich (1906-1975) wrote his Cello Concerto No. 1 in E-flat Major for, and dedicated it to, the famous cellist Mstislav Rostropovich in 1959. It is widely considered one of the most difficult of the major cello concertos.
Having already been denounced by the Soviet government twice in his lifetime, one might think that once Stalin was gone and Khrushchev was in power that all would be well for Shostakovich. If you listen carefully you will hear him tell that this is not the case. He wrote his music in a way that followed the "standard" rules set by the censors, but still managed to convey the message that all was not well. You can hear the claustrophobia in the music, the lack of freedom – and you can decipher his clues with a little sleuthing.
One such hidden message that Shostakovich used in several pieces, including in three movements of this cello concerto, was to employ his signature as a theme – the so-called DSCH motif.  (To understand the Dmitri SCHostakovich motif, think in terms of German musical notation. The German notes D-ess-C-H correspond to our D-Eb-C-B.) . In this case, the work begins with the cello playing a variation of that theme. The notes in this theme are very stark and even jolting. To illustrate their impact, Shostakovich's music featuring this motif was used in a movie score as Soviet soldiers were marched to their deaths at the hands of Nazis. The second theme is equally dark. It is based on a folk lullaby – the same tune that Mussorgsky used in Songs and Dances of Death, where Death is singing the lullaby to a sick child.
The entire third movement is an unaccompanied cello cadenza. This highly intricate and extremely difficult movement allows the soloist to take us through many emotions. The soloist was Gautier Capuçon, the award-winning, 35-year-old from France who has performed with leading orchestras around the world. The audience, highly appreciative of his interpretation, gave him a standing ovation and brought him back on stage several times with their applause.
Closing the concert was Tchaikovsky's Symphony #6, the Pathétique. Piotr Ilyich Tchaikovsky (1840-1893) wrote this, his final symphony, in 1893. In fact, he conducted its world premier just nine days before his death. The symphony's second performance, just two weeks after its premier was part of the memorial concert for its composer. This symphony has become somewhat of a war horse and has appeared regularly on San Francisco Symphony programs since they first performed it in 1911, at their very first concert.
What is most unusual about this symphony is that it is constructed inside-out, in comparison to most other symphonies. Typically, such a work will open with a loud, moderate or fast first movement, then have a slow, quiet second movement, a light third movement, and then finish with a fast, loud fourth movement. There is often a robust ending that seems to go on and on until the final fortissimo chord. But this symphony is different. Here, the first movement starts with the low strings quietly entering, providing a thick, primordial fog from which the themes slowly emerge, like a swamp monster crawling out of a bog. Here we get to hear Stephen Paulson, principal bassoon, deftly introduce the theme. Later, Carey Bell, principal clarinet, plays what must be the quietest solo ever written for a clarinet, almost imperceptible if you are not listening closely.
Then, the second movement is faster, and the third movement is faster still. In fact, the third movement ends with a very fast (allegro molto vivace) tempo and a loud, glorious, lengthy ending which resulted in about half the audience breaking into applause at the end, thinking that must be the end of the entire symphony. Someone (was it an orchestra member?) then yelled "encore," eliciting smiles from orchestra members and audience members alike.
But Tchaikovsky has one more movement for us. The fourth movement goes back to a slow tempo again, but this time even slower: adagio lamentoso. And, as the fourth movement ends, we return once again to the slow, quite low strings, as the swamp monster returns into the hole from which he emerged at the start, and the symphony just fades into oblivion (marked morendo – dying away). Did Tchaikovsky have a premonition of his own pending fate?
The Inside Music Talk given by Peter Grunberg, Musical Assistant to Michael Tilson Thomas, one hour before the performance was an excellent introduction to the evening's music. If you attend an SF Symphony concert, be sure to take in the pre-concert talk as well. It will be sure to enhance your enjoyment of the program.
Upcoming Concerts
Monday, March 6 – Friday, March 10
Thursday, March 9
Thursday, March 9 – Sunday, March 12
Saturday, March 11
Monday, March 13
Thursday, March 16 – Saturday, March 18
Davies Symphony Hall
201 Van Ness Ave
San Francisco, CA 94102
415-864-6000
[email protected]
All photos are ©San Francisco Symphony, unless indicated otherwise. All photos are used with permission.