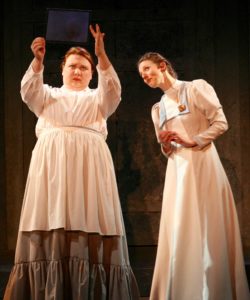 Most textbooks on the history of astronomy—or any type of history, for that matter—feature almost entirely male names and faces. Limited historical opportunities for women contribute to this, of course, but so too does the erasure of significant women from history. Most of us have heard of the Hubble Space Telescope and of the astronomer for whom it was named, Edwin Hubble. But few have heard the name of the woman whose work made Hubble's research possible—Henrietta Swan Leavitt, a brilliant early twentieth century astronomer whose refusal to allow her gender to stand in the way of her research lead to one of the most important astronomical discoveries of the era. Leavitt's story is told in Silent Sky, a play by Lauren Gunderson now being produced by First Folio Theatre.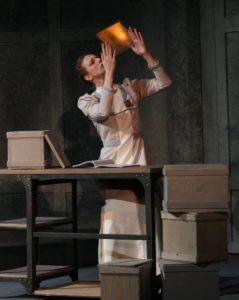 The play opens with Henrietta "Henry" Leavitt using the money set aside for her dowry to move from Wisconsin to Boston to accept a job as a "computer" at Harvard. She soon finds that the work is not what she expects, however, as she and the other two women employed by the department, Annie Cannon (played be Jeannie Affelder) and Williamina Fleming (played by Belinda Bremner), are working on tedious cataloguing of star positions rather than pursuing research of their own. She is prohibited from using the facility's state-of-the-art telescope. Still, Leavitt persuades her supervisor to allow her to stay after hours and do her own research, which ultimately leads to the discovery of the correlation between certain stars' brightness and the pattern at which they blink. This knowledge later led to scientists' ability to measure our planet's distance from other celestial bodies and to proof that the Milky Way is not the only galaxy.
It's also worth noting that Leavitt was hearing impaired, and the play does not shy away from this but rather incorporates it into the storytelling. Leavitt's use of a hearing aid, while it does not play a central role in the show, is still a realistic part of her reality onstage. In this way, Silent Sky offers representation not only for women in science, but also for those with disabilities.
Playwright Lauren Gunderson's writing is straightforward for the most part, and it gets the job done. Occasionally, though, like stars amidst an infinity of blackness, beautiful moments pop out of the text. For example, after a moment of personal crisis, a character advises Leavitt to gain some perspective, saying "you of all people should know that it's impossible to tell whether something is big and bright or just close." Gunderson clearly has the ability to do smart things with language and generate genuine insight in her writing; it's a shame this doesn't extended throughout the entire play.
The show's greatest flaw is its insistence on dedicating a significant amount of stage time to the unrealized romance between Leavitt and junior research assistant Peter Shaw. Not only do Cassandra Bissell (who plays Leavitt) and Wardell Julius Clark (who plays Shaw) have absolutely no chemistry, making the romance feel forced as well as unnecessary, but it also seems disingenuous, in a play seeking to reclaim a forgotten woman of history, to place so much emphasis on a man, particularly one who ultimately is but a footnote in the story of Leavitt's extraordinary life.
Frankly, Shaw's entire character could have been eliminated with no effect on the play's quality; in fact, it might even improve the storytelling by making it more focused. The conflict between personal life and work is more than adequately exemplified in the relationship between Leavitt and her sister Margaret, who chooses to stay in their hometown in Wisconsin and make a life as a wife, mother, and caretaker to their aging father. The additional conflict of the stilted romance between Leavitt and the only male character in the play is both unneeded and uninteresting.
Actor Cassandra Bissell shines as protagonist Henrietta Leavitt. Particularly delightful is her vivid portrayal of Leavitt's passion for her work; when she talks about her research and her fierce desire to understand the universe, Bissell lights up from within, her animated vocal and physical choices making the character's enthusiasm utterly infectious. Hayley Rice also gives a strong performance as sister Margaret. The rest of the cast is adequate but not particularly remarkable.
Lighting design by Michael McNamara is understated but effective. A particularly stunning lighting moment takes place in the final moments of the play, with images of the galaxy projected throughout the space. The rest of the design is simple and does what it needs to do.
Silent Sky is not the world's most brilliant play, either as a script or in terms of First Folio's production. Still, the story is an interesting one. Henrietta Leavitt's life deserves recognition, and Silent Sky certainly offers that. It's an average play about an exceptional woman.
Ticket Info
Location: The Mayslake Peabody Estate, 1717 W. 31st St., Oak Brook
Dates: March 29 – April 30, 2017
Times: 8pm Wednesdays, Fridays, and Saturdays; 4pm Saturdays; 3pm Thursdays and Sundays
Tickets: $29 Wednesdays and Thursdays (seniors and students are $26) and $39 Fridays through Sundays (seniors and students are $36). Tickets can be purchased by phone at 630.986.8067 or online at the First Folio website.
All photos by D. Rice.