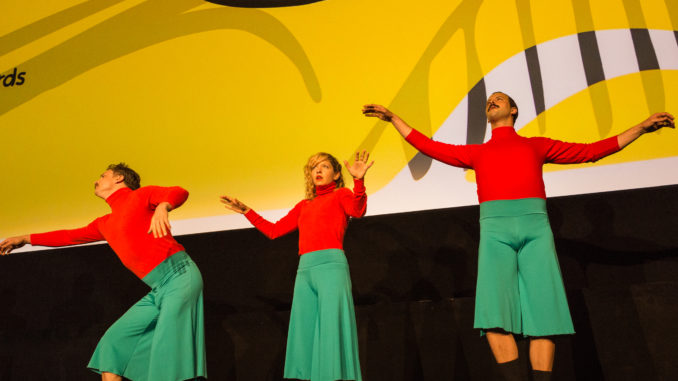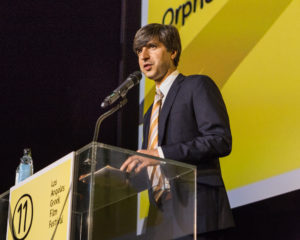 The 11th Annual Los Angeles Greek Film Festival came to a close Sunday, June 11th, after five jam-packed, fun-filled days of events and screenings. The day began with an exclusive brunch, graciously hosted at the home of Gregory Karahalios, Los Angeles Consul General of Greece, and ended with an evening of events, screenings, honors, and awards at the Orpheus Awards ceremony at the Graumans Egyptian Theatre, in Hollywood, hosted by writer/producer/director Demetri Martin ("Dean").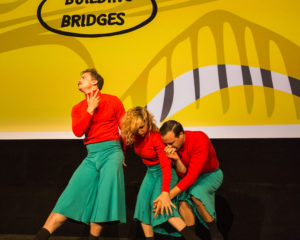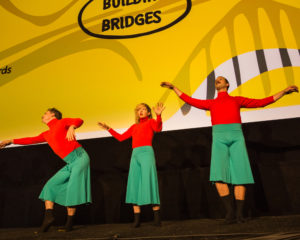 Opening Sunday evening's show was John Gilkey's comedy acting ensemble Wet The Hippo who warmed the audience up with a tribute to film via Tyler Watson while Pearl Merrill, Max Baumgarten, and Eli Weinberg punctuated Watson's speech with their own kind of interpretive dance, impassioned monologues, and absurdist humor of this year's festival themes, "Building Bridges" and "10+1".
Festival Creative topper Aris Katopodis and producer Eleni Arvaniti thanked the filmmakers and sponsors before show's host Martin took the stage. Earth Friendly Products (sponsor for the festival since its inception), Kelly Vlahakis-Hanks handed out the evening's first awards with the Van Vlahakis Best Short Film Orpheus (named after her late father and Festival supporter), with the statue going to Vangelis Liberopoulos' "Play". Special Jury Award went to Konstantina Kotzamani's "Limbo".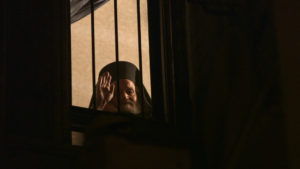 Actor Simon Kassianides ("Unforgettable") presented the Jury Orpheus for Best Documentary award to Director Producer Danae Elon's "Patriarch's Room":
Story: The patriarch of the Greek Church in Jerusalem is imprisoned in his room for over a decade. Demoted to the rank of a simple monk after being accused of selling church lands to Jewish Settlers, he claims his innocence. This well-deserved multi award winning documentary is fascinating, and extremely well researched!
Special Jury Award was picked up by duo Dim Papageorgiou, Alexandros Spathis for their documentary "Janus: Refugee Passage to Europe".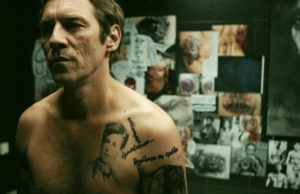 Feature Jury members director Steven Bernstein ("Decoding Annie Parker"), and Variety's Peter Caranicas awarded Yannis Sakarides' hard-hitting drama and opening night film "Amerika Square" Best Feature Orpheus.
Story: A thought provoking, excellent feature film that takes place in Amerika Square in Athens. It's the Casablanca of our times, a triptych, revealing the opposing forces of today's humanitarian challenges. Two friends, Billy (Yannis Stankoglou), a tattoo artist, and Nakos, a "banal" Greek racist come head to head in Amerika Square because of the survival journey of Syrian refugee Tarek, an ex-Military doctor looking for a deal to smuggle out of Greece with his daughter. Nakos has had enough of the thousands of refugees in his neighborhood in the center of Athens. Billy falls in love with Teresa, an African singer who is also looking for an escape by sea. The three stories merge while time is running out for everyone. The film vividly portrays the nightmarish illegal journeys, hopelessness, despair of displaced refugees, and the multiple possible problems confronting them through xenophobia, racism and misunderstanding.
Unfortunately it was impossible to see all the offered screenings, but here are some that I was able to attend and enjoy: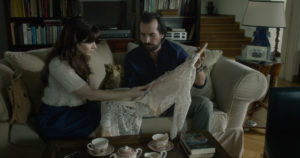 Roza of Smyrna: Izmir 1922: Young Roza is preparing to get married. Athens today: the passion of a young collector leads him to the coast of Asia Minor. An old photo and a wedding dress is enough to unfold an old and new love story. An interesting voyage of discovery. Directed by George Kordellas.
A Scream that's Trapped Inside: An unfaithful wife comes back home from her husband's funeral to experience a mind game full of guilt. Memories, thoughts and self-criticism are messing with her head and lead her in an agonizing experience with the paranormal. Some notes lead to an anniversary present from her husband whose promise was to be always by her side no matter what. Short documentary by Director Savvas Christou.
Last Song to Xenatia: A heartwarming, emotionally evocative, scenic documentary by Director/Producer Athena Scotes of her 103-year-old folk poet Grandmother Vasiliki's return to Greece for her last journey to her homeland with her book of folk songs and a message of hope. Vasiliki left her homeland as a bride during the Great Depression in search of a better life in America. The Greeks call this xenetia, meaning "to live as a stranger in a foreign land". Nurtured and sustained over the years by an ancient oral tradition, she dictates from memory at the age of 100 more then 340 songs and poems that are published in a book. At the age of 103 she returns to a Greece in crisis once again, hoping that these songs can live on to inspire a new generation facing the same question whether to stay in their homeland or depart once more for xenetia.
Athena Scotes has lived and studied in many countries and has a BA in Anthropology and Sociology, and a Masters in Psychology.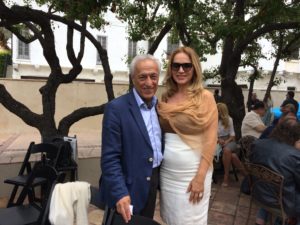 Our own Maria Callas: This Maria Callas dramatized documentary is a voyage to the mystical world of Maria Callas, the soprano we all know. Her life was one with the roles she interpreted. Medea, Norma, etc. Drama rules supreme. The glory from her art only gives way to the love for life. Rejection, pain, loneliness follow. Towards the end she returns to Greece. This film required the selfless work of hundreds of volunteers, while it was filmed in Neohorion Oihalias, place of origin of Maria Callas, Meligala, Kalamata, Tripoli, Athens, New York City, Verona, Milano, Paris and the island of Scorpio.
Marvelous music and clips of actual performances, and magnificent scenery.
Direcotor/Writer Babis Tsokas. Actor Kelly Makropoulou. Documentary.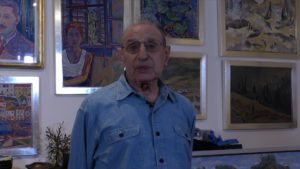 The Artist Vassilis Theocharakis: A documentary about the great love affair of Vassilis Theocharakis with painting and his devotion to it for over half a century, that made him unique, because he succeeded in both realms —business and art. Magnificent scenery and background music. Director/Screenwriter/Producer/Director of photography: Yannis Vamvakas.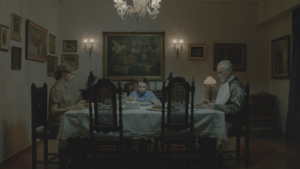 Special Jury prize went to the closing night film by Elina Psykou – "Son of Sofia": A dark fairy tale featuring 11-year-old Misha, a young Russian boy who is brought to Athens by his mother to live and is surprised to learn she has remarried. Misha's imagination soon takes over to protect himself from his new life and he creates a journey that pits make believe against stark reality.
Constantinos Farmakas won Best Performance honors for his riveting portrayal of a young boy coming of age in "Boy On The Bridge" directed by Petros Charalambous. Special Jury award went to Evangelia Andreadaki for "SMAC" directed by Elias Demetriou. Araceli Lemos, head of The International Project Discovery Forum (IPDF) which focuses on developing projects from Greece and the Balkans gave this year's Aegean Award to Hasan Serin's "I Will No Longer Be Someone Else", and the MFI Script2Film Scholarship to Thelyia Petrakis' "Brazil". With her to present the awards was last year's IPDF winner Nazli Elif Durlu. IPDF, the youngest sidebar in the festival, just celebrated its fifth year with Lemos at the helm. Christos Vassilopoulos ('The Last Ship', 'Banshee') presented the Audience Orpheus Award to  Sotiris Tsafoulias' "The Other Me." 
Paramount CEO/President Jim Gianopulos ended the evening presenting Oscar-winning writer/producer/director Alexander Payne with the 2017 Honorary Orpheus.
The evening finished with Greek delicacies and dancing under the Hollywood stars. Bravo to the many people who worked very hard and are to be congratulated, once again, for putting the remarkable 5-day LA Greek Film Festival together so successfully.
Here's the list of Orpheus Award Winners:
11TH LOS ANGELES GREEK FILM FESTIVAL
ANNOUNCES 2017 ORPHEUS AWARD WINNERS
AUDIENCE AWARD "THE OTHER ME"
ORPHEUS BEST FEATURE FILM   "AMERIKA SQUARE"  
ORPHEUS BEST DOCUMENTARY "PATRIARCHS ROOM'
VAN VLAHAKIS ORPHEUS BEST SHORT FILM   "PLAY"
ORPHEUS BEST PERFORMANCE   CONSTANTINOS FARMAKAS
IPDF AEGEAN AWARD
HASAN SERIN "I WILL NO LONGER BE SOMEONE ELSE"
MFI SCRIPT2PITCH RESIDENCY
THELYIA PETRAKI "BRAZIL"
ALEXANDER PAYNE 2017 HONORARY ORPHEUS AWARD