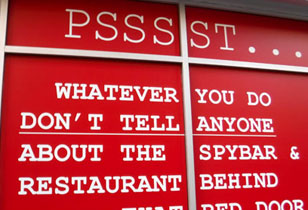 My husband and I had the opportunity of exploring the Safehouse Chicago restaurant.  No longer will Chicagoans need to spend the time to go to Milwaukee where Safe House Milwaukee has been in place for more than 50 years.  One might think that a safehouse related to the early part of the 1900s, that it is a speakeasy but they would be incorrect; Safehouse is a spy restaurant where missions are assigned and completed and where entrance isn't a given.  You need your code name so check the Safehouse Chicago website (for important information) before you go.  It is a great place for spies, young and old.  My friend's seven-year old grandson celebrated his birthday there with 20 of his best friends, spies, all.
The Safehouse story from the website: "On orders from Control, Station Chief OH-OH-7 opened the original Milwaukee SafeHouse in 1966. His vision was to provide a safe refuge for spies everywhere. He located his SafeHouse in an alleyway marked with a nondescript sign as International Exports, Ltd. Agents have spread the word about its tasty spy-food and crafty cocktails and now, 50 years later, the SafeHouse has extended its operations to Chicago."
Once approved, down the stairs you go into a spy haven.  Electronics are everywhere keeping you up to the minute on your mission, and showing you where you are in the world. Looking in every direction, there are things to see, to learn from and much to amuse you.
Agent Wanderful made sure that my husband and I did not miss a thing in this extremely well thought-out "den".  There was a "Spy Bar" where you can see a collection of items (some replicas) of spy equipment made famous and used in spy missions.  If you visit Wednesday through Sunday, you will have the opportunity of seeing a magician at work here.  A memorial wall commemorates spies who lost their lives in service.  A bank of windows from a downed spy plane is incorporated into the décor.  An interrogation booth has a special purpose- watch out!  Dials, maps, visuals keep the mission current.  Puzzles, assignments and games challenge visiting spies.  A library contains books and more memorabilia including a signed section from the Berlin Wall.  Another bar, serves drinks including a beer that can't be found elsewhere.  There is even a little gift shop to help you remember the time you "came in from the cold".  I almost forgot- you should not leave without a visit to the lady's or men's room.
The food was almost incidental but not quite.  It was very good and also, fun.  My husband began the dinner with an agent-chi drink.  It comes complete with hypodermic needle, the purpose of which you surely know.  Fortunately, he enjoyed his drink very much and so we could get on with the orders for food.  (Safehouse menu)
My husband ordered comfort food, a Mata Hari's Meatloaf. The portion was substantial. It was flavorful, came with tasty gravy and delicious mashed potatoes.
I ordered a gluten-free salad that was adjusted to my vegetarian request.  The Colombian  – "This South American dish is just as complex as the cartel. Shredded lettuce served with your choice of house-seasoned beef or house-smoked chicken. Topped with black bean corn salsa, shredded cheddar jack blend, pico de gallo, avocado crema, and topped with seasoned tortilla strips. Tossed in a chipotle ranch dressing
Gluten-free".
Slightly spicy, the salad was generous, substantial and filling.
Our dessert was a spectacular surprise and fun to eat.  Try it.  You will like it.
Once we complete another mission and are ready for respite, the Safehouse Chicago is on the top of our list  Any spies living in or visiting the Chicagoland area, should be sure to include Safehouse Chicago in their plans.
Photos:  B. Keer unless otherwise noted.