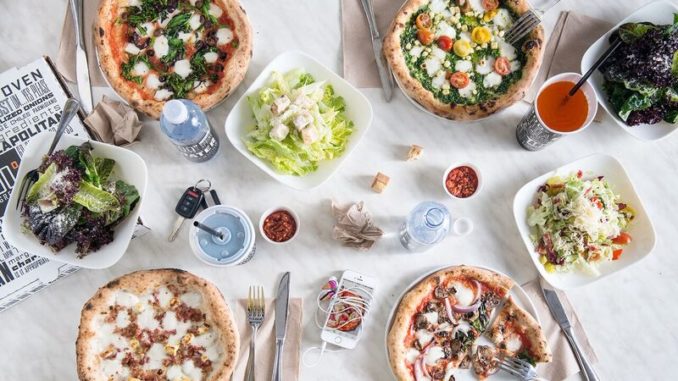 Lets be honest, when it comes to luxury dining establishments LA just gets it! Adding a new restaurant that is pure global culinary infusion at its finest, 800 Degrees Hollywood recently expanded their menu at their prime location – in the heart of the city!
Since 2012 800 Degrees has been turning up the heat on its competitors. Known for their authentic Neapolitan-style pizzeria, the chain has added a few heavy hitting items on their menu which is sure to have your taste buds rising.
Founded by Corporate Executive Chef Anthony Carron in partnership with the new C.E.O Tommy Lee 800 Degrees has a few items that come just in time for Summer. To further their growth the establishment also has a new look. Guests can enjoy cocktails or their dishes on the expanded patio which has dim lighting adding to the chic ambience that Hollywood prides itself upon.
So what can guests expect at the eatery? Pure decadence, fresh ingredients of course, and a plethora of flavors as you've never imagined. What did you expect? After all Chef Anthony Carron serves up over 20 years of culinary experience as both an entrepreneur as well as a sous chef position at Michael Mina's highly acclaimed San Francisco restaurant, AQUA. During his tenure, Carron developed and opened more than a dozen high-profile, fine-dining restaurants throughout the country, while simultaneously managing a portfolio of nearly 20 operating units, until he left the Mina Group 2011 to launch 800 Degrees in 2012.
The menu boasts a vast variety of items with an array of flavors inspired by various flavors that compliment the menu as a whole. They recently decided to introduce Rotisserie Chicken at 800 Degrees Hollywood to allow their guests a bit more variety when dining at the restaurant, also paying homage to the longstanding tradition between pizza and rotisserie chicken in Naples, Italy.
"My inspiration for adding rotisserie chicken to the 800 Degrees Hollywood menu was driven by a visit to Isola d'Ischia, an island off the coast of Naples, where I visited many rosticceria and pizzerias," says Carron. "After visiting many more pizzerias and delving into the history of cuisine in Naples, I noticed a connection between pizza, rotisserie chicken, and the use of that chicken on pizzas and salads. I couldn't wait to incorporate my findings on our 800 Degrees Menu and I am very excited to introduce Rotisserie Chicken to our 800 Degrees Hollywood location."
The chicken can be served as a whole, quarter, or as a plate with two sides. The sides are savory staples that you won't want to miss. Rotisserie Roasted Fingerling Potatoes, Brussels Sprouts, Hummus, Farm Greens, or Quinoa Tabbouleh.
There are six different dipping sauces that accompany the chicken are, of course, delicious. The Peruvian Jalapeno-Cilantro Sauce reminiscent of a Peruvian "Aji" sauce made with jalapeños, cilantro, lime, mayo and garlic, producing spicy and cool flavors at the same time. The 800 Degrees Barbecue Sauce is a top-secret homemade version of the American classic, and the Tahini Sauce is a classic Middle Eastern tradition made with tahini paste, garlic and olive oil. The Spicy Tomato Sauce features uncooked Roma tomatoes, blended with garlic, olive oil and Calabrian Chile, and the Calabrian Chile Aioli includes Italian chiles blended with herbs, spices and aioli. Lastly, the Piri Piri Sauce is one of the most popular sauces for chicken around the world featuring a tangy blend of citrus, chiles, garlic, onion, herbs and olive oil.
If THAT alone doesn't make you want to drop everything and order one of everything off of the menu, then the sheer fact that they also have added a list of handcrafted classic cocktails to their menu will. The jalapeño margarita, which is a MUST, is perfect for a sunny day in SoCal.
Grab your friends and get your palette ready! The new additions at 800 Degrees Hollywood is worth the hype!
800 Degrees Hollywood
11:00AM-2:00AM
1521 Vine Street
Hollywood CA, 90028