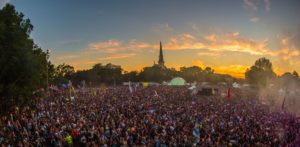 The summer of 2017 in Chicago has been filled with great concerts, but summer is slowing slipping away.  In order to give summer a fond farewell, we need a big bash.  And that's what the North Coast Music Fest is for.  Known for its diverse range of music and broad array of talent (from emerging to a-list acts), the NCMF will send the summer off in style at Union Park from September 1st thru 3rd.
Here's everything you need to know about NCMF 2017:
THE LINE UP
Does it get any bigger than Deadmau5?  I'm not sure, but throw in Gucci Mane, Damian Marley, Big Boi, Ween, Primus and dozens more and you have a killer line-up.  Check out the full list here.
MORE THAN MUSIC
We've covered the lineup, but North Coast has more to offer than just the music. From pop-up art galleries, to spray paint demos, to yoga in the park as well as charity information, NCMF has something for your mind, your body and your community in addition your ears.
THE FASHION
How to describe the fashion at NCMF?  Lots of neon.  Polka-dot pajamas. Maybe some fur. Many, many raver-girl tutus.  Anything goes, as long as you can dance your ass off in it.  The styles at NCMF are an attraction onto themselves.  So work it.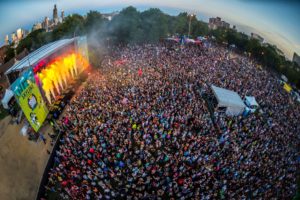 CHICAGO'S VERY OWN
Chicago always supports its own, so here are the top Chicago-based acts playing this year:
The Cool Kids: hear the smooth flows and rhymes of this Chicago based hip hop phenomenon on Sunday afternoon on the Coast Stage.
Autograf:  this Chi-Town favorite brings sexy back to the genre of electronic music with a wide array of glittery jams.  Catch them on the North Stage on Friday night.
Stefan Ponce:  The Grammy nominated Chicagoan will be performing his genre-blending compositions on Sunday on the Beats DJ Tent.
Other local artists that will be performing at North Coast include: Manic Focus, Whethan, Carlile, Edamame, Rich Jones and Akenya.  Remember, Chicago loves its own
THE AFTER PARTIES
The fun does not end when the show at Union Park ends because "after the show it's the afterparties".  There are over ten shows in five different venues all over the city.  Check out the list here to find out where you should head to and snag tickets before the venues fill up.
It's the last bash of the summer, so live it up and enjoy the North Coast Music Fest!
For more information check out North Coast Music Fest website.
Photos provided by North Coast Music Fest.