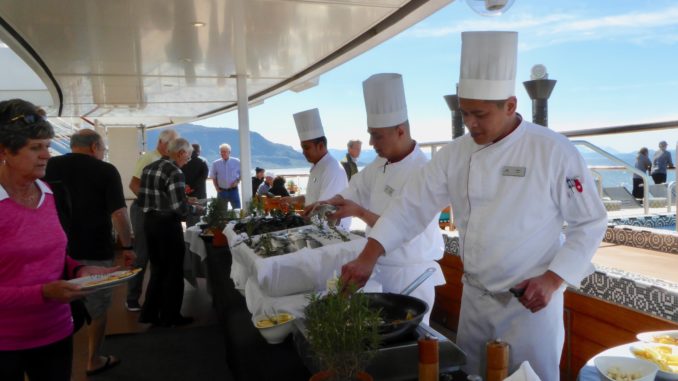 Sitting next to a huge picture window, cruising along the coast of Norway and enjoying both the view and the delicious cuisine, my husband and I agreed that this was the way to go. We spent 33 days with Viking Cruises including a fascinating pre trip to Iceland (see Viking to Iceland) and visited 20 ports in 10 countries during Viking Homelands and Into The Midnight Sun Cruises.
Our itinerary included stops at eight Baltic countries,( see Viking to St. Petersburg ) as well as multiple visits in Norway, Scotland and England.The high quality of the experience is a combination of a wonderful life on board and interesting almost daily excursions.
The Excursions
The included excursions were enough to satisfy the vast majority of travelers. Those who wanted even more could have it in the optional tours offered most days. Viking shipboard employees were there to get us on the right busses or walking tours and turned us over to English speaking local guides with a wealth of knowledge to share.
We can't compare Viking with other ships that travel the open water. Our previous experiences on Viking's River cruises were the reason we booked these two back to back cruises. We can say without reservations that our experience was positive, living up to our expectations. Read on for a glimpse of Viking life.
What do you want from a cruise? Off shore, we wanted the chance to visit many spots we might not otherwise see with guides to enrich the experience and navigate any bureaucratic necessities. We want the knowledge that we are safe and secure in foreign lands, taken care of as it were.
On our ship, we wanted comfort, convenience, pleasant company, attentive staff, a variety of both unique and traditional cuisine, a little entertainment, and avenues to learning about the places we would visit. Oh, and wifi.
It is not surprising to us that Viking was named a #1 Ocean Cruise Line and one of the Best River Cruise Lines by Travel + Leisure readers in the 2017 World's Best Awards. Viking won the same Ocean Cruise Line award in 2016.
Cutural Enrichment
So what made us happy? First, we want a staff of people who speak English. We selected the cruises because the ports of call were of interest to us. We know that there are other cruise lines offering similar itineraries, but we believe we got a little bit more. The company caters to the over 55 crowd, but the active ones looking for both upscale comfort and intellectual enrichment. No children, no casinos, no loud DJ music.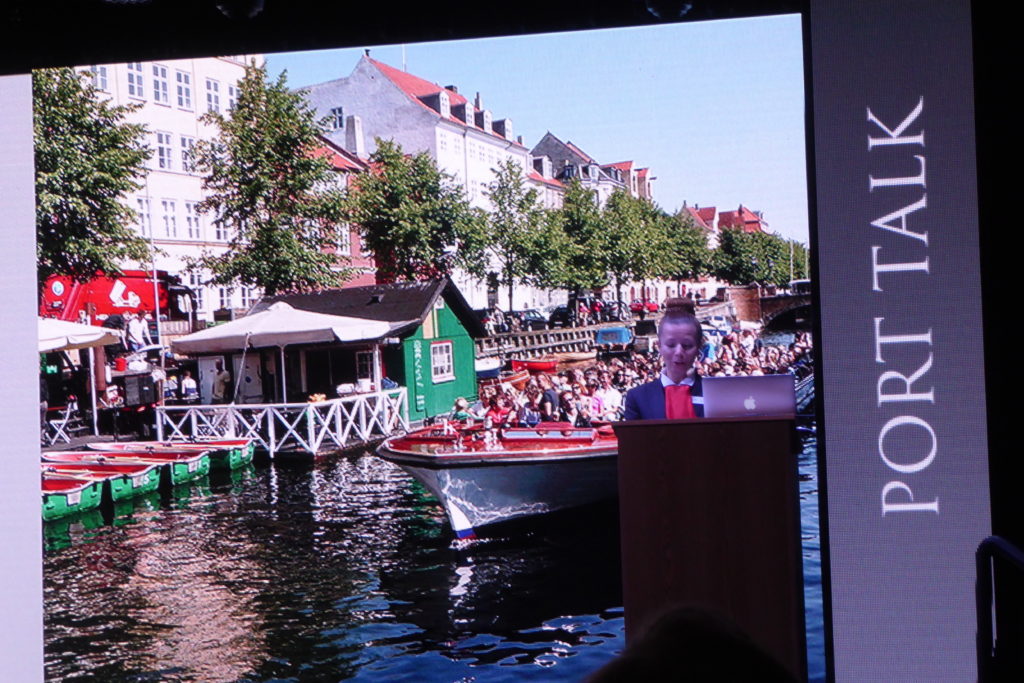 Before every excursion, there is an opportunity to attend a lecture and/or an orientation to learn more about the destination and the experience that awaits you. We enjoyed the cultural enrichment that Viking advertises. We want to visit countries and destinations of interest, but we also want to learn about what we are seeing.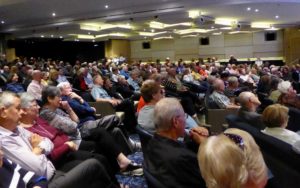 In addition, visiting lecturers and resident historians conducted formal and informal sessions with guests including round table discussions. For example, Sir James Hodge discussed "Petrograd 1917 – Cradle of Revolution." That same day, an enrichment lecture led by Dr. Christopher Whelan dealt with "The United Nations on Trial – Is it Mission Impossible?"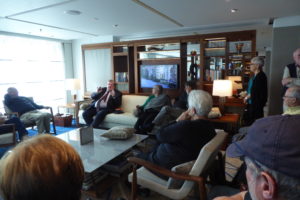 My husband Burt's favorite was "Kings, Castles & Catapults" and the promo was "Discover the surprising science and history behind Northern Europe's fortresses and siege weapons." Burt said the lecture was, "Incredible. I learned about numerous sieges and the technology behind the catapult. This was a unique lecture."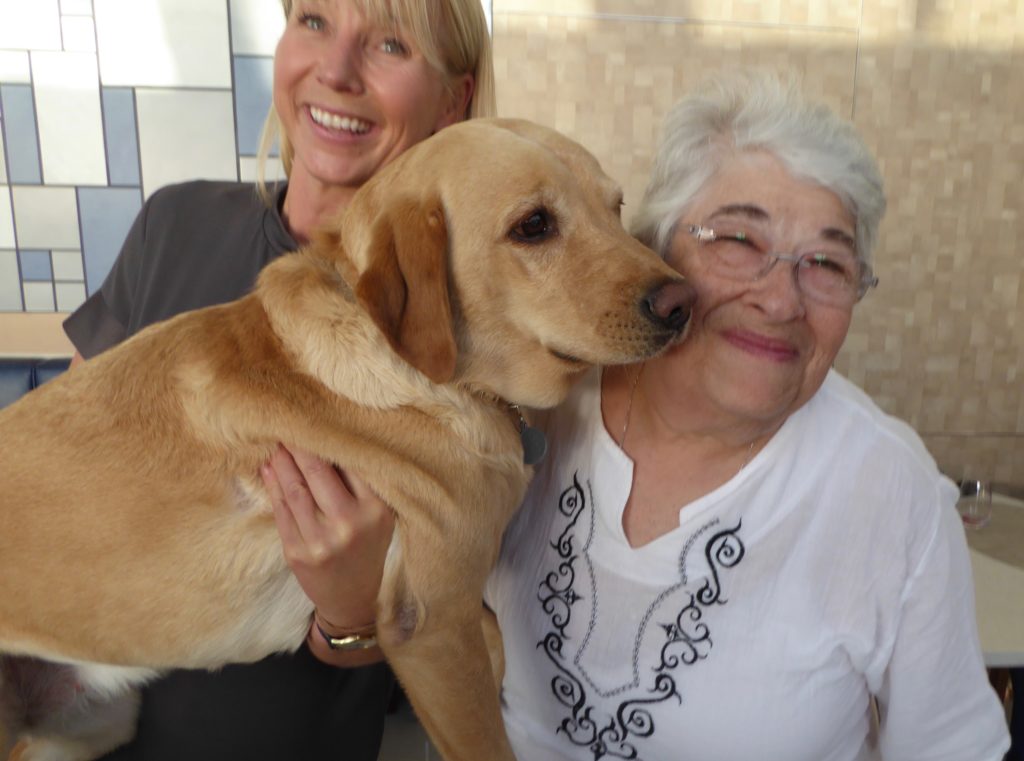 Food – Glorious Food
The daily menus included "regular" items such as American classics – salads, burgers, chicken, etc. With four full restaurants and two other eating options, guests can find just what they want. The Restaurant served a standard menu for the steak and potatoes people. Manfredi's delighted those who enjoyed Italian food with rotating pasta selections and our favorite appetizer Beef Tatar.
The Chef's Table offered a rotating set menu with wine pairings. Dishes such as Carrot & Cardamom cream with orange & star anise foam were five star quality – served with Bris Marine, Blanc, Estandon. Menus including La Route Des Indes. The five course menu was designed to feature a variety of spices.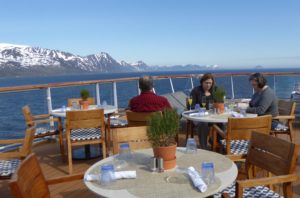 Then there was The World Cafe with its sumptuous buffet. It rivaled many of them in Las Vegas. Often, you could begin with raw shrimp or the largest crab legs and raw ahi tuna I've seen. I think some folks just feasted on the sea food. The menu was extensive and often included regional cuisine from the various countries we visited. As we sailed off the coast of Norway, we had an abundance of fish and salmon offerings. Germany called for German style sausages on the menu.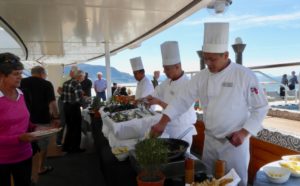 Picture windows, various size tables for open seating and a most attentive staff made dining a delightful part of the day. And then there was the chocolate fountain providing old fashioned chocolate – like the Dairy Queen chocolate dip. More than a few of us might have gained some extra ounces once we discovered this delight to enjoy with the ever present dinner offerings of sorbet and gelato.
The Attentive Staff and Amenities
It's the little things that add up to the totality of a good experience. We can't praise the staff enough. Congenial, responsive, attentive throughout the ship. Amenities – Self service complimentary washers and dryers and ironing boards not far from the rooms. Not that my clothes know about ironing. But I've got to admit, it was kind of a fun spot to meet new people in a most casual atmosphere.
Entertainment, Fitness and Fun
Nightly entertainment ran the gamut from pre dinner live soft music to after dinner shows and late night music and a spot for those who'd like to dance. I am pleased to report that on one of the days at sea, I won a Viking umbrella in the trivia contest.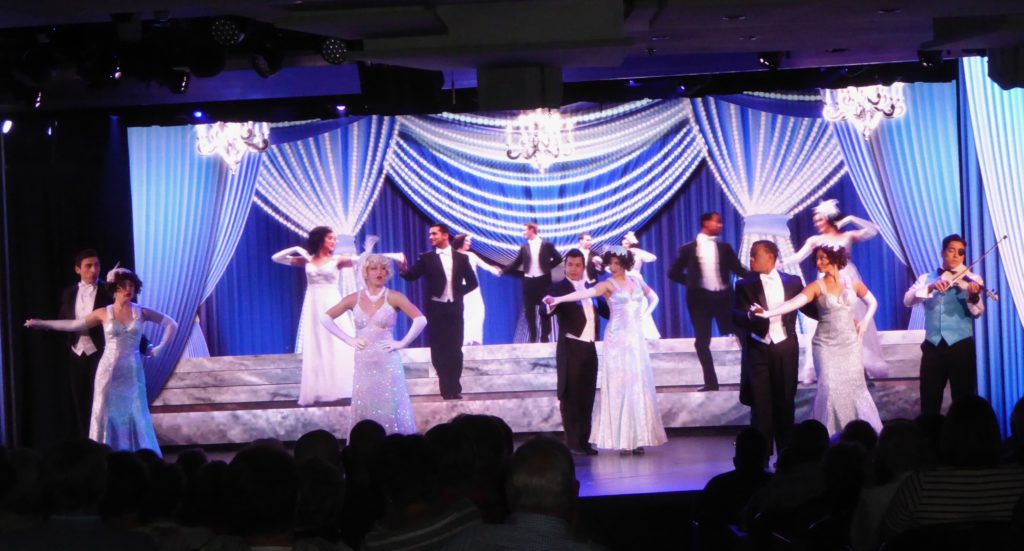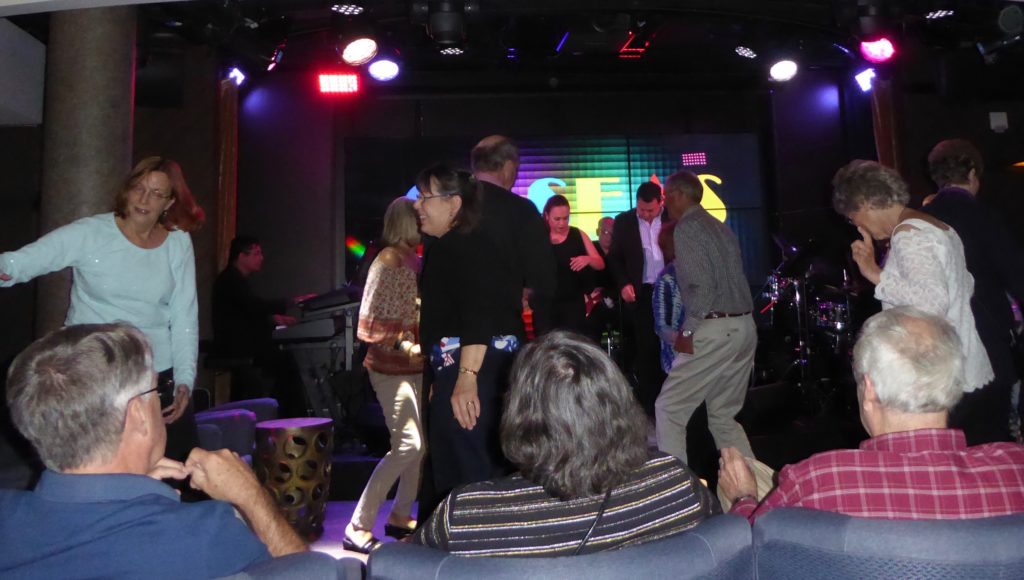 The fitness center is first rate with state-of-the-art equipment. For those early risers who start their day with a work-out, the LivNordic Spa which includes a Thermal Suite (ice room) is a major plus. And be sure to check out the unique Snow Grotto.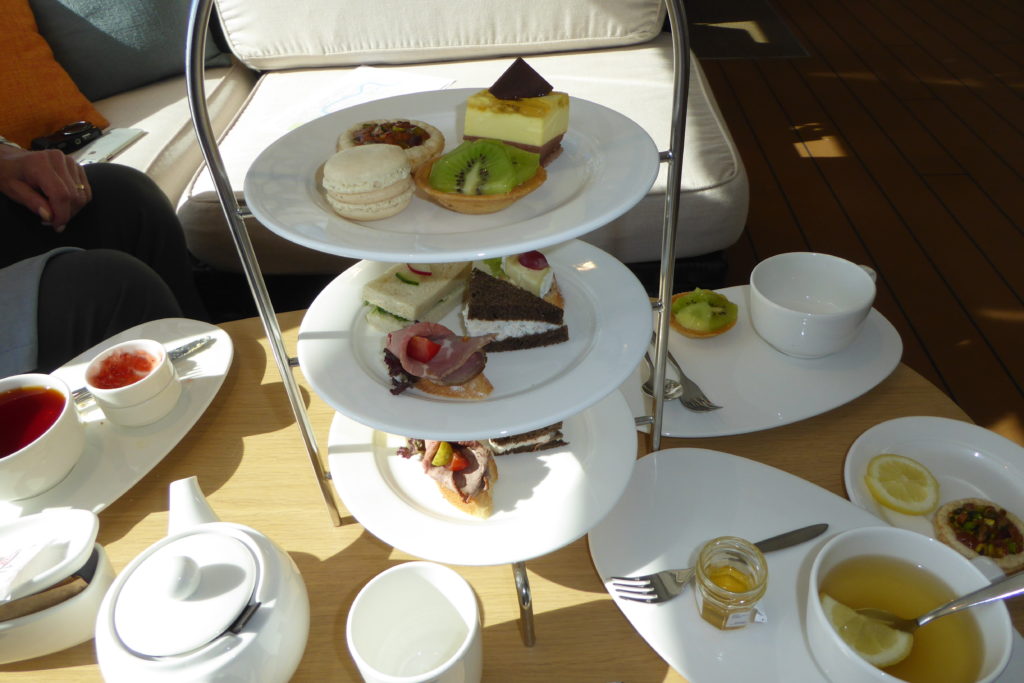 Every cabin has a balcony and we often enjoyed sitting out in the evening or on "sea days". Other amenities include the mini frig, upscale toiletries, and one of our personal favorite surprises, the heated bathroom floor, wonderful in the morning in particular.
We selected Viking Ocean Cruises for the first time because of their reputation for high quality and enrichment. We continue to book with them because they lived up to their promises and provided the travel experiences we sought.
ALL PHOTOS BY DIANNE DAVIS OR BURT DAVIS