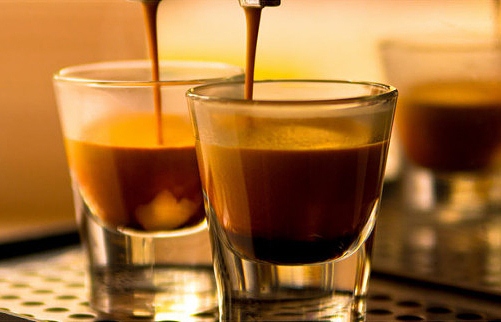 You don't have to live in Seattle, WA, ranked by WalletHub as the Best Coffee City in America, to enjoy a good cup of coffee. You probably don't need a reason to drink coffee other than opening your eyes, but if you need an excuse, Friday, September 29th is National Coffee Day.
In the greater Atlanta area, Mocha My Day™ has been making special events fabulous for 20 years. This specialty beverage catering service provides everything you need to add a true coffeehouse experience to your wedding, birthday party, anniversary celebration, employee meeting or client appreciation event. Why go to the coffeehouse when the coffeehouse can come to you?
Mocha My Day provides a mocha bar that fits any setting, and includes an extensive menu of rich mochas, flavored lattes, hot chocolate, chai tea and more, many of which are available sugar free or decaf, and can be made with almond, soy or coconut milk. Their signature drink, Mocha My Day, is an all-time favorite, however this fall, their Tuscan Cream–vanilla, almond, rich caramel and a touch of cinnamon–is proving to be a big hit.
Rates are based on the number of attendees, and include two hours of service time, a professional barista, unlimited mochas and lattes, all set up/take down, cups, napkins, utensils and, our beautiful mobile mocha bar setup, with linens. You don't have to do a thing! For more information, visit: Mocha My Day
Look no further, coffee lovers. Viceroy Santa Monica is offering the menu of your dreams for National Coffee Day on September 29th.  With everything from Coffee French Toast, and Coffee Bacon , to Eggs Benedict with Coffee Hollandaise Sauce (woah), they've truly thought of it all to celebrate our favorite morning drink. In addition to the menu, the hotel will be offering:
– Complimentary UMBRIA Coffee from 7am – 9am for the early risers
– Complimentary UMBRIA ESPRESSO from 4pm – 5pm for to give you that mid-day pick me up.
– Pool side cart serving coffee cocktails
– Samples of Coffee Reinvented & il Morso Coffee Bites from 11am – 7pm to go along with an entire menu of coffee items such as a Coffee Muffin ($4) and an English Muffin Sandwich with Coffee Bacon ($15)
The SKYBAR at Mondrian is one of our favorite spots to hang out in Los Angeles and on National Coffee Day is will be of favorite place to enjoy some coffee flavor throughout the day. SKYBAR will be offering free lattes from 8 a.m. to 10 a.m. and free espresso martinis from 5 p.m. to 6 p.m. For more information, visit: SKYBAR
One of our favorites finds in Door County, Wisconsin as the appropriately named Door County Coffee. You don't have to venture to Wisconsin to find this coffee, you can order it online and it is well worth it. Door County Coffee is a small, family-owned business, that roasts their coffee in small batches to exacting specifications. You certainly can taste the difference in their coffee due to the fact that they use Specialty Class 1 Arabica coffee beans, which are the top 2% of what is grown in the world. In addition they have a seemingly endless lineup of flavors including; Chocolate Caramel Truffle and a great lineup of fall flavors. For more information, visit: Door County Coffee
Our personal favorite go-to coffee Bulletproof just released their new Bulletproof Coffee Cold Brew. It's the same recipe as the coffee they sell for you to brew, but with this you need no blender, bottles, or extra grass-fed butter required. Each bottle is perfectly portioned to fit in purses, backpacks, briefcases, and lunchboxes and there are four delicious flavors (Original, Vanilla, Mocha, and Original with Collagen Protein). If you really want to start your day off the right way, just imagine coffee with some grass-fed butter and collagen and you just open the container and drink, it is as easy and tasty as that. For more information, visit: Bulletproof
Bombay Sapphire has created the perfect National Coffee Day cocktail with the Gin & Coconut Cold Brew with the recipe below:
Gin & Coconut Cold Brew
1.5oz Bombay Sapphire East
2oz Cold Brew Coffee
.75oz Cardamom Syrup
Organic Coconut Milk
Method: Pour the Bombay Sapphire East, Cold Brew Coffee & Cardamom Syrup* into a Cocktail Shaker and shake without ice. Using a Double Old Fashioned Glass, pour shaken cocktail into glass and top with ice. Gently float the Coconut Milk/MCT Oil* over the top, dust with Cardamom Powder. Enjoy!
*Cardamom Syrup 1:1: *Source Organic Cane Sugar and Organic Cardamom Seeds(de-shelled), which you should be able to find at a Whole Foods or a similar market.
2 Cups of Water
2 Cups of Organic Cane Sugar
4 Tablespoons Cardamom Seeds(1Tablespoon p/1 Cup of product)
-Pour water & sugar into Sauce Pot and turn on medium/low heat. Add Cardamom Seeds, bring to a light boil & simmer for 10-15 minutes or until hyper aromatic. Strain the seeds out & store in glass container. This syrup will be good for a couple of months as long as refrigerated.
What better day than National Coffee Day for Coffee For Sasquatch to make its introduction to Los Angeles. Coffee For Sasquatch will open on Melrose Ave this Friday. Coffee For Sasquatch owner Claire Ackad has scoured the globe to discover different coffee shops, absorbing both the atmosphere and flavors that contribute to the overall coffee-drinking experience and researching how coffee plays a role in the local culture. With Coffee For Sasquatch, she plans to bring the global mindset of slowing down to enjoy a cup of coffee to LA's typically on-the-go masses.
Coffee For Sasquatch's anchor roaster is San Francisco-based Ritual Coffee Roasters, a pioneer in the shift towards coffee consciousness, and they'll be serving up a variety of espresso and tea-based drinks, pour overs and cold brew. The core of its operation is the La Marzocco Strada. The shop plans on hosting extended hours during the week and will be open Monday through Saturday from 7 am until 8 pm, and on Sundays from 7 a.m. until 5 p.m. For more information, visit: Coffee For Sasquatch
If you are a beer drinker, breweries have been teaming up with roasters to produce some amazing flavors and this is the day to give one of these great beers a try if you have yet to experience one.
Early Bird Cold Brew Milk Stout is from Coronado Brewing Company. They teamed up with Bird Rock Coffee Roasters to bring you this tasty brew.