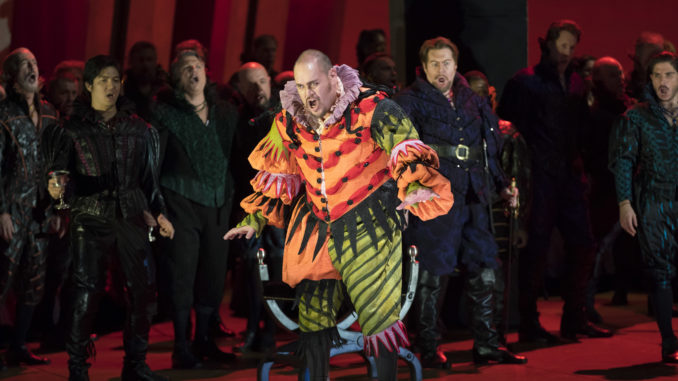 There's no role in opera more dramatic than the court jester Rigoletto, whose acid tongue and all-consuming desire for revenge lead to catastrophe for himself and his sweet, love-struck daughter Gilda. Rigoletto is one of Giuseppe Verdi's greatest characterizations—a complex and tragic figure, pitiful and ferocious, with stupendous music to match. With unforgettable melodies such as "La donna e` mobile," "Caro nome," along with all the other gems, it will leave an imprint in your memory for days after the performance – they're unforgettable.
On Saturday, October 14th, 2017 at Chicago's Lyric Opera House (20 N. Wacker Drive), I saw a spectacular production of Rigoletto. As a singer and avid opera fan, I have been attending Lyric for years and have seen numerous operas that were marvelous. However, this "new-to-Chicago-production" of Rigoletto is as close to perfection as I can imagine. With memorably complex characters, the production is led by an all star cast that includes two internationally acclaimed Ryan Opera Center alumni, as well as several talented stars making their Lyric debut: Rosa Feola (Gilda), Alexander Tsymbalyuk (Sparafucile) and Zanda Švēde (Maddalena).
The opera's action-packed plot involves everything from dishonor and humiliation, a deadly curse, disguises, a kidnapping, revenge, a hired assassin, mistaken identities, a wrongful death, and much more. Rigoletto (portrayed by Ryan Opera Center alumnus and award-winning baritone, Quinn Kelsey), is a hunchbacked court jester employed by the Duke of Mantua (played by another fellow Ryan Opera Center alumnus, Matthew Polenzani, considered one of today's most distinguished tenors).
The emotional connection that draws the audience's sympathy with the hunchback, is Rigoletto's desperate need to protect his innocent daughter, Gilda (played by the triumphant Italian soprano, Rosa Feola), and his obsessed desire for revenge. Sadly, this  leads to catastrophe for both of them. Rigoletto fiercely attempts to protect Gilda, yet she is secretly in love with the duke, a famous womanizer. When Rigoletto discovers that Gilda has fallen prey to the duke, the jester seeks revenge for the loss of her innocence, but his vengeance consumes him and proves to be his curse.
When Rigoletto is tricked into aiding with the abduction of his daughter (whom he thinks is the wife of Count Ceprano), he vows to seek revenge on the duke. Rigoletto hires an assassin, Sparafucile (Ukranian bass, Alexander Tsymbalyuk), to murder the duke. Sparafucile's sister, Maddalena  (charming Latvian mezzo soprano, Zanda Svede), attempts to seduce him so that the assassin can trap and kill him. Rigoletto reveals the duke's unfaithfulness to Gilda. He instructs her to escape to Verona dressed as a pageboy, and tell hers he will meet her there. Instead, Gilda, in disguise, disobeys her father and sacrifices herself to protect the duke, who she still loves.  Sparafucile stabs her, and Rigoletto finds her cloth-wrapped body about to be thrown into the river. When he realizes it is his own daughter and not the duke who was killed, Rigoletto realizes that he will always be cursed.
Seeing Rigoletto at the Lyric, I was stunned by the perfectly cast international group of singers. The leads gave flawless performances. Quinn Kelsey, who has performed the role of Rigoletto countless times, portrayed the bitter court jester with an intense passion and power such that you can hear the anger and pain in his voice. Rosa Feola's role of Gilda, his daughter, was beautifully sung and acted with sweet, innocent appeal. Matthew Polenzani's Duke of Mantua blew me away with his passionate, riveting tenor voice, reminding me of the late great, Luciano Pavarotti. His secret love affair with Feola oozed passion.
Kelsey and Feola had believable chemistry and showed the love of a father and daughter, which is evident in the scene where Gilda was introduced to the audience as Rigoletto's daughter. Rigoletto's reflection on Gilda's mother, and then the embrace between father and daughter was quite an emotional moment where the actors came alive. The Duke's seduction of Maddalena is another example where chemistry between the actors enhanced the quality of the opera. The playfulness between the actors added comedic relief.
Besides the talented performers, Rigoletto's set and stage design impressed me with dramatic lighting and colors. For instance, when Count Monterone (Todd Thomas) was introduced in Act 1, the lightheartedness of the cast onstage receded along with the bright colored light, only to reveal a dark blue backdrop. The use of lighting and color onstage to match a character's mood was well done even though simple. This was shown when the Duke was seducing Maddalena on the right-side of the stage under red, passionate lighting, in contrast to Gilda and Rigoletto in low spirits under dark blue lighting on the left-side of the stage.
Overall, Lyric's new-to-Chicago-production of Rigoletto was a musical feast for the eyes and the ears. The leads' exceptional performance, backed up by an excellent Lyric Opera chorus, left a huge impact on me that evening. The opera reminded me of why I attend the Lyric to see opera after opera: each is different, yet exceptional and teaches you new ways to learn, view and enjoy life. Rigoletto only runs through Friday, November 3rd-you do not want to miss this opera!
Upcoming Dates
October 2017
November 2017
Photos: Todd Rosenberg
For information of to purchase tickets, please visit the Lyric Opera's website.