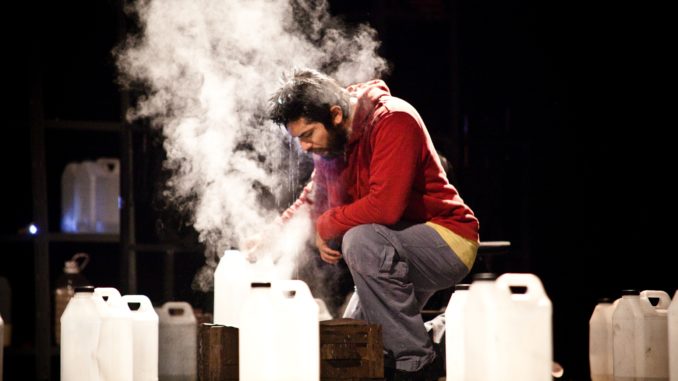 The Yard at Chicago Shakespeare Theater, 800 E. Grand Avenue, Chicago, and the Chicago Latino Theater Alliance (CLATA), are currently co-presenting one of México's most celebrated theater ensembles, Teatro Línea de Sombra, in the play "Amarillo", as part of "Destinos", the Chicago International Latino Festival. The Yard is the 3rd venue to open at this location, a spacious, comfortable and impressive facility. The performance will be presented throughout Hispanic Heritage Month, until October 29th, 2017.
The play, performed in Spanish with projected English translation, incorporates "visceral imagery, evocative soundscapes, and a myriad of storytelling techniques," in the type of encompassing theatrical experience, for which Teatro Línea de Sombra has been awarded the title of "Best Research Theatre in Mexico", in both 2000 and 2005.
Featuring actor/creators Jesus Cuevas, Antígona González, Alicia Laguna, María Luna, and Vianey Salina, the creative team is comprised of Jorge A. Vargas, Director; Jorge Verdín (Clorofila), composer; Jesús Hernández, Space and Lighting Designer; Marina España, Raúl Mendoza, Kay Peréz, Projection/Video Designers; and Rodrigo Espinosa, Sound Designer.
One man (any man, Everyman) leaves his homeland of Mexico, willing to brave the terrors of the unknown to enter a land he has dreamed of. He wants to get his piece of the American dream in Amarillo, Texas, USA. However, despite herculean efforts he never manages to succeed. We see this individual onstage both as young and fervid, unable to get over a unique climbing wall, as well as in the person of the old and wise troubadour who remains at home or perhaps has made it back, as our hero promised he would do.
Sharing the stage are 4 women who struggle and ultimately accept being left behind. In tandem and sequential episodes, we learn of the travails of Woman conceptualizing her Man's journey, and we are have impressed upon our consciousness all the other faceless men and women who have suffered separately and together in such an endeavor. The anguish and trials of the "masses yearning to break free", and the heartbreak of illegal immigration efforts is captured in a collage of projections, poetry, sounds, music, speech, actions, and props, in a non-linear series of impressions. This multi-dimensional performance is dramatic, fiery, sensitive, urgent, and shrewdly politically pertinent.
UPCOMING SHOWS:
Wednesday Oct. 18 at 8 pm
Thursday Oct. 19 at 10:30 am – Education Matinee
Thursday Oct. 19 at 8 pm
Friday Oct. 20 at 8 pm
Saturday Oct. 21 at 2:30 pm
Saturday Oct. 21 at 8:30 pm
Sunday Oct. 22 at 2:30 pm
Tuesday Oct. 24 at 8 pm
Wednesday Oct. 25 at 8 pm
Thursday Oct. 26 at 8 pm
Friday Oct. 27 at 8 pm
Saturday Oct. 28 at 2:30 pm
Saturday Oct. 28 at 8:30 pm
Sunday Oct. 29 at 2:30 pm
*For Education Matinee – email Christine Pérez: ma*****@cl***.org
Tickets for Amarillo start at $25.
Chicago Shakespeare offers discounts for: groups of 10 or more, CLATA members, and patrons under 35 through the CST for $20 program. For more information or to purchase tickets, visit Chicago Shakespeare's website at chicagoshakes.com/amarillo or contact Chicago Shakespeare's Box Office at (312) 595-5600.