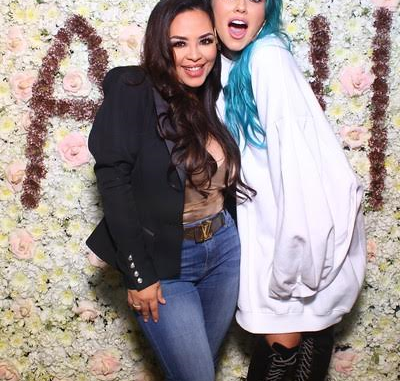 Recently insiders gathered at the chic Doheny Room for a night of beauty and pampering to celebrate the launch of the scented gel polish, Achi. Created by seasoned beauty and nail expert, Valerie Anderson, achi is a premium beauty luxury polish and beauty tools that is changing the game.
The achi brand has created a nail polish that uses a formaldehyde-free formula, which yields exceptionally pigmented color, wherein consumers no longer need to resort to multiple applications to achieve the desired color. The cruelty-free gel polish is made in Japan and has a sweet, strawberry scent, (which reminds her of her childhood,) making the polish unrivaled within the beauty industry. There are 45 colors in the collection and nail enthusiasts will be happy with the range of nude polishes that the brand offers. achi'stop and base coats are known for no peel and no lift adhesiveness.
A natural and cruelty-free product is key when launching a luxury brand that also appeals to the consumer and industry experts. Creating a scented polish using a natural fragrance took months of perfecting, "the amount of oil to use without affecting the adhesion and pigmentation was quite the challenge." States Anderson, but these types of beauty products need precise results to develop a long-lasting nail gel. achi's distinct scented gel polishes stay on your nails after multiple washes. achi 's Nail gels were inspired by vintage perfumes and will leave a scent to create nostalgia everywhere you go.
"I love everything about the brand, the colors especially the rose gold, the nude colors, if you see the packing its all beige, pink and rose gold and very feminine," explains Anderson. "We just came out with the rose gold tweezers and having a presence of a luxury feel to the beauty and nail industry."
In addition to scented gel polishes, achi is launching a single finger curing lamp (which has LED lighting and serves as a easy way to set the nail polish in place do up to 3 weeks,) as well as yellow and rose gold plated tweezers.  Throughout the event guests enjoyed cocktails from TY KU,  Electric Sky Wine, massages by Manly Handz and achi gel manicures while Kandee Johnson spoke about the latest in beauty and nail trends.
Step up your beauty regime with achi! The brand will be releasing new beauty tools and products in addition to the one of a kind scented nail gels in Fall of 2017.