All items are listed from most to least expensive.
New York Prime Beef Wagyu USA 2 Steak Box
New York Prime Beef's Wagyu USA Strip steaks are an otherworldly eating experience. Raised in the USA, Wagyu cattle trace their ancestry to the far east. Here, they are carefully bred to create meat with intense marbling that results in a decadently rich flavor and butter like texture. Pan searing and roasting brings out the best in these sumptuous strips. Approximately 16 oz. each and 1 1/4″- 1 3/4″ thick.
Includes:
· 2 Wagyu USA Strip Steaks – 16 oz. each
· Easily feeds: 3-4 people
Price includes FREE shipping overnight via FedEx
$200  Buy now!!
Extravaganza Food Gift Basket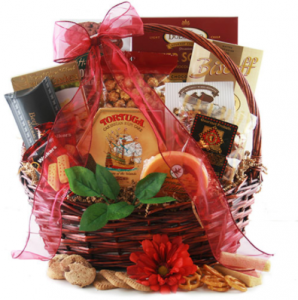 Show your appreciation with a timeless assortment of delightful assorted cookies and sweets perfectly matched with a sophisticated array of gourmet accompaniments.
Items Included:   Matilda Italian Puff Pastry,  Holly Baking Choc. Peanut Butter Cookies, Biscoff Belgian Biscuits, Focaccia Tuscan Crisps, Heart of Wisconsin Beef Summer Sausage, Northwoods Cheddar Cheese, Brent & Sam Cookies, American Gourmet Seasoned Pretzels, Betty Clarks Caramel Popcorn, Dolcetto Chocolate Wafer Squares, Shortbread Cookies
$79.95  Buy now!!
HelloFresh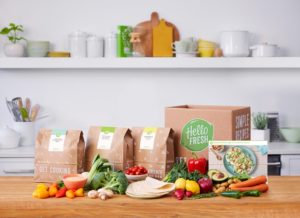 HelloFresh Gift Card For the young couples, empty nesters, or notorious takeout devotees on holiday shopping lists this year, this is a gift they will all be thankful for with no wrapping paper required. While anyone can deliver a box of food, HelloFresh opens an experience that goes beyond the final plate and brings the fun of cooking back into people's lives. By covering the shopping, planning, and delivering step-by-step recipes and ingredients, customers can relax and enjoy all there is to love about cooking — and eating! In just a few easy-to-master steps, home cooks can chop, zest, and sauté like naturals thanks to recipes that take just 30 minutes. Starting at $59. Gift cards are available at hellofresh.com. *Ships nationwide excluding Alaska and Hawaii.
$59  Buy now!!
Peter Luger Steak House – USDA prime steaks, sauce and bacon
Since its recent debut, Peter Luger's thick-cut bacon has been making its way into more and more retailers across the Northeast. Hailed as the thickest on the market, Luger's bacon has become a staple side dish, with customers calling it "required pairing" for meals ranging from morning eggs to chocolate and maple syrup desserts. If you're feeling less adventurous, eat it the way it was meant to be eaten with Luger's famous dry-aged cuts of its USDA PRIME beef and Old Fashioned Steak House Sauce. Their small batch bacon production means grocery stores run out fast, but the product is always available online. Luger's makes a perfect holiday gift for out-of-towners who don't have easy access at their local stores.
$53.94-$446.95  Buy now!!
GOOD ZEBRA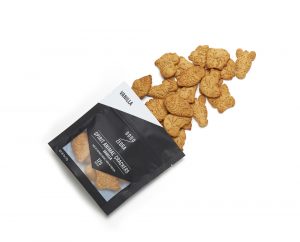 Fend off that mid-day blood sugar crash with Good Zebra—the world's first animal crackers made with 12 grams of protein and no refined sugars.  These tasty natural bites are now available at Peet's Coffee & Tea nationwide as an energy-boosting on-the-go snack or complement to a cup of coffee.
$29.99/12 pack  Buy now!!
Emmy's Organics Mixed Case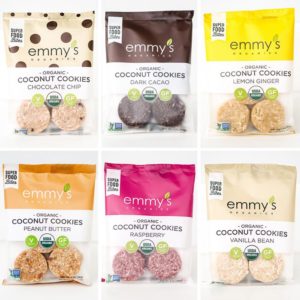 Crafted with premium organic ingredients like cold pressed coconut oil and fair trade cocoa powder, Emmy's Organics Mixed Case of coconut cookies is a great gift for foodies and fitness fans alike (or a healthy substitute for Santa!). Unlike other "good-for-you" cookies or processed treats, Emmy's are made without artificial ingredients and are certified USDA organic, non-GMO, gluten-free and vegan. Available in resealable and single-serve packs, Emmy's are the perfect size for stocking stuffers and office gifts, too.
$29.95  Buy now!!
Kiklos Greek Extra Virgin Olive Oil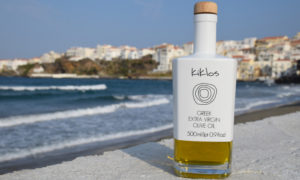 Not all extra virgin olive oils are created equal. Kiklos Greek EVOO by The Olive Fruit is 100% pure olive juice handmade from only one varietal farmed exclusively in the Peloponnese region of Southern Greece—the Koroneiki olive, known as the "Queen of Olives" for its distinctive flavor and high levels of antioxidants. Made in small batches, the olives are gently harvested without machines at the peak of ripeness and instantly cold pressed to protect its unique flavor and sustain the maximum anti-inflammatory properties. Studies show Kiklos has one of the highest Polyphenol counts and lowest fatty acids. Kiklos' signature peppery finish, called "The Kiklos Kick," is a sign of its potent phenols, which have many wellness advantages. Extra Virgin Olive Oil is an integral part of the Mediterranean Diet, known to improve cardiovascular and brain health, diabetes, and much more. In addition to being nutritious and delicious, Kiklos is packaged in a stunningly beautiful 500ML light-protected bottle. Show loved ones how much you really care with the Gift of Health!
$29  Buy now!!
Hummus Chick Spice Trio Set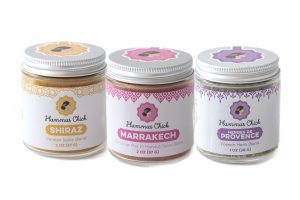 Hummus Chick Spice Trio set includes Marrakech, Provence and Shiraz blends. The best spices a Moroccan merchant can offer, a French bouquet of wonderfully balanced herbs and lavender flowers, and a Persian spice blend that bursts with aromatic and floral notes – any foodie would be thrilled to receive this trio as a gift! Hummus Chick spices and herbs have been hand-selected, thoughtfully sourced and can be used as a rub, sprinkle in marinades, rice recipes and more. Made from fresh and natural ingredients.
$24.99  Buy now!!

ReGrained Supergrain Bars
ReGrained fights food waste by rescuing the grain that craft breweries leave behind and creating ultra-nutritious, crazy-delicious bars. Brewers' grain is naturally low in sugar and high in plant protein and fiber–the perfect healthy snack ingredient!  ReGrained Supergrain bars are designed to power you through your mornings, your workouts, and your adventures. They are a healthy, eco-friendly alternative to your average granola bar.  Use the code: SPLASHMAGS  to save 15% today!
$24.99 for a 12-Pack  Buy now!!
Rickarons
Rickaroon: (tasty noun) A coconut energy bar that tastes like dessert…made by Rick. These tasty snacks are gluten free, organic, vegan, and Paleo (4 out of 5), but you'd never know from the way they taste.
(Box of 12 Individually Packaged Rickaroons)
3 Chocolate Blonde
3 Peanut Butter Protein
2 Mint to Be – Mint Double Chocolate
2 Mocha – Dark Chocolate Espresso
2 Megaroon – Super Food: Chia Seeds + Cacao Nibs
$24  Buy now!!
Meatcrafters Artisanal Skinny Salamis
This is an on-the-go snack that's high in protein, low in calories, and gluten-free!  Skinny Salamis are lovingly made in small batches from the highest quality meats and the finest herbs and spices. They are slow cured, antibiotic free and have no added hormones.  Available in six delicious varieties using Duroc Pork, Black Angus Beef, and All-Natural Lamb.
$23 and up  Buy now!!
Edoughble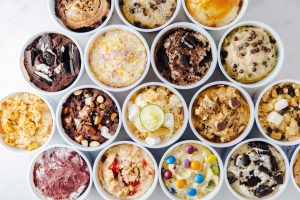 As cookie dough is this year's breakout dessert sensation, Edoughble is heating up even more than ever this fall with a fresh new look and lots more. The new site reveal includes a fresh batch of seasonal flavors, fun "pint" and "snack-size" (yes, there's a spoon under the lid) product packaging, and a cool new "unboxing" experience. To top it off Edoughble is an even better value – meaning more dough at a better price. The bright, whimsical and fun new look embodies precisely how Edoughble's cookie dough makes people feel. It makes you smile, makes you happy and turns even the most serious of us into a kid again – even if just for a delicious moment.
$20-$50  Buy now!!

Greek Koroneiki Extra Virgin Olive Oil by The Twisted Branch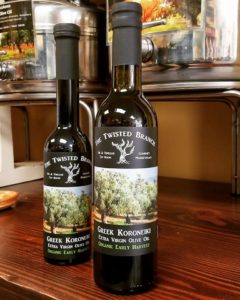 Our Private Reserve Extra Virgin Olive Oil come from small, family owned groves located in the coastal town of Kyprissia in Messenia, Greece.This is a fresh, lively mono-varietal pressed from Koroneiki olives.It is low in acidity and has a fruity aroma with a slight grassy taste and a peppery finish.This oil is best used in its pure state to enhance chicken, fish, vegetables and salads, or as a key ingredient in dressings, dips and marinades.
$19.99  Buy now!!
Sugar Bowl Bakery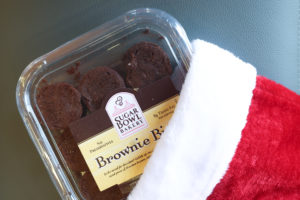 Sugar Bowl Bakery offers baked goods with quality ingredients that come in organic options for a healthier take on sweet treats. This brand sells its famous Brownie Bites, Madeleines and Petite Palmiers in retailers across the nation. These delicious desserts are perfect stocking stuffers and can also be great treats for the office holiday party!
$13.98- $28.99  Buy now!!
Hearthy Flour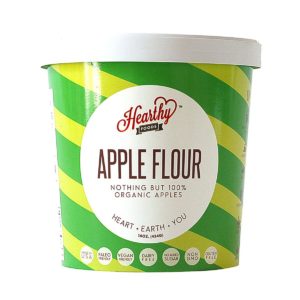 Say "no" to over processed white flours and say "yes" to 100% all natural fruit and vegetable flours by Hearthy Foods. These unique, nutritious flours can make your favorite baked goods healthier without sacrificing taste.
By replacing traditional flour with a Hearthy Foods flour, you can add organic, gluten free fiber and vitamins to your favorite recipes and improve your overall health. For example, use 100% carrot flour in soups or sauces to add vitamin A to your diet. Or use 100% apple flour in shakes, waffle mixes or brownies to add natural sweetness without the sugar. With 11 flavored flours to choose from, you can re-create healthier versions of your favorite recipes and even come up with a few of your own!
Hearthy Foods Gluten Free Flours come in: Almond, Apple, Banana, Butternut Squash, Carrot, Cassava, Mango, Oat, Pumpkin, Sweet Potato and Yam flavors.
$12.99-$18.99  Buy now!!
Moore's Marinades & Sauces
This football and tailgating season, pull up a chair and get ready for the ultimate dips, wings, and delicious recipes from Moore's Marinades & Sauces! Moore's makes variety easy – just sauce and toss with their famous buffalo sauces and serve the crowd-pleasing Moore's Wing Trio! For even more heat, try their newest flavor, Spicy Habanero Wing & Hot Sauce!
$9.99-$19.99  Buy now!!
Crunchies Sample Pack
These tasty single-ingredient snacks are a great stocking stuffer for kids & parents. Crunchies have zero sugar added and are gluten-free, vegan, non-GMO, and kosher and halal certified. Crunchies' freeze-drying method preserves the nutritional value of its fresh fruit and veggies—offering a healthy, guilt-free holiday treat that delivers a satisfying crunch.
$9.99  Buy now!!
Abeles and Heymann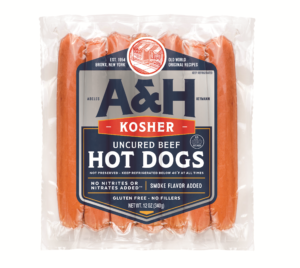 A&H are consistently voted as the "Top Dog" in America because they are produced in small batches, use only premium quality ingredients and are slow cooked to perfection. The complete line of products has been made using old world recipes to ensure the superb taste and quality the company has been known for since 1954. The products always are packaged with purity of ingredients that meet the highest standards.
$8.99  Buy now!!
Artisan Sugars
Artisan Sugars creates flavor-infused, sculpted sugars that are as delicious and aromatic as they are beautiful. Each handmade, gourmet sugar is an edible work of art designed to surprise and delight. Artisan Sugars are made with all-natural flavors and colors.
Artisan Sugar's manifesto is that sharing a cup of tea with a friend is a special occasion. They believe that gracious entertaining never goes out of style but that we should never be exhausted at our own party. Making time in our busy, driven lives to feel a little fancy is a good thing.
$8-$25  Buy now!!
XO Marshmallow
XO Marshmallow's handmade, small batch, gourmet marshmallows are guaranteed to put a smile on everyone's face. With flavors like bourbon, champagne, lavender honey, green tea and raspberry, options are endless. XO Marshmallow will also offer seasonal flavors.
$7.95/dozen  Buy now!!
Berry Yoghurt Seasoning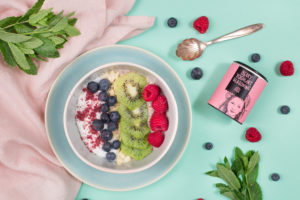 Perfect for all women with nutritional awareness: This mix is enhancing your boring and plain yoghurt with exceptional berries flavor, turning it into a fruity pleasure. Whether together with fresh fruits or yoghurt, the berry yoghurt spice is the perfect partner to refine any breakfast. Of course, it can also be used for vanilla ice cream, pudding, as well as pancakes. The unique aroma of this mix comes from raspberry, blueberry and strawberry and at the same time acai berry is giving that extra push of energy. Additionally, grounded vanilla, mint and lemon peel give this mix an extra form of freshness.
$6.99  Buy now!!
True Story Organic Thick Cut Oven Roasted Chicken Breast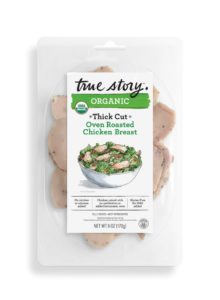 Organic Thick Cut Oven Roasted Chicken Breast – Slow-roasted, thick cut slices of sustainably farmed chicken, which make for an easy, delicious meal or snack. This organic chicken provides a healthy solution to busy families trying to find quick meals without sacrificing great taste. 
$6.99  Buy now!!
Folios
The delicious Cheese Folios line is revolutionary: lightly baked sheets of cheese that are made from Parmesan, Cheddar or Jarlsberg® cheese. Perfect for very low carb sandwich wraps and quick and easy recipes during the busy fall season, these delicious, Cheese Folios have only 1 gram of carbs and provide 12 grams of protein per serving. They are made from cows milk not treated with growth hormone rBST*. Folios is first ever gluten-free, low carb wrap made of 100% cheese that can be filled with veggies, your favorite deli meat, or anything you desire.
$6.99  Buy now!!
Chocolate Pizza Company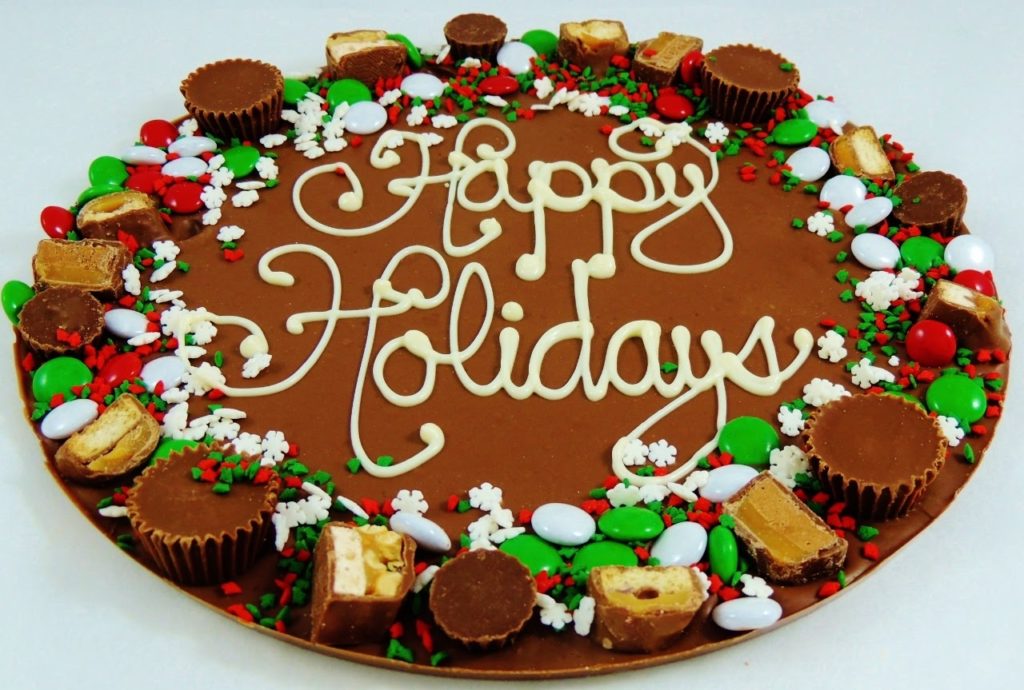 Gourmet chocolate specialties
$6.95 – 25.95  Buy now!!
Rufus Teague
Rufus Teague sure has come a long way! While it didn't happen overnight, these smoky, sweet sauces and flavorful rubs have gone from the ol' pot Rufus he used to stir in to winning competitions all over the nation. With the motto that good sauce makes bad barbecue good and good barbecue gooder, Rufus Teague upgrades the flavor of steaks, chicken, fish and even finger lickin'! A Kansas City sauce you can put on anything you're cookin', enjoy a boosted BBQ taste no matter the season with Rufus Teague.
$6.95-$24.49  Buy now!!
Rice's Honey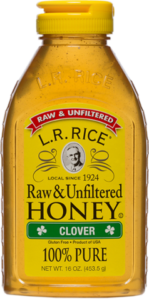 Founded in 1924 by L.R. Rice, Rice's Lucky Clover Honey is a family owned company, and a leading producer of the highest quality raw and unfiltered honey in the U.S. Rice's Lucky Clover Honey has established and nurtured long-standing relationships with beekeeper families, allowing for quality U.S. honey to be packed in every bottle of Rice's Lucky Clover Honey. Now, Rice's Lucky Clover Honey is happy to announce the national debut of L.R. Rice Raw & Unfiltered Honey and Rice Family Raw and Unfiltered Honey.
$6.50  Buy now!!
Nocciolata Dairy Free
Rigoni di Asiago's newest product, Nocciolata Dairy Free, has been recognized with a flurry of food awards including the Specialty Food Association's sofi™ Award for Best New Product (Nut/Seed Butter Category) and the Italian Food Awards USA 2017 award for Best in Sweets & Confectionary Award (not to mention an award for Sustainability, too!).
This decadent spread makes the most delicious holiday stocking stuffer! Nocciolata Dairy Free:
• is sustainably made in Italy with organic ingredients including Fair Trade Cocoa
• is certified vegan, gluten free
• is completely free of GMO's, preservatives, colors, additives, or artificial sweeteners
• has less sugar than other brands
• contains no hydrogenated fats
• does not contain palm oil (which devastates the environment)
$6.49  Buy now!!
LA VICTORIA® Mango Habanero Salsa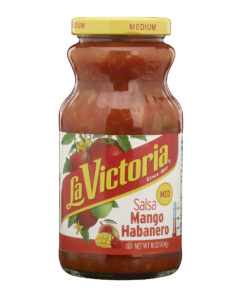 Just a dash of LA VICTORIA® Mango Habanero salsa completely transforms anything you make. It delivers a bold and fiery heat balanced out by tangy sweetness that's unbelievably good. Try it atop your favorite fish tacos or holiday appetizers to give your party a little spice.
$5.99-$6.99  Buy now!!
BBQ Seasoning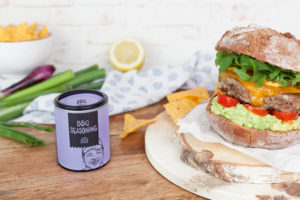 Perfect Gift for men: The BBQ Seasoning is for all types of barbecue: meat, veggies, and even hard cheeses! Add the BBQ Seasoning to spice up your everyday grilling recipes and deliver a crowd-pleasing sizzle! There is a variety of tasty peppers like chili, cayenne, and tellicherry to get the job done. A little bit of brown cane sugar in this blend goes a long way to balance out the flavor with some sweetness.
$5.99  Buy now!!
Garden Lites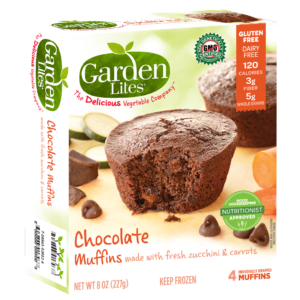 You'll never believe the first two ingredients in Garden Lites® Chocolate Muffins are zucchini and carrots! Heat in the microwave to enjoy a decadent chocolate experience for only 120 calories. Garden Lites® Chocolate Muffins are non-GMO, deliciously moist and a great source of fiber. Also, Allergy-friendly! Gluten, dairy & nut free, and come in a package of 6 muffins, for a SRP of $4.99.
$4.99  Buy now!!
Pork & Mindy's BBQ Sauces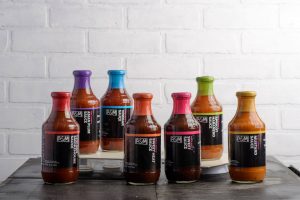 Handcrafted by Food Network star and "Sandwich King," Jeff Mauro, Pork & Mindy's BBQ sauces are the perfect gift for everyone!  The all natural, gluten free BBQ sauces are handcrafted by Mauro, leaving unforgettable flavor profiles for grill masters, foodies and BBQ enthusiasts alike. Flavors include Sweet, Sweet Heat, Mustard, Apricot Habanero, Asian Plum, Vinegar and Chicago Smokehouse.
$4.99  Buy now!!
LA VICTORIA® THICK'N CHUNKY SALSA VERDE MILD
That perfect, steady partner for your go-to traditional Mexican recipe, the mild and refreshing flavors of LA VICTORIA® Thick'N Chunky Salsa Verde's ripe tomatillos, bell peppers, and hints of garlic and onion will add just the right amount of zest to your next weekend party or family recipe creation.
$4.95  Buy now!!
Poppy's Popcorn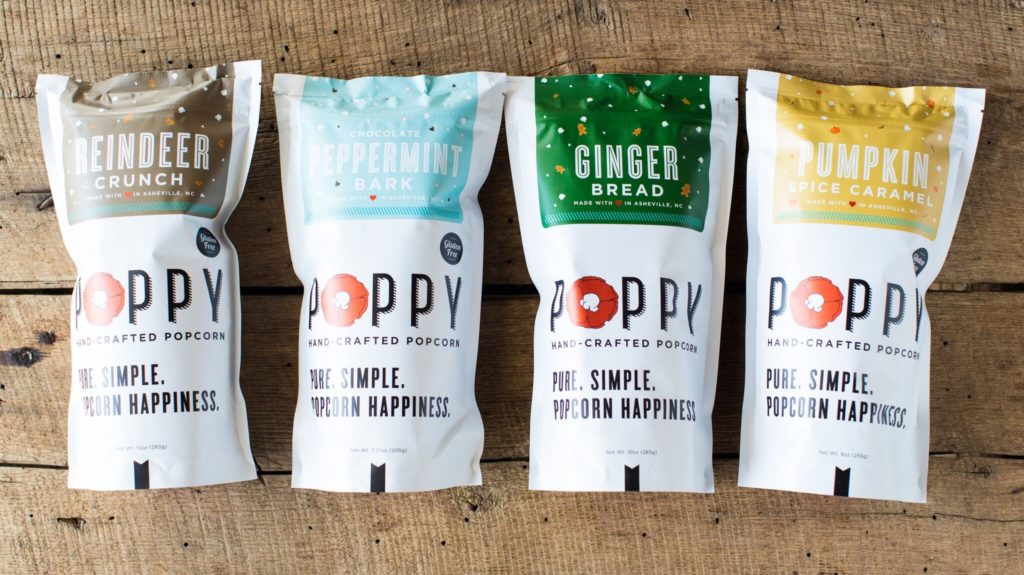 The story of Poppy Handcrafted Popcorn began with a mom of two whose love for homemade popcorn was too big not to share.  After years of making popcorn for after-school snacks and movie nights, a friend suggested, "You should open a popcorn shop!" And it dawned on us: he was totally right!
$4-$59  Buy now!!
Little Bird Kitchen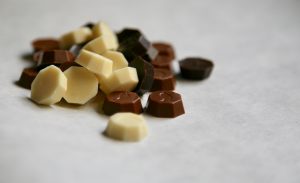 Little Bird Kitchen makes candied jalapeno chocolates, syrup and powder. Everything is hot and sweet, with the heat coming at the end. Each product is handcrafted and uses high-quality ingredients such as local, fresh jalapenos, premium Belgian chocolate and non-GMO cane sugar. The current product line includes Fire Bites available in dark chocolate, milk chocolate and white chocolate, Fire Syrup, Fire Powder and Hot & Sweet Nuts. Little Bird Kitchen's candied jalapenos bring an elevation in flavor to whatever you are eating.
$3.99-$11.00  Buy now!!
Three Bridges
Perfect for all the pasta lovers in your life – Three Bridges makes a premium line of easy-to-prepare pastas and sauces. Made with simple, honest and better for you ingredients (like hormone free cheeses and antibiotic free meats) Three Bridges products contain absolutely no artificial flavors or preservatives. Varieties include Butternut Squash Ravioli, Grilled Chicken & Prosciutto Ravioli, Wild Mushroom Ravioli and more.
$3.99 – $4.99  Buy now!!
Lee Kum Kee Hoisin Sauce

This sauce is an irresistibly delicious sweet sauce from Lee Kum Kee and is made from selected spices, ground soybeans, and sweet potatoes. Excellent for stir-frying or dipping and perfect for switching up your holiday marinades. Great for the sauce connoisseurs in your life.
$3.99  Buy now!!
Jarlsberg Cheese Crisps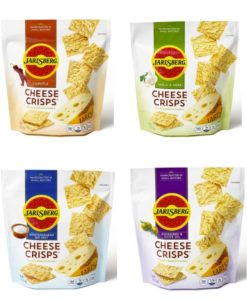 Perfect for dipping, snacking, as part of a cheese board or as a crispy companion to a bowl of hot soup, Jarlsberg Cheese Crisps offer a variety of perfectly balanced flavors that will compliment your snack, hike, picnic or back yard BBQ. These incredible savory, crunchy baked crackers are handcrafted in small batches, and made with freshly shredded Jarlsberg Cheese that is immediately sprinkled on top of the crunchy crackers just prior to being baked. New Jarlsberg Cheese Crisps takes the mild, mellow and nutty flavor of Jarlsberg Cheese and bakes it into a delicious crunchy snack. Each Crisp is topped with Jarlsberg Cheese, using the original Norwegian recipe, perfectly balanced with invigorating seasoning and spices for a savory, scrumptious and delectable bite
$3.99  Buy now!!
LA VICTORIA® RED TACO SAUCE MEDIUM

LA VICTORIA'S most popular red taco sauce with just a touch of heat from our red California chiles and jalapeño peppers. LA VICTORIA® Red Taco Sauce – Medium is the perfect complement to your next modern Mexican classic.
$3.95-$5.95  Buy now!!
Farmer's Pantry Cornbread Crisps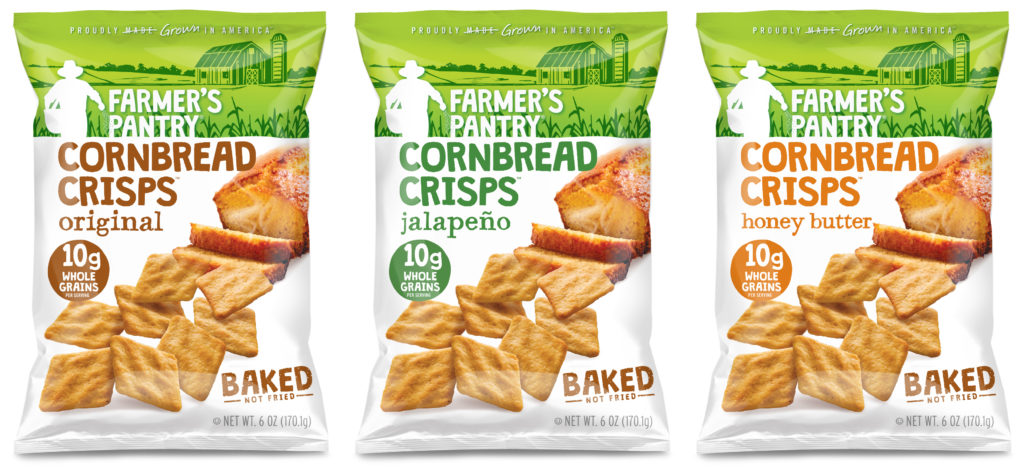 Farmer's Pantry Cornbread Crisps: These crispy delights are like no other on the market: made from the most popular American food staples – freshly-baked cornbread. Farmer's Pantry Cornbread crisps are the first of their kind, delicately sliced and toasted to crispy perfection, and created from the wholesome goodness of cornbread you can munch on the go. Farmer's Pantry Cornbread Crisps, available in Original, Jalapeno and Honey-Butter and new BBQ flavors, are a crispy, savory snack that tastes as mouth-wateringly delicious as the first bite of a slice of corn bread or corn muffin. Made from fresh corn and other whole grains grown on American farms, these crisps are sure to appeal to discriminating snackers across the country.
$3.99  Buy now!!
Flamous
Flamous Brands, a Los Angeles-based family owned and operated company, was founded in 2007. The founders took the initiative to create innovative, healthy food alternatives with several new flavors. People are snacking guilt-free all around the world thanks to the Flamous family and their goal of nutritious and delicious snacking. Flamous is committed to using healthy, quality ingredients in all of their chips and dedicated to making sure their chips stay consistent to the uniqueness of the Falafel. As a big supporter of the Non-GMO project, Flamous ensures all ingredients they source are Non-GMO Verified.
$3.69  Buy now!!
Skinny Pasta
This revolutionary, delicious pasta alternative has only nine calories per 100 grams (3.52 oz.), and is endorsed by Weight Watchers International, Inc. (NYSE:WTW), the leading commercial provider of weight management services as a smart food option of weight management. Skinny Pasta is a great option for Weight Watchers' members and all health and diet-aware consumers who are looking for a healthier pasta option but seek great taste. Skinny Pasta has nine calories per serving and has zero Weight Watcher SmartPoints® value per serving versus traditional pasta which has around 200 calories per serving and five SmartPoints®.
$2.99 – $3.49  Buy now!!
Pereg Raw Bars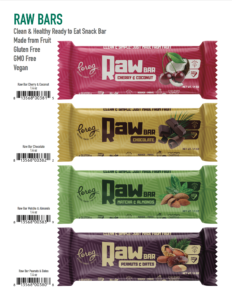 INTRODUCING A SWEET NEW SURPRISE: EIGHT HEALTHY, ALL-NATURAL RAW & QUINOA BARS FROM PEREG NATURAL FOODS.  AVAILABLE TO SUPERMARKETS, SPECIALTY STORES, DISTRIBUTORS, FOOD SERVICE & FOOD TRADE
Just a Few Ingredients = Convenient, Satisfying Treats with a "Clean" Conscious
• Non-GMO
• Gluten Free
• All Natural
• Dairy/Lactose Free
• Certified Kosher
• No Refined Sugar or Corn Syrups
$2.50  Buy now!!
Rip van Wafels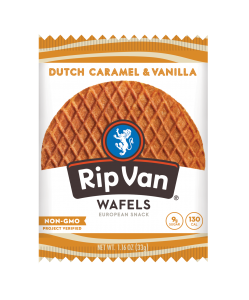 Rip van Wafels is the ever-so-sleek, Dutch cookie experience that will get Santa through his long night of gift giving. Rip van Wafels is nutritious, delicious, and convenient, the perfect go-to snack for you and Santa!
$1.50 – $3.00  Buy now!!
Loacker Classic Hazelnut Wafers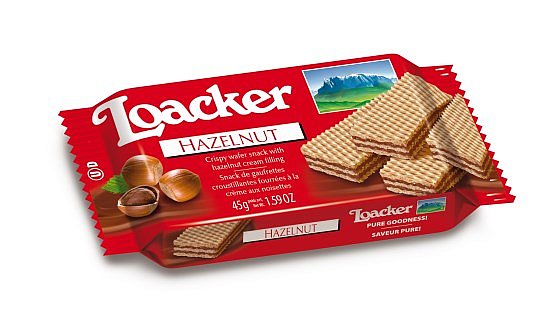 Three light, crispy wafers and two layers of the smoothest Napolitaner cream filling with exquisite Italian hazelnuts is what makes this Classic Napolitaner Italy's #1 wafer!
$0.99 – $3.29  Buy now!!
Husman's® Cheese Puff-N-Twistz
Husman's Cheese Puff-N-Twistz are made up of tangled-up fun shapes, with a delicious melt-in-your-mouth flavor. Husman's Cheese Puff-N-Twistz are baked with real cheese; combining two kinds of cheese specially blended with extra deliciousness and crafted for extra cheesy maximum flavor. The new Husman's Cheese Puff-N-Twistz are gluten free with no artificial flavors.
$0.99 Buy now!!
*All images courtesy of respective company