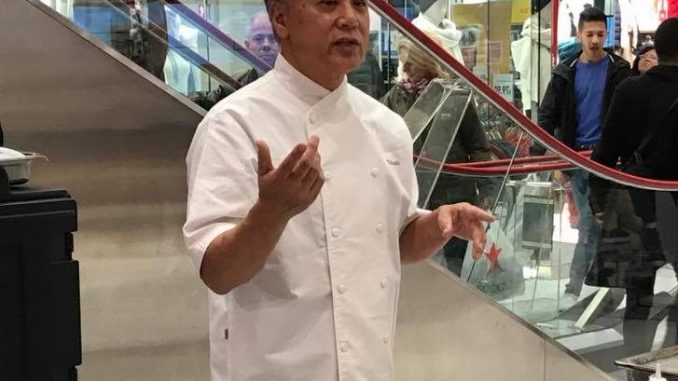 Chef Takashi's Cooking Demo at UNIQLO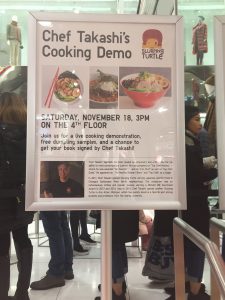 I had the opportunity to attend a live cooking demo with Chef Takashi Yagihashi of Japanese restaurant Slurping Turtle at UNIQLO on the Magnificent Mile on Saturday, November 18. This event was part of a partnership UNIQLO started with local businesses to fuse their brand into the community.  I was looking forward to it as not only do I consider myself to be a foodie but enjoy shopping, UNIQLO being one of my favorite spots to shop for staples in my wardrobe.
Before the demo started, I was pleasantly surprised with the opportunity to chat with Chef Takashi himself. I was excited, I know he has competed on Top Chef Masters and Iron Chef, and has appeared as a judge on Top Chef. These are some of my favorite cooking shows to watch on TV. I found him friendly and personable as we chatted about what he would be preparing during the demo and the upcoming Thanksgiving holiday.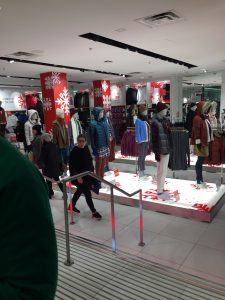 UNIQLO was bustling with customers on this Saturday afternoon and I noticed the promotions for different pieces of clothing such as pants and flannel shirts. I was curious to know what people specifically shopped for this time of year. Manager Natalie said that their HEATTECH collection and ULD or Ultra Light Down items were their bestsellers of the season. UNIQLO's HEATTECH collection is made of fabric that helps retain body heat while the ULD coats and vests keep you warm without being bulky and are compactable. These are a great space saver if you are packing to travel somewhere. With the frigid Chicago weather, I can see why people would shop for clothes and pieces that will keep them warm and cozy.
Attendees were able to sit on benches in front of where a table had been set up for Chef Takashi to led his demo for dumplings: Steamed Crab-Shrimp Shumai.  Unfortunately, it was difficult to hear what he was saying as he had no microphone. The bustle of shoppers and usual noise at a retail store did not help. Paying close attention, I could hear he made sure to explain step by step what he was doing to prepare the filling and joked with the crowd. After he was done preparing the filling and demonstrated how to fill and close the wonton wrapper; an audience member also had the opportunity to volunteer and go up to make a dumpling with Chef Takashi.
After the demo, Chef Takashi made himself available to chat with the attendees, take pictures and sign his cookbook Takashi's Noodles.  And as for the dumplings he made-we were able to sample them.  A recipe card was available to take with you; as well as menus from Slurping Turtle.
I thought the dumpling was tasty and after looking at the menu's options of ramen dishes among others tasty bites,  I look forward to eating at Slurping Turtle, especially during the chilly days of winter. I will also be going back to UNIQLO to shop for HEATTECH tops and bottoms as well as some cute flannels I saw.
Slurping Turtle's location is 116 W. Hubbard and UNIQLO is located at 830 N. Michigan.