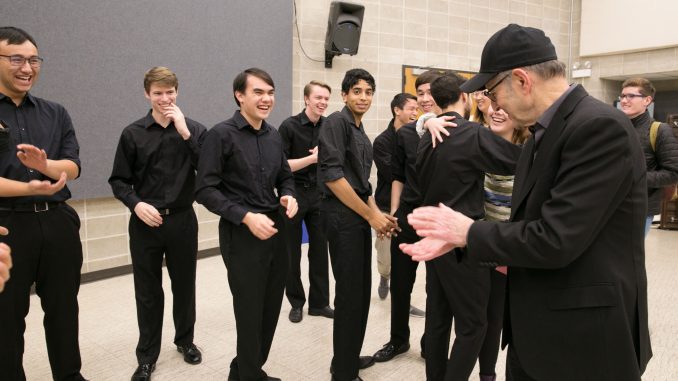 The Institute for New Music functions as the nerve center of all contemporary music activities at the Henry and Leigh Bienen School of Music. It presents numerous events over the course of the academic year, including residencies of visiting ensembles and composers.
Musical pioneer Steve Reich returned last week for his second residency at Bienen. The recipient of the 2016 Michael Ludwig Nemmers Prize in Music Composition, Reich attended music rehearsals, discussions with students and faculty and performances of his work Nov. 15th and 16th at Pick-Staiger Concert Hall, 50 Arts Circle Drive, on the Evanston campus.
Called "our greatest living composer" by The New York Times, Reich embraces aspects of Western classical music as well as the structures, harmonies and rhythms of non-Western and American vernacular music, particularly jazz, in his work. The much decorated Pulitzer Prize-winning and Grammy Award-winning composer's compositions have been performed by major orchestras and ensembles around the world for decades.
Reich trained as a drummer and quickly became interested in the music of Asia and Africa, studying in Ghana. During the late 1960's, Reich experimented with combining composition and performance, integrating the traditions of notation and improvisation, and consistently focusing on rhythmic variation and repetition. Within a minimalists texture he has achieved a subtly of timbre and listening that projects as intensity of color, mood, and contemplation. His minimalism is on the surface; depth and variation are apparent beneath the externals of his work.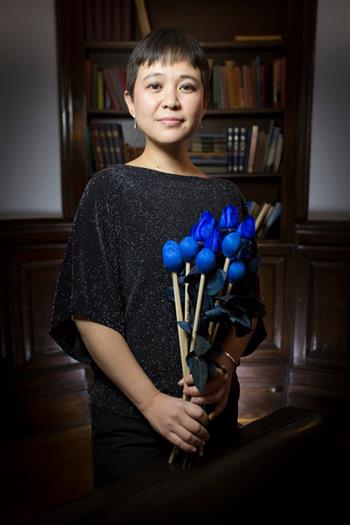 INTERVIEW WITH SHE-E WU
This reviewer had the opportunity to speak with She-E Wu, Associate Professor of music and head of the percussion program about Bienen's multiple prize winning Percussion Ensemble and the music of Steve Reich prior to the first concert of the 2-day celebration, and to attend that concert. Wu is a clinician and recitalist for the Majestic, Mapex, Innovative Percussion, and Evans and Zildgian companies. Her signature mallets with Innovative Percussion are available worldwide. She plays on a concert marimba of her design by Majestic. The enthused and exceptionally focused Wu provided some compelling and pertinent insights, paraphrased as follows:
About the role of a percussionist, she mused, "A percussionist is expected to produce various colors and sounds as deeply as a violist or oboist. We produce ringing sounds, short tones, some are made with bells, some with mallets, some are made upon skins; descriptive terms used are attack, ringtone, impact. A percussionist must see beyond the score and provide colors along with the other instruments. It's very challenging. "
She added, "Some composers are completely taken by percussion, by the array of colors that can be added to music."
As for the music of Steve Reich, she exclaimed, "It's contagious because of the rhythm! Rhythm is primal; it brings everybody together."
In response to my questions about the challenges facing percussionists working in an ensemble, she responded, "We have to equalize within ourselves to make the lines sound balanced. When we play together, there is a very interesting interaction between all of us- we have to manage the spread of sound. We have to think the time in exactly the same way, create a joint internal clock".
The concert on November 15th was an intense, full-pallet and rhythmic delight for the senses. The young musicians displayed artistry beyond their years as they proudly presented 4 pieces enriched with timbre and feeling.
The program included:
–Nagoya Marimbas, 1994 
This absorbing piece, "somewhat similar to" Reich's pieces from the 1960s and '70s, includes repeating patterns played on both marimbas, with one or more beats out of phase that create "a series of two-part unison canons." According to Reich himself, "these patterns are more melodically developed and change frequently, and each is usually repeated no more than three times, similar to my more recent work. The piece is also considerably more difficult to play than my earlier ones and requires two virtuosic performers."
The musicians faced each other and seemed arithmetically precise as they visibly swayed and applied themselves to these mellifluous instruments during the performance.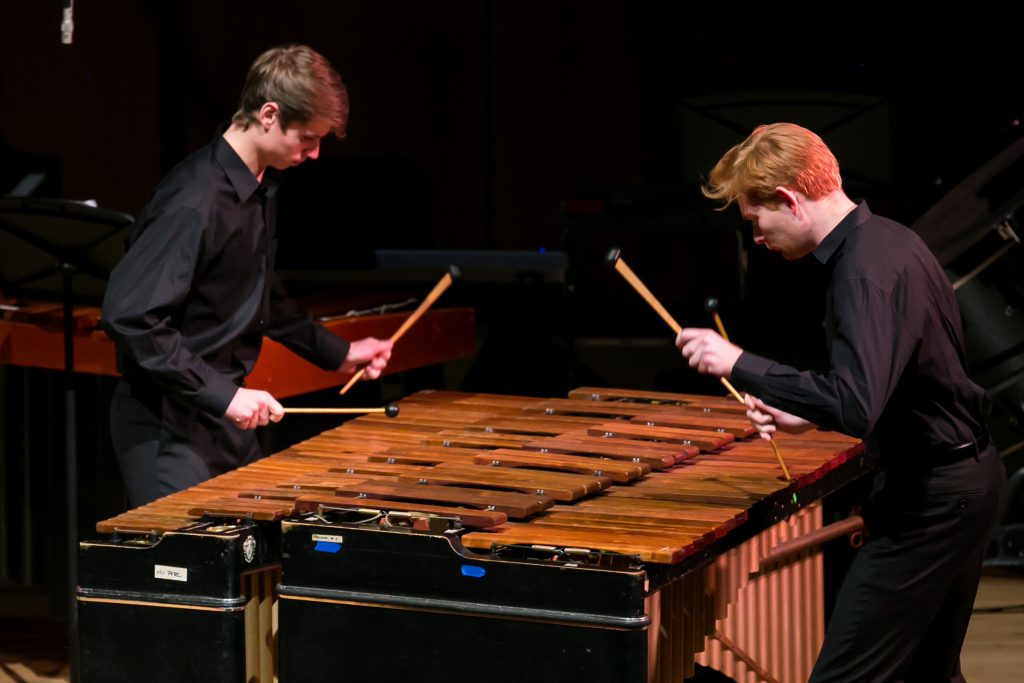 – Music for Pieces of Wood, 1973
This fascinating work is designed for five players using two types of claves, (Spanish for "keys") which are percussion instruments with particular pitches. Two types of claves are utilized, both made of two pieces of hardwood that the player beats. In this piece the claves are designed to create a particular pitch differentiation. Reich has specified the physical arrangement of the players. While the notation is precise, the players are directed to repeat each bar "approximately" the number of times indicated; as such, the performers have the opportunity to vary not only the character but also the duration of each performance. It was absolutely absorbing to watch each musician join the group and remain thoroughly self-calibrated.
–Sextet, 1985
This lustrous and sonorous work is an exploration of " dissonant harmonies and aggressive rhythms… maintaining a … luminous purity". Crafted by gradually expanding and modifying repetitive rhythmic blocks, expansive stunning clear sounds emerge with the use of pianos, marimbas, and the unusual technique of bowing of the vibraphones. The students were thrilling to watch, a display of physical and technical ability.
The music is mathematically suggestive, and very, very deep. There's so much happening at once here! The music seems to toy with one's perceptions, stirs one's sense of logistics, causes you to unconsciously sway and keep time, to think into the sounds.
Reich has described the intricate dynamics of the piece:
"Sextet is in 5 movements played without pause. The relationship of the five movements is that of an arch form…Changes of tempo are made abruptly at the beginning of new movements by metric modulation…Movements are also organized harmonically with a chord cycle…The harmonies used are largely dominant chords with added tones creating a somewhat darker, chromatic and more varied harmonic language than in my earlier work".
–Mallet Quartet, 2009
Mallet percussion, "fusing rhythm with resonance", is a Steve Reich specialty. In this piece, 2 marimbas and 2 vibraphones create a jazzy pop fusion with unusual chord changes expressed in discrete sections that cover the spectrum from sharp and cool to sultry and ballad-like.
When we spoke, She-E Wu challenged me to listen carefully for a major shift between the second and third measures of this intricate piece, and indeed, as she had advised, there is a glorious change in the rhythm!
"Mallet Quartet represents Reich's first deployment of the five-octave marimba, which has generated a lush tapestry of sounds at the lower end of the spectrum. The two marimbas, conjoined with a pair of vibraphones, yield startling cadences and sudden thematic shifts that fall on the ear like a forest of gossiping wind chimes." Financial Times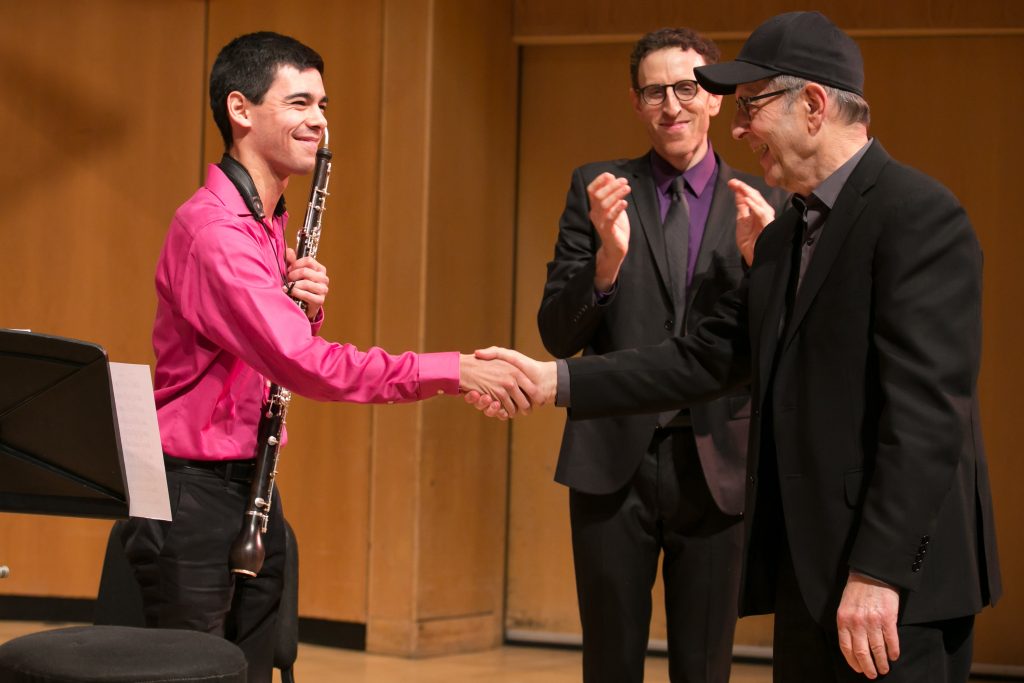 At the intermission, the black-clad and rapid-fire talking Reich chatted with Wu about his musical inspiration, and the use of various instruments, calling the latter "shop-talk". He noted, "At 14, I had only heard of "The Rites of Spring'". After being introduced to the music of Charlie Parker, Kenny Clark and Miles Davis, and "studying with a lot of people", he "became interested in music where the orchestra is predominately percussion", as in the music of Africa and Indonesia. Eventually, he said, "I went to Ghana and studied there". He added, "The students now play the music better than we do, because we are in our 70's and 80's".
After the mesmerizing concert, a visibly delighted Reich congratulated the beaming students.
The concert the following evening, November 16, 2017, was led by Conductors Alan Pierson, Ben Bolter and Taimur Sullivan and featured the Contemporary/Early Vocal Ensemble, Contemporary Music Ensemble and Saxophone Ensemble. The program included Tehillim, described by Pierson, a long-time friend and aficionado of the composer, as "Reich's masterpiece".
Unless otherwise noted, all photos by Elliot Mandel