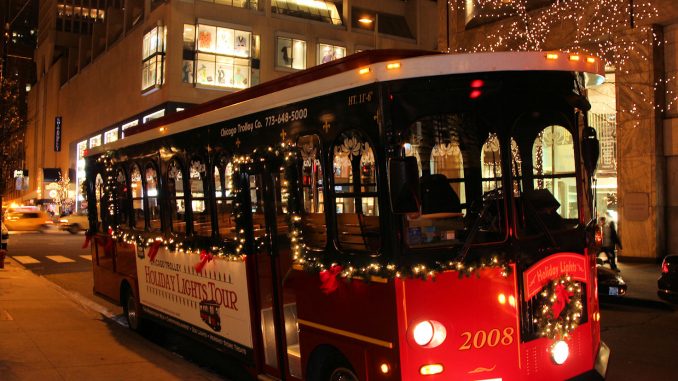 "Jingle bells, jingle bells, jingle all the way…" sang the Trolley riders including myself. I felt giddiness and happiness as if I were a child once again during the Chicago Trolley and Double Decker Co.'s Holiday Lights Tour.
Upon arrival, I was happy to see the twinkling lights and decorations on the Trolley. As I waited with others for additional passengers to arrive, holiday music played on-board and our driver/tour guide introduced himself- Tommy T. He had a positive and cheery disposition which was contagious. The Holiday Trolley Tour departs from the John Hancock Plaza Tree, making stops along the way while the driver narrates telling about history, architecture, decorations and fun facts about the city while passengers take in the sights.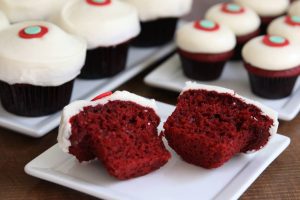 First stop was Sprinkles Cupcakes. Passengers were treated to a complimentary yummy red velvet cupcake. All while having Tommy point out holiday decorations on hotels and retail stores on the way there. Fun fact about Sprinkles Cupcakes-they have a cupcake ATM machine. Yup, it dispenses actual cupcakes.  Also, did you know that Michigan Ave. used to be known as Pine St.? All of these facts are tidbits heard during the ride. Next, we were off to the Christkindlmarket at Daley Plaza. We were given 30 minutes to disembark and browse the area. For those who might not be interested in the German inspired market, Tommy suggested checking out Garrett's Popcorn-a Chicago staple nearby. Even though that night's Trolley ride was on a weekday, the popular outdoor market was bustling. You would definitely need more than 30 minutes to properly make your way around exploring, shopping or standing in line to purchase yummy treats and the popular mulled wine or hot chocolate in the souvenir mugs. It is free entry to this market and is open through December 24, 2017.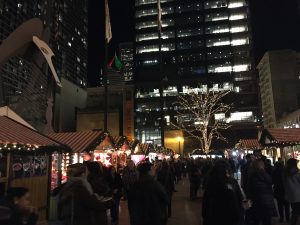 After regrouping, we drove south towards State Street to take in more of the dazzling holiday lights, decorations up and down the street and the iconic windows at Macy's or as what Tommy pointed out some Chicagoans still refer to-Marshall Fields. The next stop on the tour was the Lincoln Park Zoo for their colorful, glittering ZooLights.
As we made our way there on Lakeshore Drive Tommy presented us with the bad news that the CD player he was using to play music had broken. Which brings us back to the beginning of this article- Jingle Bells. Someone suggested Tommy sing and in no time we passengers joined along. Although unplanned, this was probably my favorite part of the tour. The Tour has definitely put me in the holiday spirit.
Once there we also had another 30 mins to explore the Zoo. Once again,it is not enough time if you want to take everything in. Not only are there holiday light decorations and music playing  all over the zoo, but special activities go on during the season, and  food and beverages are also available for purchase. I was pleasantly surprised to see some exhibits open along with the carousel up and running. The annual free ZooLights runs through January 7, 2018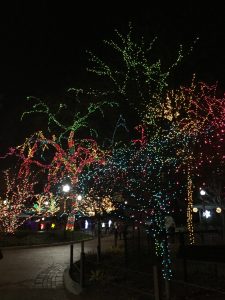 After the ZooLights, the trolley drives back down Lakeshore Dr. and drops off its passengers back at the John Hancock Tower.
I had a fun and joyful time on the Holiday Lights Trolley Tour.  For adults and children, a native Chicagoan or an out of town visitor, this is a great way to experience and visit all the Chicago traditions of the holiday season. The tour is 2 hours and 30 minutes long. It runs  November 24-December 23. For more information and tickets ($18-$29) visit ChicagoTrolley website.