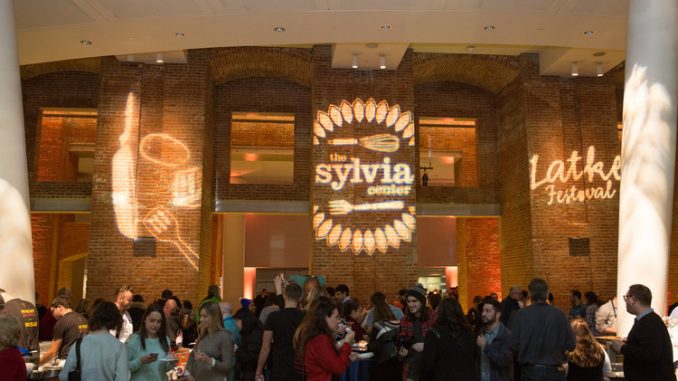 Latkes are known by many names and figure in many jokes. Humorists call them Jewish frisbees, circles of health and flat French fries, but are more easily identified as potato pancakes. Under any name they will be part of the celebration of Hanukkah, the Jewish festival which arrives near or simultaneously with Christmas . Hanukkah, this year, starts Dec. 12th.
Here's a sampling of latke humor.
A woman goes to the post office to buy stamps for her hanukah cards. She says to the clerk, "May I have 50 Hanukkah stamps?" The clerk says, "What denomination?" The woman says, "Oh my God. Has it come to this? Give me 6 Orthodox, 12 Conservative, and 32 Reform."
Here is another:. As the plane settled down at Ben Gurion airport, the voice of the Captain came on: "Please remain seated with your seatbelt fastened until this plane is at a complete standstill and the seat belt signs have been turned off." "To those of you standing in the aisles, we wish you a Happy Hanukkah." "To those who have remained in their seats, we wish you a Merry Christmas."
Jews have celebrated Hanukkah from at least the fourteenth century — and, since the 19th century, by pan-frying potato latkes. But it's the oil — specifically olive oil — and not the cooking method that's commemorated during the festival of lights. The story of Judah and the Maccabees and the mythical droplets of oil that burned for eight nights is also a thanksgiving for the late-autumn olive harvest.
Deviations on the traditional latkes will be celebrated December 18 in Brooklyn, New York, and they are certainly not your grandmother's latkes. This event, now in its ninth season, will highlight two dozen embellishments on the traditional stomach stuffer, in much the same fashion that pizza makers have dressed up the basic tomato and cheese pie.
Popular Latke Festival veterans such as Baz Bagel, Benchmark, Burger & Lobster, Kuluskat, Shelsky's of Brooklyn and Veselka will join first timers like FryGuys, Loreley Beer Garden and Tudor City
This now traditional event will several dozen latke creations, from the classic to the decadently imaginative. First timers like FryGuys Loreley Beer Garden and Tudor City Steakhouse will join Latke Festival veterans such as Baz Bagel, Benchmark, Burger & Lobster, Kuluskat, Shelsky's of Brooklyn and Veselka ,one of Manhattan's classic Slavic outposts, in the museum's stunning glass enclosed lobby pavilion. Among the innovative entries submitted by regional bakers competing for top latke honors will be: Daikon Radish Cake (Latke) with Tea Smoked Duck and Orange Hoisin from Kings County Imperial, Confit Duck Latke with Chipotle Sauce by BK Chef; Crispy Potato Latke with Rock shrimp and Spicy Lobster Sauce from the Garden Court Café; and Plantain Latke with Shrimp Ceviche and Steakhouse in the museum's stunning glass enclosed lobby pavilion. Here are some of the specialties: The LES Latke, double fried chicken, maple syrup, gravy, scallion and sour cream; Jalapeño Cilantro Crema by The Norm at the Brooklyn Museum.
The new additions include:: Burger & Lobster, Everything Bagel Latke, latke graced with everything bagel spice  topped with lobster tossed in a scallion aioli; FryGuys, The LES Latke, double fried chicken, maple syrup gravy, scallion sour cream;Tudor City Steakhouse, Tudor City Latke, bay scallop ceviche with edible flower and olive oil.
Latke lovers will vote for their favorite to determine "People's Choice" Best Latke while a panel of influencers and food experts will determine the "Judges' Choice" As has been the case since the event's debut, the 9th Annual Latke Festival will benefit The Sylvia Center, (sylviacenter website), the nonprofit dedicated to inspiring young people to become healthy eaters and advocates for healthy food in their communities by teaching cooking classes to children, teens, and families living in New York City and Columbia County., NY. The event is catered by Great Performances.
Festival attendees will be able toast their support of The Sylvia Center and the winning latkes with a variety of liquid refreshments from beverage partners such as Tito's Vodka, City Winery, GuS Grown- Up Soda and Shmaltz Brewing. Other festival sponsors are Cabot, Manischewitz and Yelp.
The annual latke celebration will take place at the Brooklyn Museum, 200 Eastern Parkway, Brooklyn, NY on Monday, Dec. 18 from 6 to 8:30 p.m. Tickets are $70, including unlimited latke tastings; wine, beer, cocktails and non-alcoholic beverages are also included. A $120 ticket grants exclusive access to the chic VIP Lounge, boasting specialty cocktails and bar snacks.
Tickets can be purchased online at https://www.eventbrite.com/e/the-9th-annual-latke-festival-tickets-35247343754.  For more information, visit the latkefestival website.
Photos are courtesy of Great Performances which produces this event. Note: Liz Neumark, the founder and CEO of Great Performances is also the founder of The Sylvia Center for which this event raises money.