GBK Productions hosted their annual Golden Globes Luxury Lounge with presenting sponsor Blue Nun who appropriately was sharing their stunning 24K champagne. The event took place at the Montage Beverly Hills on January 5th and 6th. The attendees included; Randy Jackson, Dinah James (Fifth Harmony), Doug Jones (Nominated Movie: Shape of Water), Lotte Verbeek ("Outlander", "Blacklist"), Mara Wilson ("Matilda") Teala Dunn ("Guilty Party"), Zack Ward ("transformers", "A Christmas Story"), Shanola Hampton ("Shameless") Ashley LeConte (Nominated Movie: "Get Out"), Asia Monet Ray (Actress/Digital Inluencer), Anthony Anderson (Nominated Show: "Black-ish") Pollyanna McIntosh ("The Walking Dead") and Sam Humphrey (Nominated: "The Greatest Showman).
Guests were treated to a tasting of the Blue Nun 24K sparkling wine that has actual 24K gold flakes floating in each bottle. Blue Nun was founded in 1789, is a family owned winery located in the Mosel region of Germany headed today by 7th generation Patrick Langguth. For more information, visit: Blue Nun
Hiro Gold Sake was also gifting guests a spirit that would be perfect to celebrate the Golden Globes or any other occasion with their super-premium Japanese Sake. Hiro Sake is unlike any other sake you have ever tasted as it is handcrafted in Niigata Japan and gets its crisp and clean taste due to the fact that it is naturally gluten-free, sulfite free as well as being low in calories. While sake is known for being consumed straight, Hiro Sake makes for a great mixer, pairing it with something such as ginger beer will give you a wonderfully flavorful cocktail. For more information, visit: Hiro Sake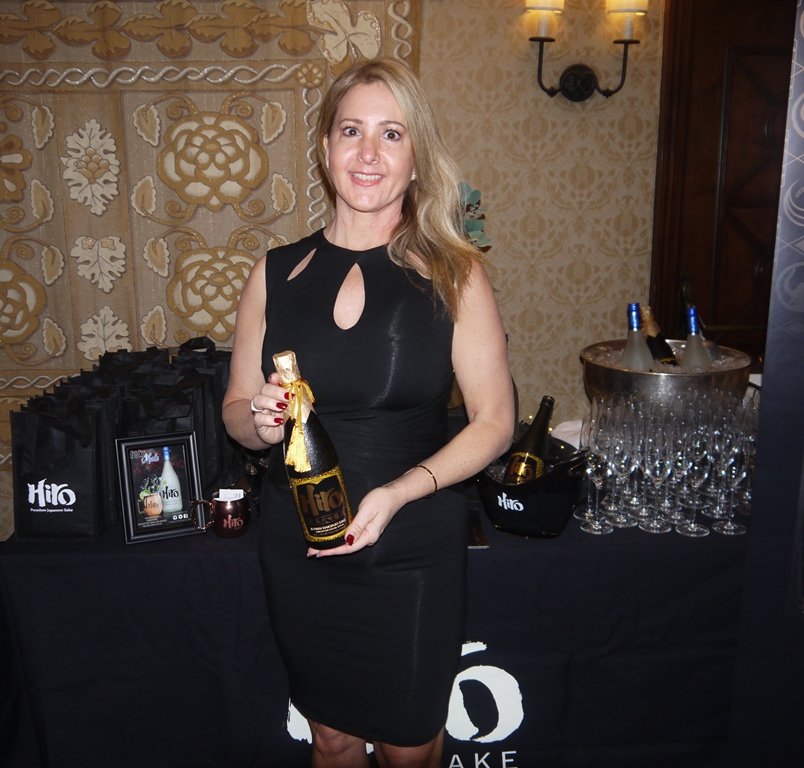 Too Faced Cosmetics was gifting their makeup that helps you "own your pretty" They were gifting several products including their Chocolate Gold Soleil Bronzer which is infused with real gold for extra luxe sparkle and lasts up to 8 hours. For more information, visit: Too Faced Cosmetics
Good Greek Grill was sampling some of their amazing gyros as well as gifting certificates for a party from Good Greek Grill. Located in Hollywood, you are not going to find better gyros anywhere and the fresh ingredients made in-house only enhance the experience. But don't stop at the gyro, try the very Greek "pork on the spit" and finish your meal off with baklava bites. For more information, visit: Good Greek Grill
Lumisque was gifting their incredible CO2Lift that is a carboxy therapy treatment mask for the face, eyes, neck and hands. If you are looking to avoid needs or surgery for a youthful looking face, the CO2Lift is the answer as it is clinically proven to lift, hydrate and rejuvenate your skin in 45 minutes. For more information, visit: Lumisque
Food on Foot is a non-profit organization that has been assisting the poor and homeless in Los Angeles since 1996, providing meals, clothing as well as work opportunities. For more information, visit: Food on Foot
The Artisan Group gifted guests a wide assortment of gifts from various artisan businesses from across the country. The Artisan Group helps smaller artisan businesses participate in events such as they by taking a collaborative approach to participation. One of our favorites was the handmade wooden bracelets from Maple Syrup & Co, a company curated in New York. Their latest bracelets are part of their classic colorwave, with the official releasing coming in the next few weeks. Maple Syrup & Co. also has partnered with One Tree Planted and they plant one tree for every bracelet that is sold. For more information, visit: The Artisan Group
Kinetic Magic gave guests a truly unique experience with their interactive dancing 13-foot screen that lets you create beautifully stylized versions of themselves dancing and painting on a large life-size screen. For more information, visit: Kinetic Magic
Today I'm Brave was gifting inspirational accessories and products to help encourage people to be brave every day. They also have people such as ambassadors like Rosie Perez and Curt Smith provide brave stories. For more information, visit: Today I'm Brave
BOPULENT was gifting some of their handcrafted and one-of-a-kind jewelry pieces to guests. Always a favorite line among celebrities looking for that special piece to set them apart. For more information visit: B Opulent
Burke Williams was making sure guests were completely relaxed for the weekend as they were providing complimentary massages to go along with a package of skin care products from their H2V skincare line along with a certificate to vest any Burke Williams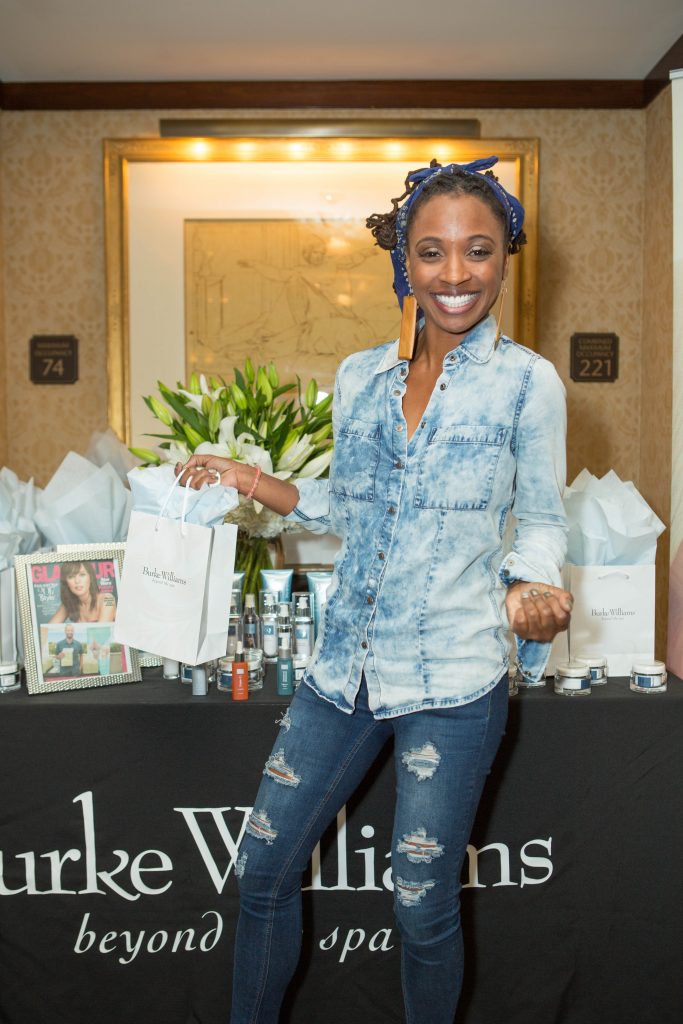 Rodney D. Bullard was gifting guests his book, Heroes Wanted. This book is filled with inspiring stories and is also meant to inspire everyone to become a hero in some way. For more information, visit: Heroes Wanted
A real treat for fans of the avocado was the "Avocado Sock". If you buy an avocado that is not ripe, simply place it in the all-natural sock and you will soon have yourself a perfectly ripe avocado. For more information, visit: Avocado Sock
For those wine lovers in attendance, Moraga Vineyards was gifting some of their fabulous red and white wines. For more information, visit: Moraga
If you are tired of what the typical hand sanitizer does to your hands, Noshinku was gifting what will change the way you view hand sanitizers with their premium sanitizer that is created using spa-quality ingredients. For more information, visit: Noskinku
LMK Art was gifting beautiful paintings as well as showcasing an assortment of the wonderful artwork that they provide. For more information, visit LMK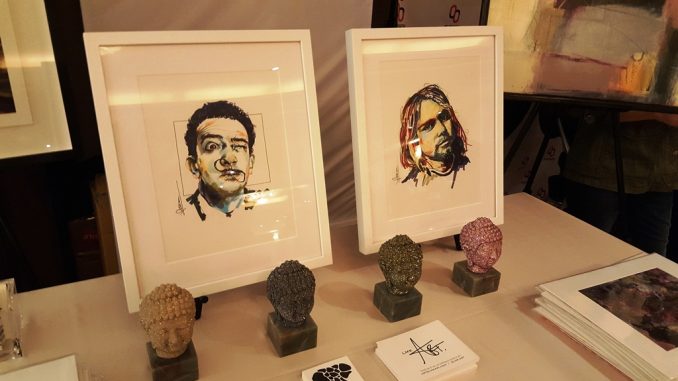 Mymanu are something every traveler to a foreign country will love and need, wireless earbuds with live translation. For more information, visit: Mymanu
Vinci Headphones gifted what are the world's first standalone artificial intelligence headphones. No need for your phone, the headphone can play all of your music just with a Wi-Fi connection and a tap on side of the headphones to get started and you have clean and crisp sounding music. For more information, visit: Vinci
The Avery Verse Bag Company was gifting their handcrafted from eco-friendly leather that are designed in Australia and can now be purchased online in the United States. For more information, visit: Avery
Guests were also treated to music on both days from DJ Adam Gomez, founder of ADM Entertainment. You can follow Adam on Instagram @adm_entertainment. Nanoleaf technology that was synched with his beats. Nanoleaf's The Rhythm makes it possible to see sound, visually remastering your music into animated displays of color and light. For more information, visit: Nanoleaf
To top it all off, talent was gifted "A Golden Invitation" from Caribbean Living, inviting them to Royal Hideaway PlayaCar for a complimentary 5-night stay for them and a guest at the all-inclusive resort.
ABOUT GBK:
GBK, formerly GBK Productions, is a luxury lifestyle gifting and special events company, specializing in entertainment marketing integration. Formed in 2000 by Gavin Keilly, the company's Founder and CEO, GBK consists of five divisions: GBK Celebrity Gifting, GBK Special Events, GBK Weddings, GBK Charitable Consulting and GBK Marketing/Public Relations. Widely known in the entertainment industry for bringing that little extra something into the Gifting Lounge environment, GBK offers its clients a full range of marketing services. For more information on Gavin B. Keilly (CEO) or GBK, please go to GBK Productions