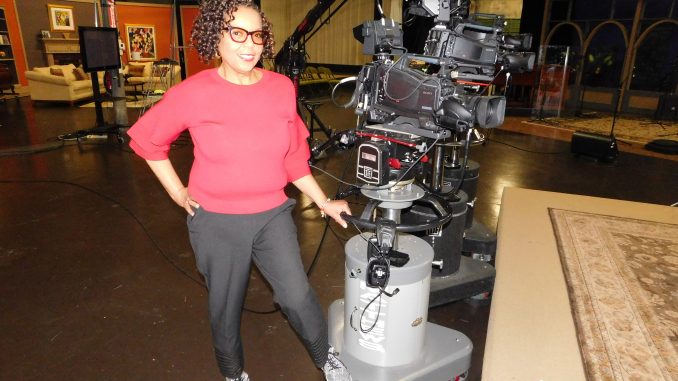 Jennifer Stovall Eichelberger, presently, a televison producer, started her life in Beckley, West Virginia holding her hairbrush in her hand at a very early age. Jennifer would talk into her brush. Her mother told her "baby, you are going to be in television (TV)". Jennifer laughed because at that time she didn't see anyone on TV that looked like her, but there was Walter Cronkite, a Caucasian man talking into what looked like a brush, the "microphone".
As her life journey continued, she left her parents' home in West Virginia to attend Marshall University (West Virginia) and George Washington University (Washington DC) where she earned degrees in Public Relations. Also, she graduated from Jericho Christian Training College (JCTC) and Vision Alliance.
Ms. Jennifer, finally made her way to Atlanta, Georgia. She met Betty Cornett who invited her to be a prayer partner. Evidently, Mrs. Cornett, Jennifer's mother's prophesy and listening to God became a reality as a result of hard work, determination, a great personality, knowledge of many subjects, and listening to others whose inspiring and triumph stories led her to the current position as the Media Programmer and Producer of Atlanta Live on WATC TV 57.
WATC TV 57 is a family owned and operated TV Christian station whose founders, the late Dr. James and late Joanne Thomson received numerous honors.
Mrs. Eichelberger is making sure WATC TV 57 continues to receive top honors with her expertise, her viewers and guests, as well as, her love for God.
She says, "Being in this job, I have met a lot of people all over the world. To listen to their testimonies can be life changing and encouraging others is what keeps my job so fulfilling and rewarding. So many people see dark days, but there is always hope. It is inspiring to learn how faith has changed other lives".
I've been on her television production set several times but this day I had a chance to watch her in action, performing different parts of her job. Her professionalism and knowledge earned the respect of her colleagues.
The filming was live, so I was able to talk to the guest before the show and was deeply moved by their unbelievable difficult life without God, and to hear how faith changed lives.
Spending this special day with Ms. Jennifer, I had to ask how she has time for other activities in her life.  She proudly told me she is affiliated with Black Women Film Network, Women of Power, and National Council of Negro Women-Dekalb Section.
She also loves motivational speaking, hosting shows, playing the flute, traveling and writing books in which two have been published "Answering the Call", "Discovering Your Purpose" and "The Next Level" which can be ordered on Amazon.com and Xlibris.com
Most of all, she enjoys being a Minister and being married to Dr. Herbert L. Eichelberger. They are active members at First Congregational Church of Atlanta where she is the President of the Women's Fellowship Ministry and other roles.
Her husband, is also known as a distinguished Professor at Clark Atlanta University, who still teaches. He has taught, trained and mentored many well-known and successful film directors, communications specialist and others in the mass media arts over 40 years, including Spike Lee who both were featured in my last Splash Magazine article (GOOGLE Splash Magazine Spike Lee).
Even though she has accomplished so much, Ms. Jennifer still has hopes and dreams that someday she will meet or perhaps work with the Legend Oprah Winfrey and Ava Duvernay, a Golden Globe Winner, Oscar Nominee and Film Director of the movie "Selma" and more.
I can imagine the three of them meeting one day and collaborating on a big project maybe even coming to WATC-57. If that happens, I will be right there learning from all three of them and definitely hearing the words that Mrs. Jennifer Stovall Eichelberger says every day with enthusiasm and God directing her "Lights, Cameras and Action"!!!