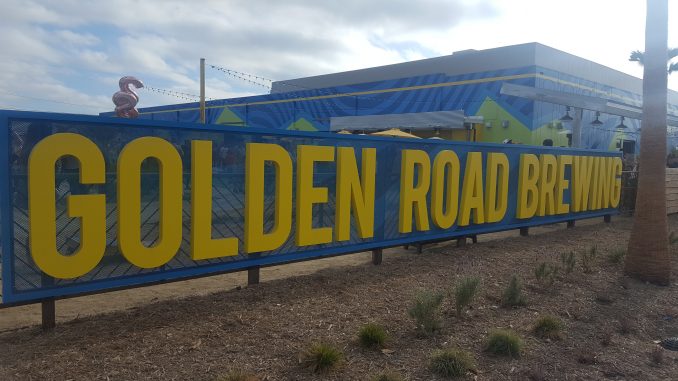 When the thought of baseball enters your mind, generally not far behind is the thought of an ice-cold beer, simply a historically perfect pairing. In Anaheim, Angels Stadium and the recently opened Golden Road Brewing gaze upon each other like a love-struck couple bringing the love of beer and baseball together within a short walking distance. Golden Road Chef Henry Tran is doing his best to become a third-wheel in this relationship with a menu that will put food that will sure to be as loved as much as beer and baseball in Anaheim.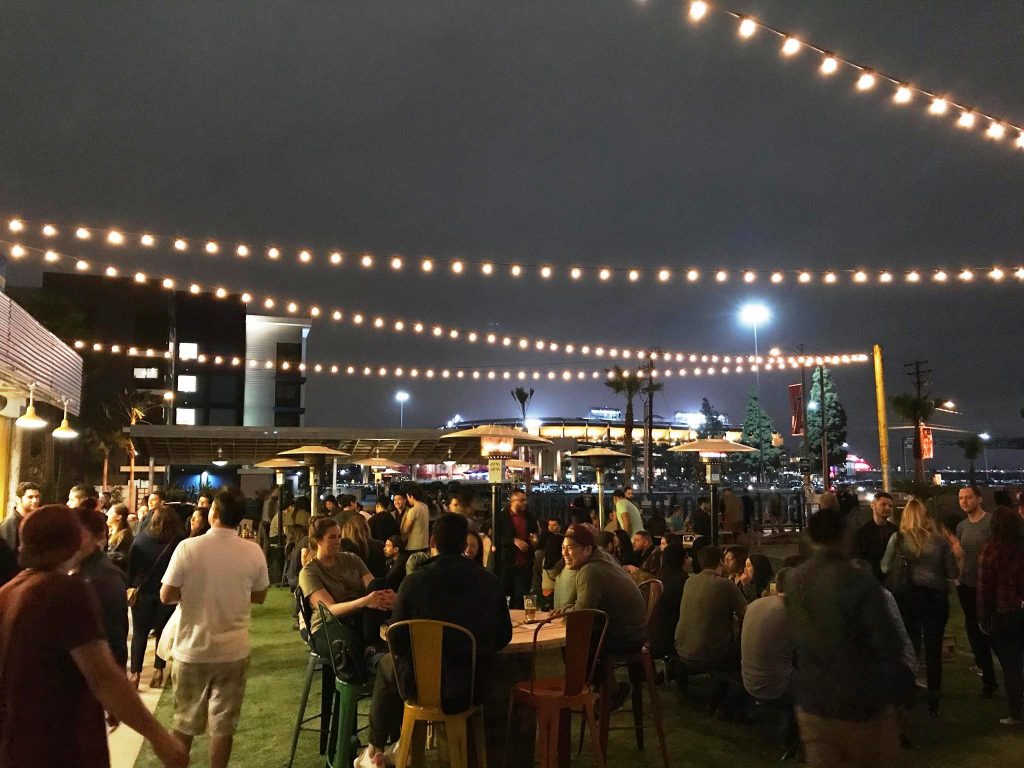 While baseball will always be a draw, that only takes up 81 days a year, with Angels fans hoping for a few more this year if the team can ride the Soshi Ohotani and Mike Trout  wave into the post-season. Golden Road has quickly become the place to be before and after Angel's games, but it certainly is well worth a visit any of the other 284 days of the year.
The Anaheim location, while giving you all of the familiar Golden Road beers that you have grown to love, has an identity all of its own. In terms of beer, Anaheim is going to be more experimental than Los Angeles when it comes to beer, aging a variety of beer in not only bourbon barrels, but also tequila and rum barrels. They also are creating unique small batch beers such as the recent avocado honey porter. You just never know what you might find on tap in Anaheim. Not only is the beer different, but Chef Henry has created a menu that is all his own.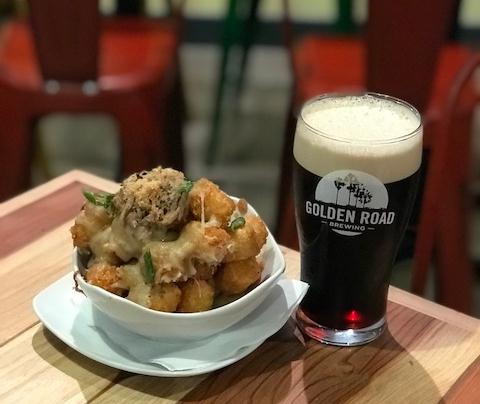 One of the true highlights of the menu is the duck confit poutine. Chef Henry created this in the classic poutine style with cheese curds and a rich gravy that is created using the same luscious duck that tops the crunchy tater tots in this dish. You can't go wrong with either of the two versions of tacos, the fried avocado or the short rib variety. The fried avocado tacos are loaded with freshness, shaved cabbage, a corn slaw smother the beer battered avocado and the flavor of the taco is taken to a whole new level with the tomatillo salsa and chipotle cream that top if off. The short rib that Chef Henry creates is simply falling apart and just tender goodness, creating the perfect meaty taco. The same meat is used in the short rib pot pie, making this another must try dish on the menu. Heavy and hearty, this is the pot pie that all pot pies should be measured against and for good measure it is topped of with an amazingly light puff pastry. The menu just seems to never end as you are going to find some unique salads, of course some monstrous burgers and dishes such as shrimp and grits. Make sure to finish your evening off with a croissant bread pudding paired with a Golden Road Sunset Coffee to finish off your dining experience in dessert heaven.
One of the things about the menu you will notice is that Golden Road Anaheim is very vegan friendly. Actually a little more than friendly, every sauce is vegan and you can pretty much order anything off of the menu and have it created in a vegan-friendly manner. You can even find a vegan fried calamari. While not quite the typical fried calamari, the vegan battered Thai coconut version is actually very comparable and if you are looking for a lighter version that won't weigh you down, this a great dish to try regardless of if you are a vegan. Chef Henry has even created a vegan poutine, using vegan ricotta and fried mushrooms.
The Golden Road experience in Anaheim allows you to grab a table with friends inside, sit at the bar and sample some beers or head outside and enjoy the amazing weather that Southern California has to offer in the beer garden. Regardless of what you are looking for, Golden Road seems to have something for everyone and they have added the Brewer's Supper Series. This is a three-course beer paired dinner featuring the brewer's choice beer of the month.
It took some time, but Golden Road Anaheim has fully grown up from its infancy as a little tasting room to what is sure to become known as an iconic stop in the city of Anaheim. While Golden Road is all about beer, it has become so much more. From catering to Angel and Duck fans to creating an amazing menu that compliments all of the beer on tap, this is a great place to enjoy sports or simply hang with friends after work or on the weekend.
For more information, visit: Golden Road Brewing
(Photos Courtesy: Vendela Martin)