Don Chuys authentic Mexican restaurant is located in Culver City on the border of Playa Vista. This gem of a restaurant specializes in the cuisine of Leon Guanajuato. Their Taco Tuesday nights is a neighborhood favorite for many years now. There is ample parking out front. We came on a hot day and that air conditioning was refreshing as we slipped into one of their cozy back booths. The large menu offers everything from tasty seafood to sumptuous pork and chicken dishes.
We started our meal with a nice Two Cheese Quesadilla and some homemade Guacamole.  Their beef or chicken Nachos is also a good place to start. A house favorite for a party of 4 or more is the Fiesta Platter, featuring mini Sope, Flautas, Taquitos, cheese Nachos and a Quesadilla. For our main courses I love to explore the house favorites. The owner highly recommended the Carnitas, Braised Pork with onions and cilantro. The pork was tender and very tasty.
Next we had the Pollo en Mole. Chicken in the traditional Poblano sauce, always one of my favorites. Not every Mexican restaurant does terrific Mole sauce but here it was spot on.
Our third and final main course was Shrimp Fajita. The grilled Shrimps arrived sizzling in a bed of onion, tomatoes and bell peppers. All our main courses came with rice and beans.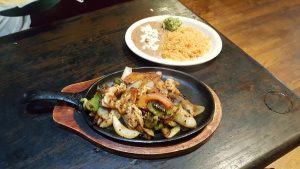 We enjoyed all our dishes, when we return I plan to try some of the other favorites. Milanesa is a breaded seasonal steak, and looks worth trying. Al Mojo de Ajo, offers shrimp or Tilapia sauteed in butter and garlic. Of course here you will find several Tostada and Burrito dishes along with a large variety of combination-dishes to choose from ranging from fish, chicken and beef Tacos, to Enchiladas and Tamales.
There are 6 veggie platters, and 6 homemade soups to choose from as well. There are 4 salads ranging from grilled fish or shrimp, to steak and chicken. There are some delicious homemade desserts so save room.
We loved the Churro Bowl. There is something for everyone whether you come for lunch or dinner. They also have an wonderful extensive breakfast menu as well so we had to go back and it was well worth it.
We shared three of the house favorites. The Mexican Scrambler, 2 eggs, bacon, grilled onions, tomato and Serano chile topped with melted cheese. The Breakfast Burrito, 2 scrambled eggs mixed with onion, tomato, Serano chili, beans and cheese, I added crisp bacon. To finish it off we had (number 4 on the menu) Huevos al Gusto con Costillas, 2 eggs any style with 3 pieces pork ribs on the bone sauteed in Don Chuy's famous roasted red sauce. simply divine. Head down to Don Chuys with your friends or family soon and enjoy some fantastic Mexican food.
Photos by Matt Oxman