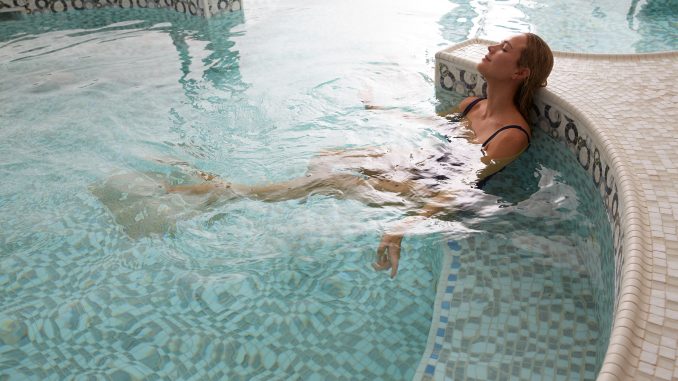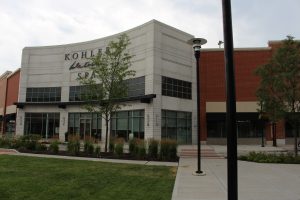 Just a short drive from the city is the charming suburb of Burr Ridge, Il. Like Glenview to the north, this charming established community has experienced a Renaissance with the creation of a new village center built within the last decade.   The new area sports a central village green park, and a mix of residential spaces and charming upscale shops easily accessed from 294-south and I-55.
Facing the lovely Burr Ridge village park is the Kohler Waters Spa. When you step inside and witness its tranquil waterfall wall, meet its attentive staff, and see the many luxurious products on display to create your personalized spa experience, it is difficult to think that it all started as a showcase for Kohler's plumbing products. But that's precisely what it is. Assistant Manager, Nancy Jadzak, even made sure to let me know that the spa was once attached to a showcase store, where people delighted by what they'd experienced could immediately purchase the same for their homes.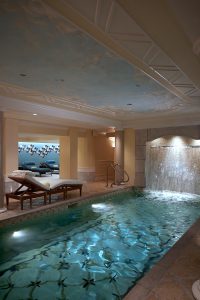 Today, the spa stands on its own, part of Mr. Kohler's forward-thinking dedication to wellness.  And it is one of a number of sister spas around the world. The first being in Kohler, Wisconsin, the company headquarters, and others located in Green Bay, WI and St. Andrews, Scotland, and soon a brand-new local location forthcoming in Lincoln Park!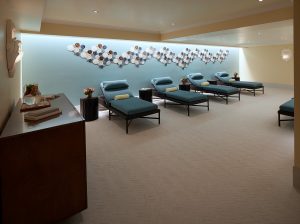 The original spa in Kohler, WI is one of only 56 worldwide rated five stars by Forbes has just undergone a major renovation to upgrade its facilities and services even further including nine new treatment rooms, an expanded common area with improved seating around the spa's main relaxation pool and a new bridal suite to accommodate the growing trend in larger bridal parties and girls' weekends.  There has also been an entirely new café added to the area with indoor and outdoor seating.  An expanded menu of spa services and hydrotherapy options has also been implemented.
It was there that Kohler pioneered their signature treatments, which are reproduced at the sister spas, including the conveniently-located Burr Ridge.  Water is, of course, the primary common denominator.
The Burr Ridge location features the Circle of Tranquility, which is a large room containing a spacious dry sauna, an even larger steam room, a 25-foot figure-eight shaped whirlpool that fits dozens and features a large number of powerful jets, a pouring shower and a large waterfall at the end.  All of these are warm.  There is also an 8 foot-deep cool plunge pool to cool you off in between sessions in the various spa areas or at the end of your time within the pool area.  I spent time in each of them, myself, and they were very relaxing. Patrons keep talking to a minimum, so the experience truly is a Circle of Tranquility.
In the summer of 2018, from mid-July through September, improvements will close the Circle of Tranquility briefly so it can be upgraded.  But all of the other spa services are available throughout, and special discounts are being offered during this time.  Details can be found at the spa website.
The experience at the spa is truly one of relaxation.  Once you enter its doors, you're swept away by helpful staff to a tidy locker room, where you slip out of your street clothes, into a cozy robe and spa slippers and move to the common waiting area where polite patrons sit quietly awaiting their treatment. It is all zen-like and tranquil.  A lovely tea area has been provided with a wide variety of Mighty Leaf teas, leaning heavily on the herbals, for you to enjoy while you wait.  Your journey of relaxation starts right here with the comfortable seating, dim lighting, and respectful patrons.  You're all in it together and everyone honors each other's experience.
My spa treatment was their Uniquely Yours facial.  I have rosacea, and these treatments can be fraught with danger for me. But at Kohler, they are well equipped for every skin type and my treatment not only left my face clean, exfoliated and healthy but with no redness or irritation. I looked wonderful and felt like a million bucks.  My aesthetician, Agnes, had also cross-trained in massage and told me about how Kohler offers their staff continuing education so they get even better at their already superb level of quality.
They offer truly specialized treatments for people with skin conditions, like me, but also specially designed treatments optimized for men, special options for people undergoing chemotherapy or other cancer treatment, Dermaplaning, and Microcurrent facials.  Their massage options are similarly broad and customized including specializations for deep tissue, maternity, Swedish, hot stone and aromatherapy components.  They also offer body treatments including scrubs, mud masques, and wraps as well as makeup and waxing services.
But it wouldn't be a Kohler experience without hydrotherapy.  While everyone who uses any service has access to the Circle of Tranquility, sauna, steam room and cool plunge pool, (so be sure to bring your swimsuit) there are additional, specialized hydrotherapies available including thermal body wraps, aromatherapy exfoliation, combo therapies incorporating hot stone and massage, and specialized men's treatments, all with the same customizable options so you can be certain to get the experience and results you want and need.
When you're done with your spa treatment and have enjoyed the Circle of Tranquility, its back to the locker room with its elaborate Kohler showers to rinse off the minimal amounts of pool chemicals.  Then you can put back on your street clothes and be once again ready to face the world, refreshed and rejuvenated.
While the staff will provide you with personalized product suggestions, there are no high-pressure sales tactics here.  But you may wish to indulge yourself in some of the same luxurious treatments you have experienced there at home as well, and those products are on offer.
You can book your local spa appointments in Burr Ridge here.
Or plan a trip up to the Kohler resort, just a short drive up north in Wisconsin, here.
Photo Credit: Suzanne Magnuson and Kohler Co