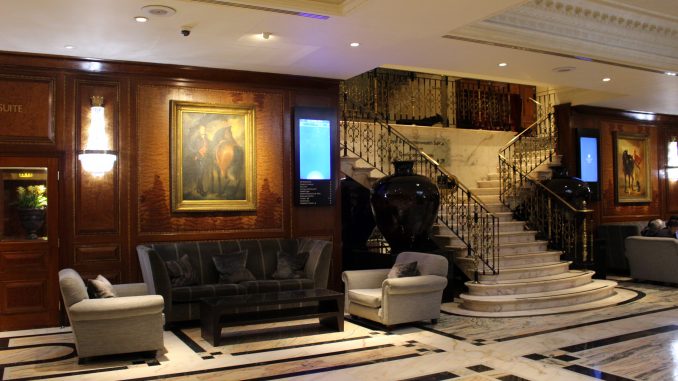 A great many hotels have imposing or elegant-sounding names in an effort to dress up a bad location or poor amenities, but you'll find nothing of the kind at the Radisson Blu Edwardian. And seldom has a hotel taken its name as seriously.  From the rich wood-paneled walls throughout to the sparkling chandeliers and marble floors, when you walk inside the hotel, you feel as if you've been swept back in time to a bygone era of gentility and romance but with all the modern conveniences. Despite its location next to Heathrow Airport, it is far more than just another commuter hotel.
The Edwardian chain, located in London, Heathrow and Manchester, chose their branding not only for the elegance and artistry that infused the era but also because of the innovation.  From the birth of aviation to nuclear power, from artwork to design, the Edwardian Era was the dawn of true modernism, and you can see this combination everywhere within the hotel's design and amenities. It's the best combination of elegant wood-tones and high-end finishes along with sleek lines and not claustrophobic use of pattern.
The Edwardian era was notable for its elegant unpretentiousness in comparison with Victorian formal excesses.  Expressive artists like Virginia Woolf, Picasso, and E.M. Forster brought a contemplative and internal focus to that time, and the hotel also replicates these things in its dedication to thoughtful service and comfort.  It's beautiful, but not oppressive.  The staff is attentive but professional and efficient, rather than sycophantic.  It's the best combination of old-fashioned manners and modern efficiency.
It is truly a full-service facility, with everything you could possibly want in a hotel offered right on site.  Beginning with its elegant public spaces, the spacious and gracious lobby area is a pleasant place to wait and interact with the Radisson Blu's excellent staff, who will efficiently navigate you through the check-in or out process with a minimum of fuss.  They'll even make certain you wake on time and have transportation to wherever you're going, whether it's the city on business, a nearby destination, or a flight.
The hotel's public spaces and meeting rooms are equally impressive and dedicated to comfort and convenience.  From grand spaces like the elegant Newbury suite atrium, perfect for formal events like weddings or awards banquets, as well as smaller rooms suitable for meetings, presentations and corporate gatherings of all types, you'll have all that is needed to make your event a success right at your fingertips, all done in very pleasant surroundings.  The hotel's dedication to state-of-the-art technology makes it a perfect place for work gatherings and conferences, several of which were going on while I was visiting.  High-speed connectivity means you can get your work done while at the hotel.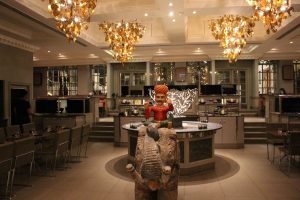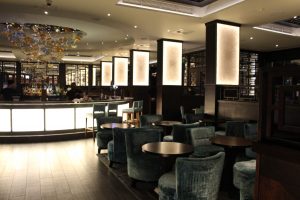 There are also plenty of food options onsite. The Steak and Lobster Restaurant offers traditional steak house fare fresh from County Antrim, Ireland, while the innovative Annayu brings traditional pan-Indian dishes into the space. It's also in keeping with the Edwardian era of the restaurant as there is no doubt that India was hugely influential on British culture of the time.  The Bijou Lounge Bar offers sophisticated drinks and small bites on site.  All the restaurants have Vegan menus to accommodate specialized dietary requirements.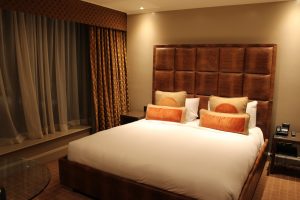 But whether you're there for business or pleasure, you'll find the spacious and comfortable individually-designed rooms to be everything you're looking for in a hotel.  With deeply padded headboards and crisp linens contrasting with the warm earth-tones of the era-inspired furnishings, the bedrooms feel luxurious, but not old-fashioned.  It's one of the easiest ways to see how the hotel is inspired by the Edwardian era without slavishly recreating it.  The fixtures are purely modern, but with the same eye to comfort and convenience all set off with rich, dark wood-tones.
There are plenty of lights, power outlets for your electronics and a lovely large television in every room. Also, a mini-fridge in the console below the wall-mounted television and ice machines in the hall.  As an American, this matters to me, as do the tea things, which were also provided.
The bathrooms feature crisp marble, shining glass and wonderful comforts like heated towel bars and generous amounts of toiletries from shampoo to body lotion. The spacious closet holds fluffy robes, an iron and ironing board and anything else you could need to freshen up before a meeting or a day or evening out.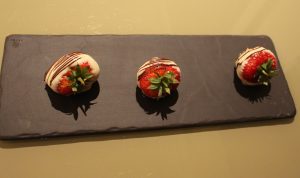 Gracious little touches like the fresh chocolate-dipped strawberries we found awaiting us prove that the Radisson Blu Edwardian is far more than just an airport-convenient location, but a true luxury experience perfect for any traveler.
To book your stay, visit their website.
All photographs by Suzanne Magnuson.