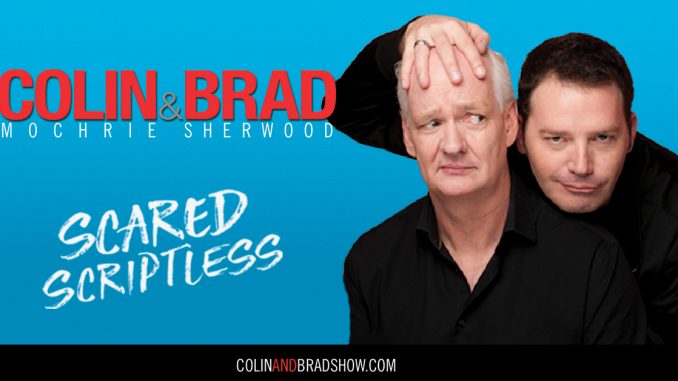 Frankly, the Jester is not even napping. It's engaging in decade upon decade of high-energy, brain-straining levels of deliberately (often fiendishly) difficult improv comedy. Its journey to greatness hasn't been much of a secret either.
Take two improv comedians. Train them for years in acting and improvisation, and give them work on episodic television and in improv troupes. Throw them in front of a television camera in the UK and USA, making them change directions on a dime, create and sing songs on the spot in every style known to western culture, and allow others to manipulate them into increasingly embarrassing positions. Then send them on tour in their own show for 15 years. If they had the skills to begin with, they're going to end up as masters of the craft.
Brad Sherwood, an actor first, was the only LA candidate to make the Whose Line Is It Anyway? cut, and it's easy to see why. With his good looks, rich speaking voice, broad general knowledge and terrific musical improv skills, Sherwood ably holds up his side of this partnership of brilliantly funny equals. Who but Sherwood could have figured out the audience-provided $100 word "defenestration" from a string of seemingly disjointed clues?
Colin Mochrie, a Second City Toronto alum, makes hay about his follicular impairment and Canadian upbringing, but don't let his mild manners lull you into thinking he's the straight man.  Neither of these guys is the straight man, and that's what makes the show so enjoyable and worth recommending. While Sherwood relishes crisply enunciating polysyllabic terms with a touch of intellectual swagger, Mochrie is adept at screeching-sharp turns that shift an already weird scene into something sublimely hilarious.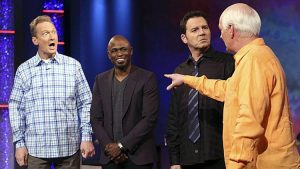 At a time when national politics are affecting all the arts, it was refreshing to attend a show so blissfully unattached to the real world. Two idyllic hours of bizarre and slightly raunchy silliness were the perfect refuge from everyday life. When was the last time you cringelaughed while comedians deliberately waded blindfolded and barefoot through a sea of live mouse traps while improvising a scene suggested by the audience? If you want to laugh until you're hoarse and your smile muscles throb, this is the show. You can find the full tour calendar for Scared Scriptless here.
The McAninch Arts Center at the College of DuPage in Glen Ellyn – or MAC, as it's known to its faithful attendees – played host to Scared Scriptless as the kickoff of their packed 2018/2019 season, and they know how to hold a shindig.
A fund-raising silent auction was accompanied by a pre-show reception of delicious samples from local purveyors, and capped by dessert and specialty coffees during the intermission, all held in the MAC's beautiful and airy lobby galleries.
Houlihan's – yes, Houlihan's – served up some crispy and super flavorful fried cauliflower that never even attempted to pretend at being health food. Likewise, Adelle's of Wheaton sent over a few trays of incredible sausages. The smoked sausage in particular was amazing; camp fire smoke, subtle but complex spice, and just enough fat to keep it moist without becoming greasy. I can't find it on their catering or restaurant menus, so I hope this wasn't just an experiment or fluke. Serve this sausage all the time, folks!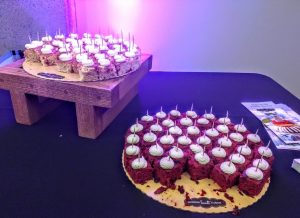 The Clubhouse in Oakbrook served up some of their famous lobster bisque, which prompted a rare return for seconds. The first serving, dished up to order, was a little off because the generous helping of chopped lobster on top was cold. My second helping, in which the lobster had sat in and absorbed some of the bisque's warmth, was exquisite. The stock's background was all-lobster, the flavors well balanced and so full that even a generous dose of rich cream couldn't dull them. At the intermission, Nothing Bundt Cakes offered up samples of a variety of their most popular flavors, each frosted with a dollop of their rich cream cheese icing. The lemon and red velvet were real standouts, with subtle but luscious flavors in a light and almost impossibly moist cake.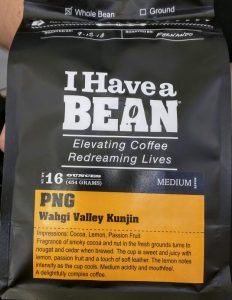 Through both hors d'oeuvre and dessert service, I Have A Bean provided a coffee that changed my mind about coffee. Their ethical practices in sourcing and hiring have garnered them news coverage, and after tasting a couple of samples of their sweet, complex and incredibly smooth Papua New Guinea Wahgi Valley Kunjin, I think it's clear they have a superior product to back up their methods.  Look for great things in the future from this Wheaton-based roaster.
The MAC's show and event schedule is jam packed this year, and with both comfortable seating and free parking, it's a pretty great suburban bargain for fine entertainment. You can find their full calendar here.
Show photos courtesy of Colin and Brad
Event photos courtesy of the MAC