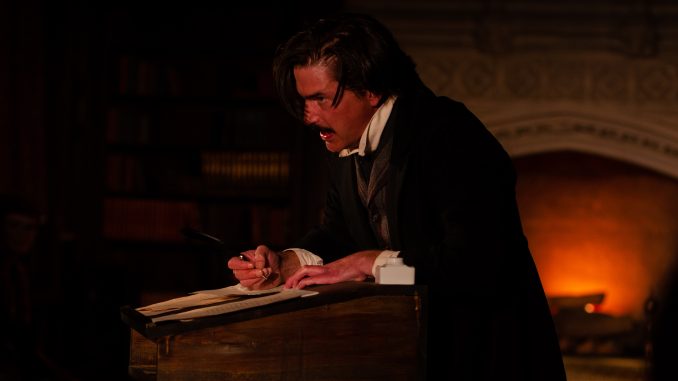 The windows of the Mayslake Peabody Mansion have been dressed in sad, uncertain rustling purple curtains… so enter if you dare.
The level of loving detail in the First Folio Theatre production of The Madness of Edgar Allan Poe: A Love Story, returning for a perfectly timed mid-fall run after its original run with the theatre company in 2015, will tickle any literary enthusiast who ever owned a collection of Poe's poems and short stories. Everything–from the sound design that incorporates each kind of pealing bell Poe describes in "The Bells" to the ingenious interactive path the audience takes through several rooms of the mansion, following Poe as he recites the words of "The Raven," perhaps to himself in a creative fit, perhaps living its words as he mourns his departed wife Virginia, the haunting words leading, in turn, to enactments of several of his most chilling short stories–is cleverly and hair-raisingly executed (literally–there were several moments during the play's running time when the hair on my arms stood up).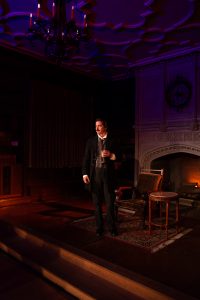 Christian Gray plays the title literary genius, capturing both his intense passion for his young cousin bride, as well as the heartbreak and torment of grief that fuels his creative output. The way Gray enunciates "tintinnabulations" as he tears through "The Bells" makes the audience member believe it is granted through a stroke of inspiration that is less a blessing than a torment. His performance has hints of the Pied Piper about it, the dangers peeking out only through his intense stare as he lures the audience forward into his words and characters.  Virginia Poe is played with equal parts playfulness and gentleness by Erica Bittner. In an affecting monologue, Virginia has tea with the audience, sharing her husband's tragic past (his mother and another maternal figure both passed away from tuberculosis) while also granting insight into what she labels his "melancholy" and the troubling intensity of his fixation on his young (13 to his 27) cousin. Bittner's kind, earnest manners soften what may be a more skeptical, even hostile modern audience reaction to these problematic elements and genuinely evokes sympathy as Virginia too begins to succumb to tuberculosis.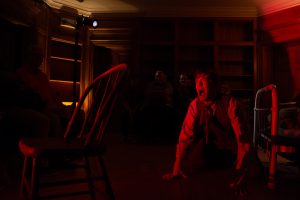 Of the stories brought roaring to life amongst the mansion's rooms and nooks, the eeriest is "The Tell-Tale Heart," which invites the audience into the bedroom of the old man while The Madman, toweringly portrayed by Sam Pearson as a man who can be disarmingly funny and charming as he patiently explains why he is perfectly sane… before he begins to unpack his plan to murder an elderly gentleman for whom he is a caretaker. The room, already made small by the bedchamber set, seems to shrink as Pearson's agitation gains steam, ping-ponging the boundaries outlined by the audience until he is pinned to the floorboards under which the evidence of his monstrous crime is stashed. Pearson's manic unraveling is perfectly timed, fluttering much like a pinned butterfly, then exploding almost gleefully to resolution.
If you prefer a more poetic, psychological scare this Halloween season than what's offered in the grindhouse haunted house offerings, make the time to see this production. It's a thoughtful biography, an evocative insight into a creative process hinging primarily on mourning, and, of course, a fearsome staging of the beginning of modern-day literary murder-mysteries and horror.
All performances of THE MADNESS OF EDGAR ALLAN POE: A LOVE STORY will take place at the Mayslake Peabody Estate, located at 1717 31st St., off Rt. 83, in Oak Brook. Performance times are as follows: Wednesdays at 8 p.m., Thursdays at 3 p.m. and 8 p.m., Fridays at 8 p.m. Saturdays at 4 p.m. and 8 p.m. and Sundays at 3 p.m. Preview tickets are $25. Regular priced tickets are $34 Wednesdays and Thursdays (seniors and students are $29) and $44 on Fridays through Sundays (seniors and students are $39). Season subscriptions and individual tickets may be purchased by calling the box office at 630.986.8067 or online at the First Folio website.
Photos: Courtesy of First Folio.