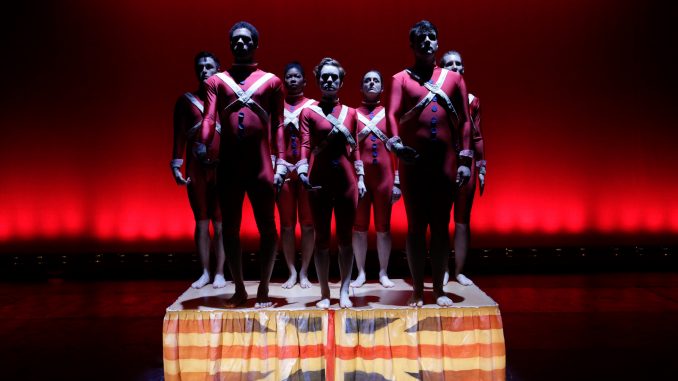 The first time I saw Lin-Manuel Miranda's Hamilton, what surprised me most was the electric choreography. I was prepared for the music, having owned the cast recording for several years. But the way the company brought to life the stirring emotions the American Revolution inspired–the fury and indignity of taxation without representation; the exhaustion of defying battlefield odds; the dizzying highs of intellectual and philosophical creation and the disappointing lows of compromise and conflict–was truly wonderful.
Theater Unspeakable's 50-minute physical theater piece The American Revolution takes that kinetic energy and shakes it up with clowning, creating a sometimes winkingly silly, sometimes tense and moving, but always interesting and engaging storytelling experience. Seven performers portray founding fathers, leading philosophers and diplomats, future First Ladies, and, in a sad, resonant thread, a slave striving for freedom, which would be show enough… but, in a wonderment of creativity and teamwork, they somehow also bend and shape themselves into a miniature-scale charge on a battlefield, crates of tea, and the new American flag flapping musically in the breeze.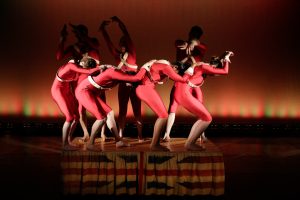 In additions to the deft use of the human form, each of the seven cast members are also gifted comedic actors, able to deliver punchlines and slapstick with equal efficiency. The gleefully mad King George played by Devin Sanclemente, flails his lended limbs about wildly as he pouts and proclaims and bullies and to be honest, I would watch an entire spin-off show about the Beantown superstar Sam Adams, embodied sublimely as a pugilistic, belligerent patriot (and, seemingly, a forefather of the Wahlbergs) by Sonja Lynn Mata. But the crowning achievement is Jeffery Owen Freelon, Jr's dual role as General (then President) George Washington, as well as his enslaved valet Billy. Capturing both the charming and determined Virginian who sometimes seems to be Bud Abbott to an entire regiment's witless Lou Costello and the steadfast but seemingly unheard voice directly addressing his enslaver, requesting freedom after years in service to a war that will ultimately erase any and all attempts at greater efforts to eliminate the abhorrent practice of forced labor, Freelon balances the laughs with the final touching but frustrated words of the piece.
Lively, smart, and joyous about America's history and absurdities, The American Revolution is a unique theater event, leveraging the flexibility of the human form and voice, to retell America's origin story with verve.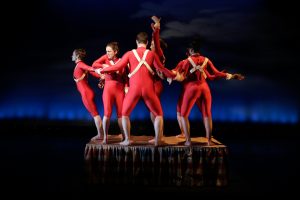 From now until November 11, The American Revolution will run Wednesday and Thursdays at 10 a.m. and 12:30 p.m., Saturdays at 11 a.m. and 2 p.m., and Sundays at 11 a.m. The running time is 50 minutes with no intermission. Ticket prices are $30 or $20 for students, industry, senior, and military and can be purchased at greenhousetheater website.