All items listed from most to least expensive.
World, 1632
Printed in Amsterdam, this miniature map shows four continents. The sea monster appears in the decorative corner along with by a cornucopia, a bird of paradise, a salamander, and two scenes from the Garden of Eden and the Last Judgement.  Today, the world is scary because of what we know. In the Medieval and Renaissance periods, the world was scary because of what we did not know. Sea monsters were part of that great unknown, and map and atlas makers embraced them.
A huge variety of marine monsters adorn the maps of the 13th and 14th centuries. There are monsters spouting water, monsters with huge tusks, monsters as big as islands, monsters that are hybrids of multiple creatures (both mythical and factual), and also mermaids, sirens and other humanoid creatures swimming around the oceans.  Maps from this era show how our knowledge of geography was growing but also show our lack of knowledge about large marine animals. Let's assume mariners did indeed see something monstrous in the surf and brought their accounts back to dry land. Whales were plentiful at this time. Blue whales are huge – 30 metres long and weighing 150-plus tonnes. It's easy to understand how a close encounter with a breaching whale becomes a close encounter with a sea monster.
$4,956.02  Buy now!
Mattress from Nectar Sleep
A mattress from Nectar Sleep is the bed of their dreams – a comfy, cool mattress delivered right to their door. It's the optimal level of firm and soft, and comes with a 365-night home trial.  4-layer foam construction. Cooling cover and quilted cooling gel. Adaptive Hi-Core Memory Foam. Made without ozone depleters or lead. Forever Warranty to replace your mattress. Try it risk free for a full year.
$524 – $1,024  Buy now!
Ecuadane
The Antisana blanket is named after a stratovolcano of the Northern Andes, Ecuador. It's vibrant colors and geometric patterns will bring the rustic charm of southwestern culture into your favorite cozy space. Great for the home, beach, camping or a picnic. It's blend of high quality alpaca and synthetic materials ensure durability for wonderful memories for years to come.
$149.99 Buy now!

INTEX® 20" PremAire® ThermaLux™ Airbed
Engineered to maintain comfort regardless of external temperature, the PremAire ThermaLux airbed adapts to hot and cold temperatures wherever you are staying. The airbed features a Microcell™ Contour Top, an extra soft tri-layer weave that insulates in cold weather and wicks moisture in warm, humid weather providing true four season comfort. Equipped with a newly modeled pump panel with a firmness control button and USB port, the PremAire ThermaLux Airbed will become a staple for any traveler that desires versatility. Available only at WalMart
$145.00  Buy now!

Smart Home Water Test
Tap Score Essential Water Test by SimpleWater. Baseline testing package includes actionable Tap Score reporting that quantifies the concentrations of more than 30 metals, heavy metals and other inorganic chemicals in your tap water.
It's designed for: • People served by a water utility which they have doubts about • People living in a home built before 1986 • People living in an area with old pipes and other aging infrastructure • Families with young children or other vulnerable individuals at home
$119  Buy now!

INTEX® 18" PremAire® I
Fortified with 2-ply laminated sidewalls and bottom, the durable PremAire I is an airbed that can go the distance with you and your family. With a deluxe velvety pillowtop the PremAire I confidently retains air while providing a high-quality, puncture-resistant surface. Regardless of what you encounter on your next trip, this light-weight, heavy-duty airbed will make the perfect stow away.
$99.99  Buy now!

Montana x NAMESAKE Edit 01 Customizable Candle
Signature leather, musk, and oakmoss scented soy candle, in leather wrapped ceramic vessel. Customize with name or initials for a luxe personalized gift.
$80.00  Buy now!
American Dream House
Does your tween's room need a trendy update? Or maybe you're just looking for fun pieces that add a little pop? The just launched, already much buzzed about "First Collection Ever" by American Dream House has just what you need to transform your room into a cool, stylish space.
$75-$225  Buy now!

INTEX® 22" High-Rise Premium Comfort Airbed
Slip in the night's rest you deserve with the new Intex 22" High-Rise Premium Comfort Airbed. This model sets itself apart with its Dura-Beam® Plus high-strength polyester fibers which don't stretch over time, making it a valuable, long-lasting home or travel necessity. It also features a plush dual air pillowtop system for added comfort and flocked sides to provide more durability against punctures and abrasions.
$69.99  Buy now!

Flamingo Neon Desk Light
The classic flamingo design lives on forever! Always a best seller, this sassy pink spirit animal lights up any room and space with a sexy pink glow.
$69.99  Buy now!

Honeywell Designer Series Cool Mist Humidifier
The Honeywell Designer Series Humidifier Fits right in with a home's décor with its multi-layered textures and modern lines, along with simplified controls and tank lights that can be completely turned off for sleeping.
Product details include: – Sleek design to fit in with modern décor – Essential oil tray for added sensory experience – Auto-dimming LEDs indicating mist output level – Independent tank light with 3 settings: bright, dim or off – 1.25 gallon capacity with 24 hour run time – Filter-free, cool visible mist – Auto shut off when empty.
$69.99  Buy now!

Hungry Fan Three-In-One Fangating Thermal Bag
Hungry Fan Three-In-One Fangating Thermal Bag is THE perfect gift for the camper, potlucker and tailgater in your life! The thermal bag can keep hot food warm, or cold items chilled, AND can be used as a cordless (battery-less) slow cooker!
$59.19 Buy now!

Honeywell Soothing Comfort Warm Mist Humidifier
The Honeywell Warm Mist Humidifier features a comforting, 99.5% bacteria-free mist and wide tank opening for easy cleaning.
Product details include: 99.5% bacteria-free mist.  Quiet, fan-free operation that won't disrupt your sleep.  Essential oil or liquid inhalants feature.  1 gallon capacity with 24 hour run time.  Auto shut off and reset light when empty.  Wide tank opening for easy filling and cleaning. 
$39.99  Buy now!

The 125 Collection
Quote candles by The 125 Collection are created to inspire, motivate and make you laugh. Made with a soy blend wax and a lead-free, cotton wick. Produced with premium fragrance oils created by a top perfumer in NYC. Proudly made in the USA.
$35  Buy now!

Designing for Wellness
Acclaimed artist, Susie Frazier, has spent the last 20 years designing calm-inducing art and accents for hospitals, hotels, corporations, and homes. Having lived with undiagnosed anxiety and ADHD since childhood, she developed her own methodology, rooted in biophilia, for enhancing spaces in ways that ease the overstimulated brain. Today, current research in wellness architecture has caught up with what Susie has innately known – that decorative decisions made in our built environments have a direct impact on our minds.
With over 41 million people in the United States living with these same conditions, Frazier openly shares how she manages her condition through various decisions she makes in the built environment. Her self-taught principles, now backed by science, have found their way into every aspect of her business from soothing art compositions, to soulful and streamlined furniture, to enriching colors, textures, and sounds in the rooms that she styles.  As architects and planners are sprinting to learn about the new WELL Building Standard for developing healthier public places, Susie is offering a glimpse into what's coming in the next generation of interior design. In a clear and simple format, Designing For Wellness delivers a collection of mindful tips that anyone can implement at home in order to nurture their own emotional well-being.
$34.00  Buy now!
BloChair Inflatable Chair
Inflatable furniture is back and better than ever! Easy to move around (folds down for storage too), suitable for indoor AND outdoor use, and easy to clean, BloChair's funky colors (come on, how amazing is that holographic foil glitter??) add a cheeky twist to any room. Don't forget the ottoman, for ultimate relaxation!
$29.99  Buy now!

Clever Made
Soft-sided, yet sturdy, the TrunkCaddy is meant to fit our everyday needs. With the built-in patented SnapHinge™, collapse your TrunkCaddy when not in use. Velcro strips along the bottom keep the TrunkCaddy secure. Additional Velcro strips along the side of each unit allow users to connect multiple TrunkCaddy's for the ultimate organization. Each TrunkCaddy featured two built-in handles, making it easy to carry from the car into the store or house.
$29.99  Buy now!

CLASSIC COCKTAIL PENNANTS
Drink, anyone? These classic pennants add style to any space. Plus, they're great conversation starters.
$25 each – $70 for set  Buy now!
Takenaka Bento Box
Takenaka Bento Boxes come in a vast array of vibrant colors. Unlike other food containers, the colors rarely wear off as they are all meticulously hand-colored. Made in Japan, all of our Bento Boxes are dishwasher safe, microwavable, and BPA / LEAD free. We highly recommend the Expanded Double Bento Boxes for their superb design and functions.
$25-$35  Buy now!
Home Pennant
Home is where the pennant is. Wherever you are, make it yours. This Home pennant is perfect for turning your house into your home.
$25  Buy now!
Sporticulture
Sporticulture is a great way to dress up your party table with the colors of your favorite team. Each plant comes in a pot adorned with your team's logo along with a decorative helmet tag. You'll definitely score a touchdown with these beautiful blooms. SCORE!
$24.99  Buy now!
Root, Nurture, Grow
You've created your own house of plants, so what's next? The authors of House of Plants follow up their successful debut book with Root, Nurture, Grow – a practical and detailed guide to propagating and sharing indoor plants.  The stylish handbook shows you how to make the most of your favorite houseplants through simple, beginner-friendly propagation techniques (such as stem cutting, rooting in water, runners, offsets, grafting, division and more), as well as resourceful DIY projects including homemade rooting mediums, seed-bombs, and a self-watering plant pot.
It shows you how to look after and nurture your new plant babies, and how to share them with friends by making beautiful gifts and displays.
$24.99  Buy now!

American Home™ by Yankee Candle® Balsam Fir Firelogs
Enjoy the scent of Fresh Balsam Fir in your home with this fragrant firelog. With its 3-hour burn time and easy lighting, you can enjoy the fresh scent any time of the year.
Fast and easy lighting with no mess – Crafted from real hardwoods – Enjoy the fresh scent before you burn – Burns cleaner than ordinary cordwood, producing up to 75% less particulate matter* and up to 80% less carbon monoxide* 
$24.99  Buy now!
Wreaths
Wreaths explores the art of creating wonderful floral pieces, to gift or keep, through a collection of 20 beautiful and natural designs. Learn how to play around with color, foliage, texture, and architectural forms with a craft that is no longer just for Christmas.
Packed with ideas, skills and techniques, Katie and Terri will inspire you to bring a touch of nature indoors as they offer a fresh and modern approach to wreath design. Going beyond the traditional shapes, this book will equip you with the know-how to create impressive statement pieces, tropical and dried wreaths, as well as beautiful garlands and a late summer chandelier. Presented through exquisite photography and step-by-step instructions, Wreaths shows how best to maintain and display these botanical creations in your home. Discover the joy of foraging and master the art of making natural wreath frames with this irresistible book – a must-have for lovers of floral arrangements and interiors alike.
$22.99  Buy now!
Wax Buffalo Evergreen X Candle
That heady perfect blend of pine, blue spruce, roasted rosemary, fir needles, and crisp pine cones. Evergreen is the perfect blend of Christmas tree magic, the notes of clean fir needles filling the air as your crunch through the snow in search of the perfect Holiday tree.
$22  Buy now!

BLU Notebooks
The BLU Notebook offers an aesthetically pleasing effect when using vibrantly pigmented white and coloured gel ink against the rich blue pages of BLU. Writing in BLU provides a "just right" sensory feeling that satisfies and soothes.
$21.00  Buy now!
BlissLights
BlissLights' patented light projectors create unique lighting for all the holidays in every home or landscape. The holographic, laser and light technology can be used indoor or out and is easy to use for everyone.
$20.00-$150.00  Buy now!

2019 Firefighter Calendar
Our 2019 calendar is hilarious, made with our friends at Fire Department Chronicles, so you know there's a laugh on every page.
And you can smile, too, because 100% of the proceeds go to our new Fire Dept. Coffee Foundation to benefit injured or ill firefighters and other first responders.
$19.99  Buy now!

Grow Your Own Planter Kit
This Spring, grow all the way! Use living Mushroom Material to make your own garden planters! Fill the included forms (or use one of your own) and watch as the magic of mycelium transforms the loose hemp & corn particles into a sturdy and happy planter. When you're ready, plant directly into the garden!
This single kit includes enough raw material to make two planters at a time. Soil and seeds not included.  Check out this how-to-grow video or read the GIY instructions here!  These planters give you a chance to grow these materials on your own, bringing a part of a new material revolution into your home. 100% grown, biobased. Do not over water your plant.
$19.99  Buy now!
Chic: A Fashion Odyssey Boxed Notecards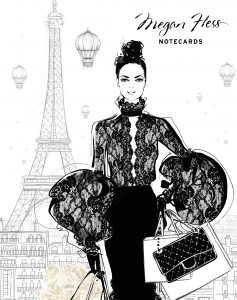 CHIC: A FASHION ODYSSEY by Megan Hess – Megan Hess is an international fashion illustrator who works with some of the most prestigious fashion designers and luxury brands around the world, including Chanel, Dior, Cartier, Montblanc, and Tiffany & Co. She is the author of Fashion House , The Dress , Coco Chanel , and fashion travel guides New York and Paris . Her first children's picture book, Claris: The Chicest Mouse in Paris , was published in August 2018. Boxed set of 16 Notecards.
$16.99  Buy now!

Pine Mountain® 3-Hour Firelogs
Inspired by nature and crafted from real American hardwoods, Pine Mountain 3-Hour Firelogs turn your every day into a mountain retreat with the simple strike of a match. With its accurate 3-hour burn time, feed your soul with a Pine Mountain fire, weeknights or anytime.
Perfect for fireplaces, fire pits and campfires – Fast and easy lighting – Simple, with no mess
$16.38  Buy now!

Chic: A Fashion Odyssey Set of 3 notebooks in slipcase
CHIC: A FASHION ODYSSEY by Megan Hess – Megan Hess is an international fashion illustrator who works with some of the most prestigious fashion designers and luxury brands around the world, including Chanel, Dior, Cartier, Montblanc, and Tiffany & Co. She is the author of Fashion House , The Dress , Coco Chanel , and fashion travel guides New York and Paris . Her first children's picture book, Claris: The Chicest Mouse in Paris , was published in August 2018. 
$14.99  Buy now!
Little Book of House Plants and Other Greenery
The Little Book of House Plants and Other Greenery is a source of green inspiration for small-space gardening, featuring a directory of 60 of the most popular varieties of foliage to own. From dramatic palms and tropical leafy wonders to beautiful ferns and flowering potted plants – this book covers everything you need to know about nurturing and growing your own.
Each of the 60 plants is accompanied by luscious photography and an easy-to-follow breakdown of all the essential requirements for that variety. This includes details on size, growth, and flowering, along with any extra tips on caring for that specific plant.
$14.99  Buy now!

Chic: A Fashion Odyssey Memo Pad
CHIC: A FASHION ODYSSEY by Megan Hess – Megan Hess is an international fashion illustrator who works with some of the most prestigious fashion designers and luxury brands around the world, including Chanel, Dior, Cartier, Montblanc, and Tiffany & Co. She is the author of Fashion House , The Dress , Coco Chanel , and fashion travel guides New York and Paris . Her first children's picture book, Claris: The Chicest Mouse in Paris , was published in August 2018.
$14.99  Buy now!

Crystal Magic Notecards
New from the author of the bestselling book CRYSTALS: The Modern Guide to Crystal Healing, this is an enchanting boxed set containing 16 crystal-themed notecards with matching envelopes. The reverse of the card features an explanatory line of text about the properties of each crystals and the cards are blank inside so that they can be used for any occasion.
$14.99  Buy now!
Pine Mountain StarterLogg® Firestarter
StarterLogg, America's #1 brand in firestarters, is the fast, no-fuss way to start a real wood fire. No need for newspaper or kindling—enjoy all the crackling goodness you love with the simple strike of a match.
For indoor or outdoor use—fireplaces, fire pits, campfires – Qwicklite® technology for quick and easy lighting – Use one firestarter per fire – Available in 24- and 48-count cases; sold nationwide
$13.49  Buy now!

Night Before Christmas Tree 3D card
Fluffy, white snow frosts the laser-cut pine on the forest green front of our Night Before Christmas Tree card. Inside, the snow-tipped tree magically appears in 3D sculpture form, featuring gold star-shaped trimmings, jolly red berries, and chubby, chocolate brown pinecones. Ruby-colored cardinals flock this whimsical pop-up, cheerfully frolicking (and leaving footprints) through the snow-covered ground, rippling water trough, and intricately cut branches.
$13  Buy now!

Nordic Christmas Tree 3D card
A tiny bearded gnome races forward with a VIP (that stands for VERY important present) on the cover of this royal blue laser-cut card. Inside, he joins his gnome pal in decorating an intricately sliced and formed tree sculpture in vivid green and white. With tall garnet red hats and fistfuls of gold ribbon, the gnomes prepare their Christmas tree for a holiday celebration against the snowy white background.
$13  Buy now!

Night Before Christmas Candle 3D card
Make the holidays merry and bright with our spectacular Christmas Candle design. Holly leaves and berries surround a traditional Christmas Candle. Inside rises a 3D sculpture of the Night Before Christmas Candle, surrounded by holiday-inspired flora and fauna and golden yellow stars.
$13  Buy now!
The Better Ice Scraper
The Better Ice Scraper is a faster, smarter, easier way to clear your windshield this winter! It's compact size makes it stable. It's unique design makes it efficient. And it's ergonomic grip makes it more comfortable to use.
The Better Ice Scraper features patent-pending Shape Shifting technology that forms the frost edge to the curve of your windshield for maximum contact. The handheld shape puts less strain on your wrist, elbow and shoulder, but knocks out ice in no time! This season get it done faster and better with The Better Ice Scraper! Makes a great stocking stuffer!
$12.99  Buy now!

Grow Fragrance Pine Forest
Grow Fragrance is a new brand out of North Carolina that is flipping the script on spray fragrances. After hundreds of tests and years of meticulous fine-tuning, Grow Fragrance has released a line of scents that is pure, safe for family and furry friends, and actually smell like the plants, herbs and flowers we know and love from nature, because shocker, they come from nature! The new, holiday edition Pine Forest has rich & sappy pine notes from Siberian fir and Canadian balsam essential oils!
$12.00  Buy now!
Tervis
Resuable drinkware to last a lifetime! Variety of sizes from tumblers, mugs, wine glasses, water bottles, and sippy cups in thousands of different designs, including the option to design your own.
$11.99-$45.99  Buy now!

I Like Birds Spot & Jot Flip-Tip Notepad
I LIKE BIRDS by Stuart Cox – I Like Birds is a Scottish brand producing bird-themed designs with universal appeal for use on stationery, household textiles, mugs, greetings cards, prints, calendars, and more. Distilling the natural world into something simple and beautiful, I Like Birds blends a passion for aerial wildlife with fresh design to create products that are fawned over by nature lovers and the design cognoscenti alike.
$10.99  Buy now!
Febreze Holiday Collection
The holidays will be here before we know it, and while they might be the most wonderful time of the year… they can also be the smelliest! Whether it's used in the kitchen after cooking the holiday meal, in the bathroom after a family member takes a little bit too long, or in the car with the kids for a holiday road trip, Febreze makes a great (and affordable) stocking stuffer or addition to a holiday gift package.
Febreze has all of your odor-elimination gift needs covered with products in various holiday-inspired scents (Fresh Cranberry Twist, Fresh Pressed Apple, Fresh Cut Pine and Fresh Fall Pumpkin) available in Febreze AIR, CAR, PLUG, CANDLE and WAX MELTS. Febreze products prices range between $3.29– $9.49, at retailers nationwide. Pricing at the sole discretion of the retailer.
$5.49-$9.49  Buy now!
Itzastand
Your removable, reusable stand–a simple and easy way to quickly display those moments that mean the most to you.
$4.99-$19.99  Buy now!
*All images courtesy of respective companies. – Splash Magazines is not paid for this content.