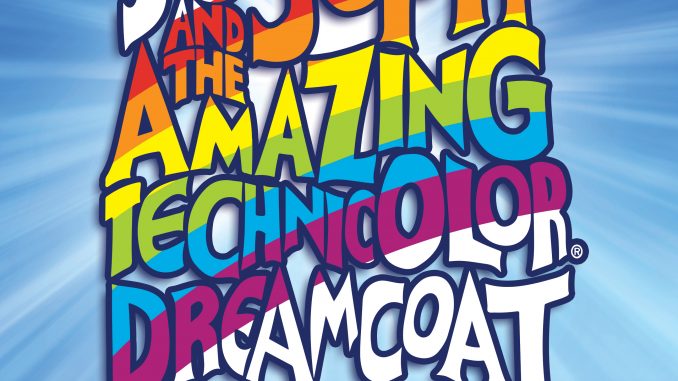 By Kathy Carpenter
November and December is the season for family. A lot of us need to learn to forgive. Let bygones be be bygones. Coronado playhouse has chosen to close out their 2018 season with "Joseph and the Amazing Technicolor Dreamcoat." Family and forgiveness in a seventy five minute parable. A heavenly truth shown to us in earthly context.  The ultimate story of parental favoritism & sibling rivalry.
Joseph started as a twenty minute cantata written over fifty years ago by a seventeen year old Andrew Lloyd Webber, and twenty year old Tim Rice. The musical evolved after Webber's success of Jesus Christ Superstar.
You may remember Donny Osmond playing the role on Broadway and starring in the movie version. My sister and I who attended the show together, and believe me we are nothing alike, share a special connection to Joseph and The Technicolor Dreamcoat.. Both of us acted  in different versions through our church. Which I guess one might say connects us with Donny Osmond, who I loves as a teenager. Still do. Everything comes full circle, doesn't it?
The show is directed by Jason R. Bailly, with musical directors Michael Anthony & Michael Farley, with choreography by Ricardo Valenzuela, all coming together to bring us this simple Bible story from The Book of Genesis  with fabulous music
Joseph is Jacob's favorite son. The 11th of twelve, born in his old age from wife Rachel. When Jacob presents Joseph with a Dreamcoat,  compounded by Joseph's dream he will rule over them someday, this leaves his brother no choice. They conspire against Joseph to sell him into slavery. They steal his coat, smear it with fresh goat's blood, telling Jacob he is dead. Joseph is a slave to Potiphar. He works hard and rises in the household. However, Mrs. Potiphar takes a liking to young Joseph. Although Joseph spurns her, Potiphar gets the wrong message and sends him to prison.
In prison he meets two men, a butler and a baker. He interrupts  their dreams. The butler is released and never forgets. When the Pharaoh of Egypt is in need. The Butler tells him of Joseph. Joseph is released and bought before the Pharaoh. After hearing Joseph's predictions he puts Joseph in charge. Joseph becomes Egypt's number two man. His family eventually come to him for help. Joseph, makes them pay, but eventually forgive them.
Yes, I love the music in this show. Music form different era's, fifties, and seventies. Cowboy,, French, and Calypso.. Completely fun and telling lyrics by the masterful Rice. Some of my favorites are; "Any Dream Will Do," "Poor, Poor, Joseph," "One More Angel," "Close Every Door," "Those Canaan Days,".
The tale is told by a Narrator, to children as Joseph The Dreamer. The Narrator is played by Brandi Lacy.A woman with an amazing voice. The seven Children played by Stella Campion, Marina Hall, Sophie Kelvin, Braeden Joseph Steele, Kherington Vinson, Lendia Rose Wylie and Lillian Rae Wylie, were truly a gift to the show. They had wonderful voices and were often carried the songs alone. So young and following their choreography without missing a beat. Next we have Trevor Rogelstad. His voice and manner similar to Osmond, but not. He does him proud. The other castmate I want to mention is Stephen C. Sccott as Pharaoh, he makes a glorious Elvis.
The set is simple but I love technology. Projected in the back of the stage is wonderful Egyptian scenes with 3D effect to make things move and bring the scene to life. The costumes, well to start we have thy Amazing coat. So glad Joseph redons at the end of show. That a show moment. The rest of the costume befitting the era. Costume by Kelly Fox.
The show ends with a run thru of all the songs in the show. We have The band, Michael Farley, Jon Berghouse, Patricia Schenkelberg, Manny Castro, Melanie Medina, and Robert Johnson, giving their time to bring us this magic.
Do you have Some one you need to forgive? Tis the season!
Come enjoy the show together.
Joseph And The Amazing Technicolor Dreamcoat
Coronado Playhouse
Nov 16 thru Dec 16, 2018
1835 Strand Way Coronado
619.435.4856
www.coronadoplayhouse.com
Guys and Dolls
Jan 18 thru Feb 24, 2019