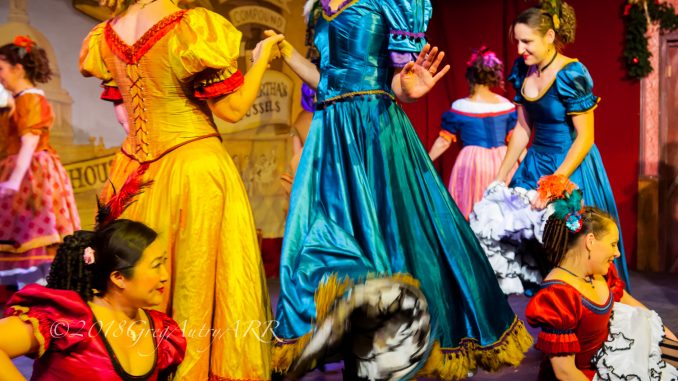 SAN FRANCISCO, CA – (December 2019) The historic Cow Palace will once again be transformed into Dickens' London, now in its 36th season, The Great Dickens Christmas Fair will run Saturdays and Sundays now through December 23, 2018, offering visitors a delightfully immersive holiday experience without rival.
The Great Dickens Christmas Fair & Victorian Holiday Party is something very special and a holiday treat I urge everyone to experience.The Dickens Fair is truly astounding!  Lighting to look like London in the twinkling setting sun, with over three acres of exhibitions endless amusements, Crafts, and Games, along with Fine Food & Drink to your hearts content. There are 800 hundred cast members, all dressed historically accurately and taught, in classes, how to act and speak as it was done, back in Victorian London. I suggest you don a costume yourself, and take in the whole of the magic.
Walk in and be immediately transported to the street of Merry Victorian London as she celebrates Christmas in all her finery. Twilight-lit streets with shops, pubs, stages and dance halls filled with more than 800 Victorian characters and the aromas of roasted chestnuts and hearty fare.. Pick up your Traveling Map as you go in, and immediately stop at the Post Office to secure your free tickets  for the Saucy French Postcard Review.
The Great Dickens Christmas Fair overflows with holiday magic for the youngest guests, offering hands-on craft activities, old-world games of skill and chance, and lively interactive shows in the Tinsel Green Children's Area. Young audience members will cheer the hero and jeer the villain at the children's melodrama, join Alice at the Mad Hatters' Tea Party, or learn the tricks of the chimney-sweep trade from the Miracle Sweeps of London School. A delightful addition to the usual holiday entertainments, youngsters can meet Old Father Christmas each day at one o'clock on the Father Christmas Stage, ride on a hand-powered Adventure Carousel, cheer the Toy Parade, and laugh at the antics of an authentic British Punch & Judy puppet show.
Guests will welcome the return of the Gilbert & Sullivan comic opera "Trial By Jury" in the Victoria & Albert Bijou Music Hall – one of the most successful one-act operettas of all time telling the story of ludicrous circumstances played out by characters who behave as if the events are perfectly normal. Be astounded by the world premiere of "Dr. Xander T. Culpepper's Miracle Elixir Show Of Miracles," but don't expect to walk away with any of his miracle magical tonic; demand is simply too high! Also on the Pennygaff Stage, fresh from a year studying at the Royal Shakespeare Company, the buffoonery of London's most hilariously silly chimney sweep, Jim Chiminey is welcomed back!
Experience Mr. Dickens' wonderful stories portrayed by hundreds of Living History characters throughout the streets. Encounter Mr. Scrooge, Tiny Tim, Oliver Twist, Nancy, and many more of Mr. Dickens' characters. Queen Victoria, along with Albert and their court, walk the streets of London to mingle with the guest, as only Royalty may. You may join Mr. Samuel Pickwick himself and his fellow "Pickwickians" as they tour London, spreading hilarity and mirth. Throughout London town there is the illustrious Adventurers' Club, or the Dickens Family Parlour, and the Great Exhibition Stage that will all no doubt, take you back to a time long ago. Do not miss genius inventor Professor Flockmocker's Workshop, and the internationally themed Silk Road Stage for exotic dance and special musical guest appearances.
For the Best of the Fair, catch a song or two at the Paddy West School of Seamanship, and then stroll down to Mad Sal's Dockside Ale House where Mad Sal herself will be hosting bold new talents as well as bawdy favorites like the high-kicking dancers of the Le Cancan Bijou in the Mad Sal's Dockside Music Hall. The gentlemen of Brass Farthing lift a frothy good ale with their rollicking songs and the ladies of The Gin Alley Sally's musically include you in their 'Society for the Appreciation of Libation and Spirits.'  Later in the day, the extremely popular and my favorite show production, the outrageous "Saucy French Postcards Tableaux Revue" delight adults over 18 with "Gods & Heroes," a new episode in the private lives of Horatio and Letitia Everard. Funny how I'm not allowed in with my camera …and no one else is, either!
The Great Dickens Christmas Fair was originally produced by Ron and Phyllis Patterson in 1970, inspired by their successful Renaissance Pleasure Faire, which they brought to the San Francisco Bay Area during the Summer of Love in 1967. The next generation, Kevin and Leslie Patterson now joined by their grown sons Andrew and Michael, have produced the Fair since 2000, continuing a 50-year family tradition and three generations, of deeply immersive, historically authentic environmental theater. For those who love and miss the authenticity of the old Renaissance Faire, you will be dazzled and delighted at The Dickens Fair, as all of that old magic is right here and has never left thanks the Patterson family's tireless attention to detail.
"Each year we are inspired to be better than ever and are rewarded with the delight and surprise of our guests," says Executive Director Kevin Patterson. "The holiday spirit of Charles Dickens and his London flourishes for several weeks – and we revel in the merriment and good cheer of all who attend."
There are beautifully appointed shops and carts offering fine artesian crafts, fanciful clothing and accessories, jewelry, toys, and ornaments' for the holidays. Little accouterments you would never imagine are discovered with regular delight by shoppers of all ages a desires.
One of my favorite vendors is the cart of Sculptor, Rebecca Love, who creates one-of-a-kind hand crafted ceramic life mask and body castings. Years ago I commissioned one of each for my wife Sandy, and they are indeed part of our most treasured art pieces at home. Rebecca is a delight to know and to work with. There is also tile and pottery , in styles and designs only Rebecca can make.  Take a look at her newest African Masks.
Though I do not play, I also love Stephen Joynes' Fiddle Shop. Based in Palo Alto California, Stephen does restorations and repairs, and operates his booth out of love for the instruments. He told me, `I work out of my house. My workshop is in my garage and backyard…this is a retirement job for me…I travel the west coast and set up my instrument shop at music related festivals. Spreading the joy of music, especially to children, is a very gratifying pastime.' Everyone can appreciate the workmanship that goes into these beautiful instruments.   See more at Steve Joynes, on Pinterest.
Steven Overstreet Designs are a mainstay at The Great Dickens Christmas Fair, as well as Renaissance Faires everywhere. `I design my clothing for women to celebrate their inner and outer beauty. I use color and texture as my basic tools. Most of the fabrics I use I dye myself, mixing a palette of colors that are not available any other way. Silk velvet is one of my favorite fabrics because of its incredible softness, its drape and the feel of it against the skin. My designs, inspired by the Pre-Raphaelite art movement of Victorian times, are romantic, sexy and artful.'
Don & Andrea Thompson's, Velvet Bedlam offers all apparitions of gowns, skirts, and dresses as well saucy "under things."You will also find unique capes and coats for all, including velvet, silks and colorful cotton fabrics. The Thompson's create beautiful wardrobe for discerning adults and fine lovely children. Come enjoy our friendliness and cheer! The photos here are a tiny sample of what is offered and the Ladies helping one try-on a garment are delightful and expert at their craft.
When visiting the vendors  the `A I R' symbol displayed by some denotes merchants who  handcraft the wares they sell. I encourage everyone to support Artists in all genres and mediums.

WHEN: Opens Saturday, November 17 and runs Saturdays and Sundays (plus the Friday after Thanksgiving) through December 23, 2018, 10:00 AM – 7:00 PM
WHERE: The Cow Palace Exhibition Halls, 2600 Geneva Avenue, Daly City, CA
PRICES: Tickets are Select-Day. Visit  dickensfair.com to reserve your preferred date.
General Admission (13+): $30.00
Children ages 5-12: $14.00
Children under 5: Free
Group Tickets: For groups of 20 or more, contact [email protected],
415-668-0525
Active Military: 1st & 2nd Weekends Free Admission:
Active Military personnel will receive FREE Admission on First and Second Weekends!
(November 17, 18, 23, 24, 25 only; photo I.D. required.)
The Scrooge Special (Twilight Ticket offer, available only at box office):
Adult Twilight Tickets, $18.00, Child Twilight Tickets, $10.00 both available after 3:00 pm:
Parking available for $12 (charged by the Cow Palace).
The Fair offers a convenient shuttle from the Glen Park BART station
More Dickens Fair on Social Media: Instagram DickensFair, Facebook Dickens Fair, Twitter Dickens Fair
Connect with me, Greg Autry,  on Social Media:  Facebook  Facebook.com/GregAutryPhoto,  Twitter  @CGAGreg,  and Instagram   gregautry.cga . There are always more pictures !
*All Images ©2018GregAutry ALLRIGHTS RESERVED