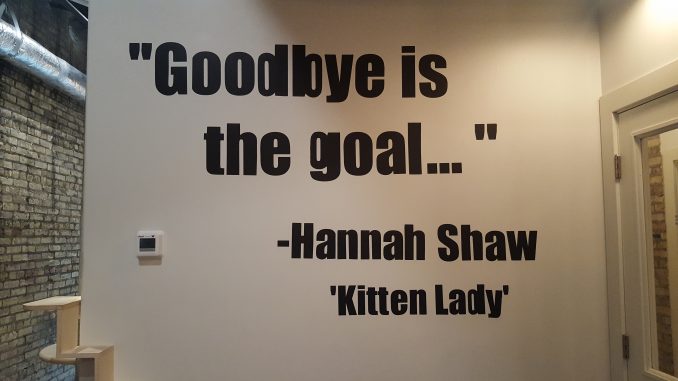 While planning a day trip to Milwaukee, my friend asked, "Would you like to stop by a new cat cafe while we're there? I follow one on Instagram."
The answer, to any questions like that, is always yes. And minutes after checking in at the cozy combination coffee bar-greeting station, I was eating an impressive piece of apple pie with a cheddar cheese-infused crust and looking into the cat lounge, where a group of rescues from rescues near (Lakeland Animal Shelter is a dedicated partner) and far (several cats are from Qatar via a relationship with Evenstar Charitable Organisation).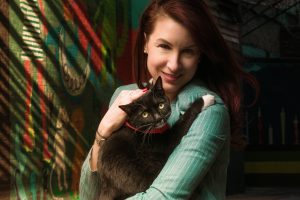 Sip & Purr, Milwaukee's first cat cafe and bar was founded in summer 2018 by Southwest Airlines employee Katy Mchugh. While she was on vacation with her family in Amsterdam, enjoying an outdoor cafe, a cat named Gigi jumped onto her lap. "And I thought to myself, 'Why can't I just pet cats and drink wine?'" And after talking to friends and her husband, Katy began building out the business plan for Sip & Purr with the help of the Wisconsin Women's Business Initiative Corporation. And the inspiration of that magical cat from The Netherlands lives on: The Gigi is a standard cocktail on the menu.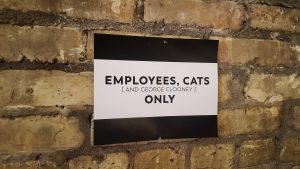 Recently, the cafe reached its 6-month anniversary and has facilitated 135 adoptions in its short life. During our chat on a rainy Saturday, Mchugh had to pinball between one adoption that had been scheduled for pickup and one adoption that was in the process of being approved by Lakeland, not to mention the 30th birthday party that visited the cat lounge in full Santa regalia, inspiring her to snap photos for her aforementioned Instagram. In between managing visitors and adoptions, she took the time to give me a tour of the full space, including the private area where cats can retreat for privacy.
In addition to a bustling business in the lounge and cafe, Sip & Purr has expanded to special events, including drag bingo hosted by Sylvia Nyxx (whose day job is as one of Sip & Purr's skilled bartenders/baristas/cat wranglers), a book club, a movie night, and an upcoming wine and cheese tasting. Thus far, all events have sold out, and Mchugh plans to grow her presence by partnering with fellow local businesses for adoption events.
But the heart of Sip & Purr remains the cats. Two longtime residents, Nacho and Nero, ensure that regular visitors always have a familiar face to cuddle; kittens are contained to a tall crate they seem to delight in climbing and tumbling in and around; and the rest of the adoptable cats spend their time napping and exploring and cuddling throughout the space.
If you cannot make the trip to Milwaukee to visit–though you can't enjoy a top-notch cheese board and a hot chocolate spiked with housemade irish cream if you don't–Sip & Purr has a 2019 calendar for sale via its shop. But if you wish to have the full experience, drop into the cafe or make a reservation via the website (weekends in the cat lounge are frequently sold out).