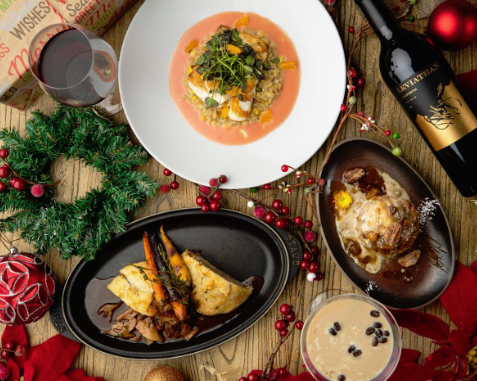 Santa won't need to dash through the snow to reach dreaming adults and children in Las Vegas. Instead, he'll be spreading holiday cheer throughout the month of December at his favorite spots in town, giving you Christmas experiences that only Las Vegas can provide.
If you are looking for the all encompassing holiday setting, nothing will whisk you into the holiday season quite like the Winter Wonderland at Bellagio Conservatory and Botanical Garden. The first think to catch your eye while making your way through the Winter Wonderland is the more than 45,000 fresh poinsettias. Then on December 6, the enchanted winter wonderland will feature Las Vegas' largest indoor holiday tree, majestic 8-foot-tall chocolate reindeer, a life-size snow globe and polar bears. That is just the start as the full-scale candy house will leave any childs head full of wonderment as well as wishing they could just take one bite out of this breathtaking creation. Complementing the extravagant holiday décor, live marimba and vibraphone performers will play nightly, filling the Conservatory with cherished sounds of the season.
Bottiglia Cucina & Enoteca l Spending Christmas in the Magic City? No need to worry, make your way to Green Valley Ranch for Bottiglia Cucina & Enoteca's Christmas and Christmas Eve dinner specials. Begin your elegant meal with a creamy Maine Lobster Bisque or a unique wild Mushroom Ravioli. For the main course, choose between three luxurious entrees, the Osso Bucco, Baked Stuffed Whole Lobster, and the dual threat, fan-favorite, the Ultimate Surf and Turf. 
Hearthstone Kitchen & Cellar l It's starting to look a lot like Christmas with these special offers HearthstoneKitchen & Cellar! For Christmas and Christmas Eve, the American eatery will be offering special menu items such as, Beef Wellington served in marsala sauce, Pan Seared Halibut served with Alaskan King Crab and corn Risotto andButtered Rum Pound Cake. Yum!
Boyd Gaming properties throughout southern Nevada are making holiday dining easy and memorable with a variety of delectable specials and decadent dining experiences available this December. Reservations are strongly recommended.
Christmas Menus
MRKT will serve a special Christmas menu on Christmas Eve (Monday, Dec. 24) from 5 p.m. to close and Christmas Day (Tuesday, Dec. 25) from 3 p.m. to close, offering multiple special selections. Guests will begin their meal with a choice of a roasted golden and red beets served with goat cheese, pecans, blood orange, dried cranberries and orange-herb balsamic vinaigrette or a creamy butternut squash bisque with spicy crème fraiche each priced at $15. For the main course, MRKT will serve traditional beef wellington with pâté, veal demi-glace served with roasted fingerling potatoes and sautéed baby squash for $45. Dessert will feature a fresh berry English trifle with sweet custard for $15. Diners have the option to enjoy three selections for $75 or order à la carte.
Bistro 57's Christmas menu will be available on Tuesday, Dec. 25 from 3 p.m. to close for $55 per person. The dinner will begin with an arugula salad with glazed roasted pecans in honey lemon dressing. The main course will feature ribeye steak and scallops served in a light lobster sauce. For dessert, guests can enjoy a warm panettone with cinnamon ice cream.
FARM will serve three-course lunches and dinners for $18.99 between 11 a.m. – 9 p.m. on Christmas Day. Christmas specials start off with a house salad. The main course includes spiced-glazed ham, roasted Brussels sprouts, carrots, pecans, cranberries and sweet potato mash served with a dinner roll and a slice of pecan pie for dessert.
The Salted Lime will offer an authentic Latin American, three-course Christmas special on Tuesday, Dec. 25 from 4 p.m. to close for $28. The meal features a house salad with mixed greens, tomatoes, cucumbers and radishes topped with crispy red and blue tortillas and pepita dressing. The main course is shrimp tamales with spicy tomatillo cream sauce, Blanco rice and Peruvian beans. Pumpkin flan will be served for dessert.
Medley Buffet will serve up traditional Christmas favorites from 10 a.m. to close, starting at $17.99 with a B Connected card. Buffet selections include turkey, slow-roasted prime rib, honey-glazed ham, seared Atlantic salmon, stuffed flounder, a salad bar, Christmas cookies and more. For more details, please visit www.aliantegaming.com/dine/casual-dining/medley-buffet.
This holiday season, Caesars Entertainment Las Vegas Resorts are decking the halls and rolling out festive offerings for guests celebrating the jolliest time of the year in Las Vegas.
The Feast of Seven Fishes
Italian-born Giada De Laurentiis is serving her take on the Feast of the Seven Fishes at her namesake restaurant, GIADA at The Cromwell, with a delicious tasting menu available onChristmas Eve and Christmas Day. Guests can celebrate with their choices of dishes such as lemon linguini a la vongole, crispy prawn putanesca, olive oil poached lobster tail, pomegranate dover sole and zuccotto or a hot cocoa soufflé for dessert. In need of a last-minute gift? GIADA gift cards are perfect for your foodie friends and family.

Giada De Laurentiis putting the finishing touches on Christmas
at GIADA at The Cromwell
Credit: Giada De Laurentiis
The iconic Italian institution, Rao's at Caesars Palace's Feast of the Seven Fishes menu features a variety of à la carte seafood specials from Chef de Cuisine Fatimah Madyun including baked clams, warm octopus salad, lobster fra diavolo made with a half-pound of Maine lobster, pan seared branzino, lobster pot pie and more.
Holiday Dining Offerings
Caesars Palace
The award-winning Bacchanal Buffet will serve a special holiday brunch ($59.99) and dinner ($79.99) on Dec. 24 and Dec. 25. In addition to the buffet's usual fare, brunch offerings include menu items including lobster eggs benedict, maple glazed ham, espresso and sea salt crusted prime rib and pumpkin spice French toast. For dinner, guests will enjoy festive dishes including herb roasted turkey with fig and sage stuffing, char-grilled lamb T-bone, oysters with a leek and fennel sauce, butternut squash ravioli with truffle cream, soft Scheel crab on a sweet corn cream and more. Save room for dessert with options like eggnog crème brulee, Christmas tree chocolate mousse, cranberry and pear pie and an assortment of other festive treats.
Old Homestead Steakhouse will get guests in the holiday spirit with a special prix fixe menu ($80 per guest) on Christmas with dishes like creamy celeriac soup and a 14 oz. espresso crusted prime rib served with fingerling potatoes, haricot verts and bone marrow beef jus. For dessert, guests will indulge in a chocolate cake or eggnog cheesecake.

Pronto by Giada is offering delicious pastries loaded with holidays flavors. Perfectly paired with a warm beverage from Counter Culture coffee, guests can enjoy panettone muffins, holiday or dark chocolate dipped gingerbread biscotti, apple crostatas, pumpkin chocolate swirl pound cake, peppermint chocolate cheesecake cannoli, chocolate orange cream puffs and more. Guests can also indulge in seasonal gelato with dark chocolate mint gelato, amaretto cherry gelato or pomegranate sorbetto.

On Christmas Day, Rao's will delight guests with several specialty dishes including mussel soup with savory velouté, pei mussels, shaved fennel and chili oil; manicotti pasta filled with ricotta cheese, topped with marinara sauce and gratinéed with mozzarella cheese; herb-crusted, garlic-studded prime rib with mashed potatoes, green beans, au jus and horseradish sauce; pan-seared branzino with crispy capers over broccolini with lemon beurre blanc; and panettone with vanilla gelato and vanilla brandy sauce for dessert.

Restaurant Guy Savoy will serve its Christmas Prestige menu ($385 per guest) on Dec. 24 and Dec. 25 and will feature ten exquisite courses including: octopus in cold steam, terrine of foie gras, quince and gastrique; Chef Guy Savoy's signature artichoke and black truffle soup; a choice between slow braised veal cheek and A5 Kagoshima Japanese Wagyu beef; sweet mignardises and more. Restaurant Guy Savoy will also offer a full Christmas Vegetarian Prestige menu. For reservations, reach out to

[email protected]

.
Bally's Las Vegas
The famed steakhouse, BLT Steak, will take holiday dinner to the next level with a prix fixe menu ($90 per guest) that will feature a selection of holiday items including roasted butternut squash, seared foie gras, dry-aged prime rib, lamb porterhouse with a rosemary crust, loaded sweet potato, cranberry spiced bread pudding and more. Dishes from the holiday menu can also be ordered à la carte.
Flamingo Las Vegas
On Dec. 24 and Dec. 25, Center Cut Steakhouse will offer an elevated a la carte holiday menu with seasonal dishes including farro and roasted carrot salad, velouté de châtaignes, herb crusted leg of lamb, roasted turbot, a 38-ounce tomahawk ribeye for two and rich bourbon pecan tart for dessert.

Paradise Garden Buffet will take guests to paradise this Christmas with festive fare including honey glazed bone-in ham, roasted turkey, roast leg of lamb, tamales and more. Desserts will continue to bring the holiday cheer with sweet favorites like pumpkin pie, fruit cake, linzer bars and more.
Harrah's Las Vegas
Toby Keith's I Love This Bar & Grill will get into the holiday spirit with a special three-course menu with a country-twist. Guests can enjoy a house salad or chicken pot pie chowder for an appetizer followed by slow roasted prime rib served with mashed potatoes, sautéed green beans and savory rosemary au jus. For dessert, guests will delight in an American classic – homemade apple pie topped with vanilla ice cream and served with a side of Christmas eggnog. The meal is priced at $34.

Flavors Buffet will make guests feel right at home with its Christmas Day brunch menu that includes classic festive flavors in dishes like honey baked ham, cranberry and rosemary stuffed pork loin, roasted turkey, roasted baby yams, eggnog pound cake and a selection of holiday pies. These specialty items will be offered on Dec. 22 through Dec. 25.
Paris Las Vegas
Enjoy Burger Brasserie this Christmas with a specialty a la carte menu, featuring a roasted golden beet and fennel salad, apple bourbon glazed pork tenderloin, sweet potato pecan pie and pumpkin crème brulee.

Le Cafe Ile St. Louis will transport guests to the streets of Paris this Christmas with a three-course prix fixe menu with butternut squash soup, goat cheese and fig salad, shepherd's pie, turkey and stuffing, pumpkin crème brulee and more.

Le Village Buffet will treat guests' taste buds this Christmas with a festive array of holiday dishes—both traditional and unexpected. The menu for the day includes apricot glazed ham, pecan apple glazed yams, leg of lamb, roasted ratatouille, white wine steamed mussels and more. Guests can make their reservations on OpenTable.
Planet Hollywood Resort & Casino
Spice Market Buffet will spice things up this Christmas with its holiday feast including honey glazed ham, five-spice leg of lamb, mac and cheese as well as global flavors like seafood paella, Tandoori chicken kabobs, tamales and more. The holiday dinner menu is priced at $36.99.
Rio All-Suite Hotel & Casino
If you're seeking an all-American Christmas dinner, visit All-American Bar & Grille. Guests can start with their choice of wine or beer and a house salad followed by a roasted turkey, vegetables, stuffing, gravy, Boursin mash potatoes and cranberry relish. Guests can also enjoy pumpkin or apple pie for dessert. This meal is priced at $29 per guest.

Looking to host your own holiday dinner? Let the chefs at Rio All-Suite Hotel & Casino cook your Christmas meal for you! These holiday to-go boxes (starting at just $120) feature a variety of festive dishes from prime rib to ham and serve four to six people. Call (702)777-7767 or visit All-American Bar & Grille to place your order. Orders will be accepted until 7 pm on Dec. 24 with order pick-ups starting at 11 a.m. on Dec. 25.
Additional Holiday Activities
The LINQ Promenade will turn into a magical winter wonder land from Dec. 1 through Dec. 31 with candy themed décor, whimsical entertainment, the smell of fresh cut pines and nightly snowfalls. There will be live entertainment at the fountain stage Monday through Wednesday from 6 to 9 p.m. as well as a modern twist on the classic "Twas' the Night Before Christmas" story Thursday through Sunday from 6 to 9 p.m. on the hour.

The Spa at The LINQ is getting into the holiday spirit with festive treatments and packages. Guests can enjoy a Vanilla Hot Stone Massage and Peppermint Foot Scrub ($80), Butterscotch Facial ($129) and Hot Apple Cider Bourbon Pedicure ($65) or all three for the complete holiday package ($370). Be the hit of all your parties this season with the Holiday Glam Package ($139). Perfect for a night out, holiday parties and New Year's Eve, this package includes airbrush makeup application and event hair style.

Don't miss the impressive gingerbread display at Rio All-Suite Hotel & Casino. Created by Rio's talented pastry team, this unique display in the lobby took over 383 hours to build. The team used over 100 pounds of sugar, five quarts of egg whites, 50 pounds of flour, 200 pounds of rolling fondant and 30 pounds of modeling chocolate.
Be sure to check out the beautiful gingerbread creation in the lobby at Flamingo LasVegas. Watch the team assemble this magnificent display in the time lapse videohere.
For more information on Las Vegas events, please visit http://www.caesars.com/las-vegas/.
About Caesars Entertainment
Caesars Entertainment is the world's most diversified casino-entertainment provider and the most geographically diverse U.S. casino-entertainment company. Since its beginning in Reno, Nevada, in 1937, Caesars Entertainment has grown through development of new resorts, expansions and acquisitions. Caesars Entertainment's resorts operate primarily under the Caesars®, Harrah's® and Horseshoe® brand names. Caesars Entertainment's portfolio also includes the Caesars Entertainment UK family of casinos. Caesars Entertainment is focused on building loyalty and value with its guests through a unique combination of great service, excellent products, unsurpassed distribution, operational excellence and technology leadership. Caesars Entertainment is committed to environmental sustainability and energy conservation and recognizes the importance of being a responsible steward of the environment. For more information, please visit www.caesars.com/corporate.