Chicagoland's top yoga studio, Yoga Six, has officially announced its rebranding to Yoga Squad. Yoga Squad is a well-known yoga brand with studios in various cities including Chicago, Milwaukee and Columbus. All three studios in the Chicago area including Gold Coast, Lincoln Park and South Loop, have been rebranded, and are now doing business as Yoga Squad.
Along with a new name, Yoga Squad's three Chicago locations are also offering new classes, including the beloved hip-hop yoga class at select studios. Yoga Squad offers additional classes including; weighted Yoga Sculpt Classes, Hot Yoga at 103 degrees, and traditional Vinyasa Yoga.
Yoga Squad's goal is to "change the way people think and experience yoga." To achieve this, their studios offer numerous practice rooms and high-end amenities including locker rooms, showers, mats, and towel service. The yoga experience continues outside of the practicing studio, with relaxing lounges and retail boutiques at each location. Yoga Squad is dedicated to empowering individuals – no matter where they are in their yoga and fitness journey. There is a special offer to first timers- a special deal of $20 for a week of unlimited classes.
I had a wonderful experience when visiting the Gold Coast location. It is very accessible when using public transportation, which I prefer when traveling to downtown or the Loop. When I arrived, I was greeted by the smiling face of Scott Greenberg, who was working the front desk when I checked in. He was very knowledgeable about the studio, gave me a tour of the space, and was happy to answer all of my questions.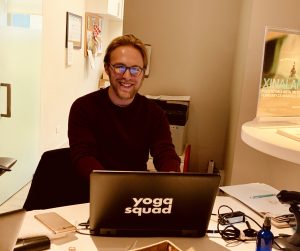 One factor I noticed about Yoga Squad was how organized and clean the space was. I have been to my fair share of yoga studios, and this one was the cleanest and best laid out I have ever seen. It also gave a sense of tranquility and serenity, which is important to me when I go to take a yoga class. I do yoga to relieve every day stress and clear my mind: who needs additional stress inside a yoga studio?
In the front when you enter, there is also a small store to the right where you can purchase merchandise such as t-shirts, yoga pants, water bottles, mats, hats, etc. On the opposite wall, you can borrow a yoga mat and towel for your class. The locker rooms are also spotlessly clean. There are black and white photographs of male and female athletes doing yoga poses that designate the male and female locker rooms, which I thought was clever.
Megan is a fantastic yoga instructor who knows the practice very well. Beside teaching yoga, she is also a licensed social worker, and works as a psychotherapist at a private practice called Move Therapy and Wellness. She has been teaching different types of yoga classes at a few studios, and enjoys doing both.
Megan has been working at Yoga Squad for nine months and likes the people she works with, who are always helpful, and pleasant. She also loves when her students learn about alignment and get a good workout during her classes. Megan's goal is for people to experience a mind and body connection. There is a way to improve the physical state through good mental health, and vice versa. She accomplishes this through connections with her students, creating a safe sequence and setting a meaningful intention.
After Megan's yoga class, I felt restored and relaxed throughout my mind and body. I felt ready to take on any of the day's challenges, which is why exercise, and especially yoga, are so essential for my overall health and well being. I would strongly recommend the Gold Coast Yoga Squad if you are looking for a clean, stress free environment, and some killer yoga classes and great instructors. Your daily stresses and worries about life will melt away after a class here.
Photos by Jennifer Lunz unless otherwise noted. Featured image courtesy of yogasquad.com.  
Yoga Squad is a yoga studio offering classes that are designed to challenge your body's flexibility, strength and muscles. Yoga Squad has three Chicago locations in Lincoln Park, Gold Coast and South Loop. Each location offers a variety of classes. To see a list of classes and studio schedules, please visit the website.
Chicago Locations:
• Gold Coast: 1150 North State Street
• Lincoln Park: 2105 N. Southport Avenue, Suite 200
• South Loop: 1136 South Delano Court, Suite E-204