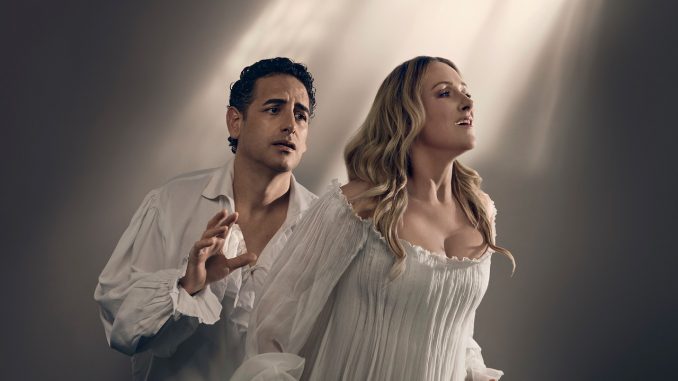 Juan Diego Flórez as Alfredo and Diana Damrau as Violetta in Verdi's "La Traviata."
Photo: Marty Sohl / Met Opera
So, what DOES make Opera GRAND?
Presenting Metropolitan Opera -Live Transmission in movie theaters around the nation, FATHOM EVENTS provides individuals an opportunity to learn about and enjoy opera.
La Traviata-Giuseppe Verdi (1813-1901) and Francesco Maria Piave took this work from the play La Dame aux Camelias, adapted by Alexandre Dumas, fils, from his own novel first published in 1848; the play premiering in Paris (1852), and the opera premiering in Venice but a year later!
This new production for THE MET, conducted by the house's new music director, Yannick Nezet-Seguin and staged by Michael Mayer, Stars: Diana Damrau as Violetta, Juan Diego Florez, as Alfredo, and Quinn Kelsey as Giorgio. with of course, The Metropolitan Opera Orchestra and Chorus and some lively choreography by Lorin Latarro.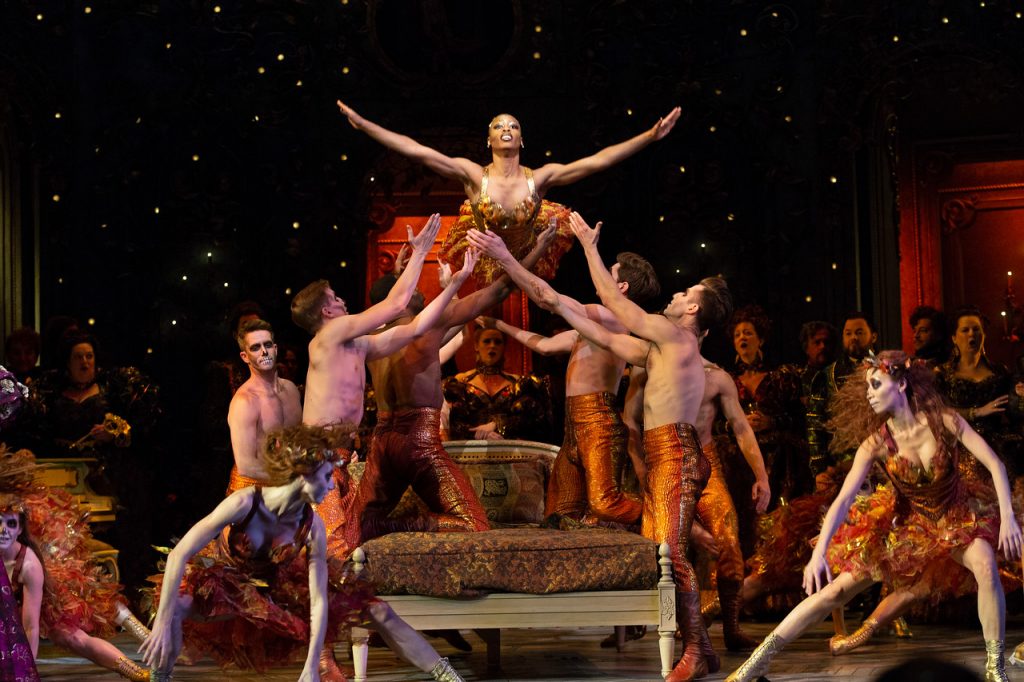 Lighting Design by Kevin Adams, Live in HD, Director, Gary Halvorson, and the HD transmission hosted by Anita Rachvelishvili.
In 1955, during the original Golden Age of Television, our time being more akin to platinum, there was a glorious program broadcast on Sunday afternoons originally on NBC and some years later on ABC named OMNIBUS. It was hosted by a brilliant ex-pat Englishman who became culturally, and naturalized, a highly patriotic, in the best sense, American. His name was Alastair Cooke. His was the voice and persona of all that was intellectually vital to America's first television audiences. So, what the H.E double hockey stick have to do with the latest production of Verdi's masterpiece that translates as The Woman Gone Astray ? Well, I'll tell you, that, that fellow Alastair Cooke was the first TV big-wig that introduced to America a man who was arguably the most comprehensive and entertaining musical giants of the 20th century, and for whom a number of us around the world have been celebrating his 100th birthday, Leonard Bernstein.
In that year of 1955, Bernstein had the skills and chutzpah to commandeer the Old Metropolitan Opera house, long since torn down, it's then legendary manager, Rudolph Bing, and whatever array of star performers of the day made available to give a lecture demonstration for an hour and a half trying to answer the question he posed to America: "What Makes Opera Grand?" He even employed some excellent actors such as Jean Marsh (later of "Upstairs, Downstairs") Kenneth Haigh, then starring on Broadway in John Osborn's," Look Back In Anger", and the ubiquitous Hans Conreid demonstrate the differences between well-spoken and played dialogue from La Boheme, and how Puccini made a somewhat touching text soar.
Then from Shakespeare's Othello, a soliloquy of Iago's, to how Verdi adapted that masterpiece to make his own, Otello. Bernstein's major points being how music goes straight for the heart, and how the text needs be simplified so's not to clutter what sonic information is being conveyed to the listener. Yet, at the same time, how opera allows several voices be it two, three four or more to be singing simultaneously different characters with their own agendas informing the audience of life's complexities and being, "via the dimension of music," a "mirror up to nature.", as Hamlet extols.
These points resonated with me on just about all levels as I attended this HD screening of a live performance from THE MET, of what is arguably Verdi's, if not all opera's, most performed work. Opera lover that I am, and devotee of Verdi, most definitely, it just so happened that I'd never attended a live performance of this particular work. to my shame and chagrin. Lord knows, I was well familiar with the story of Marie Duplessis, who, courtesan that she was, actually had an affair with the young son of Alexandre Dumas, pere, well after the father had written his great novels of adventure and retribution such as the Three Musketeers and The Count of Monte Cristo. The 23-year-old fils wrote his novel after the tragic death of his notorious lover, Marie, and gave her the name of Marguerite Gautier and substituted consumption, that most romantic of lethal maladies of such centuries, from what she had in all probability succumbed, namely syphilis. Verdi and his librettist, Piave changed the tragic heroine's name yet again to Violetta Valery, who wore the flowers, Camellia: red when she was menstruating an unavailable for her profession, and the white variety when she was quite happy to be engaged.
How often have I viewed the George Cukor MGM film of 1937 and wept as the great Garbo breathed her last in the arms of Robert Taylor's Armand. And yet, in this version, sifted from Verdi's own personal knowledge of human tragedy, with the loss of his young wife and children when he was still a young man, the human information via the creation of this story augmented by Verdi's life experience and his stunning musical genius is capable of converting any attentive listener to a puddle of emotions, as long as the lead singing performer can create the illusion of a beautiful and desirable female, singing every conceivable emotion, mostly in the highest of soprano strata, yet convince us that her coughing is as genuine as her love for the tenor, Alfredo.
Such is the experience to be gleaned by the incandescent, Diana Damrau. I was expecting gorgeous singing from her, and from the trailer, knew that she was reasonably attractive, and not overweight, which would make the emaciating death from tuberculosis ludicrous. Such were Verdi's concerns at the world premiere in Venice in 1853 with the first Violetta, Fannie Salvini-Donatelli, whom the master considered to be too old and, well, too large, to make it credible, as if the work didn't have enough problems in its day regarding the subject matter of a celebrated whore, his heroine. In utter contrast to Verdi's fears at the beginning, Ms. Damrau has to be among the greatest manifestations of all that both Dumas, fils, and Verdi with his librettist had imagined and prayed would come to be.
Fortunately, the tenor here, Juan Diego Florez, ably supports the story line with excellent musicianship and acceptable characterization as a reflections of what Dumas, fils himself was in life. Portraying his father as Giorgio Germont, who convinces Violetta to give up the one true love of her life for the sake of his family, is given full measure in voice and acting of measurable subtlety, by Quinn Kelsey.
Tony award winning director, Michael Mayer has staged the story with a complex simplicity that never obscures the narrative, and the wild choreography of Lorin Latarro, certainly knows how to throw a wild early 19th century Parisian party! Still, it is the infinitely detailed Violetta from Ms.Damrau, as it must have been with Callas, circa 1955, when Bernstein was making his Omnibus broadcast, that elevates this production to its tragic dimensions and answers Lenny's question, truly, "What Makes Opera Grand?'
This production will return to The Met this coming April of 2019. Meantime, Fathom Events will be presenting come January 12th, Cilea's fabulous Adriana Lecouvreur, and come Feb 2nd, Bizet's Carmen. For those who are unable to attend Lincoln Center in person, and breathe the same air that the singers are employing to produce the sounds we love, these HD live screenings are the finest of substitutes available to the public who can afford but $25 for a cushioned seat and close ups where you can swear you can at times behold a singer's uvula in the back of their throat…O, just Go!
More information about Fathom Events
More information about The Metropolitan Opera