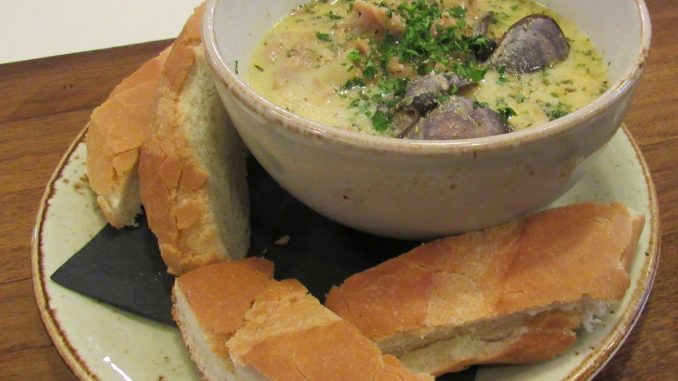 You might not expect to grab a seat at a counter style setting and have some of the best seafood in Los Angeles served to you in minutes, but that is exactly what you get at Prawn inside of the Grand Central Market.
While the seafood is served in many varieties and always aplenty, the secret to these dishes truly has to be the broths that are created by Chef Mark Peel. The broths go well beyond just a typcial seafood broth, each one is unique to their dish and is layered with flavor upon flavor. The signature dish of Prawn would have to be the Seattle fish stew. You could pick so many different things to love about this dish with the combination of shrimp, squid, clams, mussels and salmon, but it is the over-the-top richness of the lobster broth that brings everything together. When the Seattle fish stew is served the aroma from the lobster broth will give you pause before you dig in and then you will find after one sip it tastes just as good as your nose led you to believe. There is so much seafood in this dish each spoonful will be overflowing with seafood, broth and a wonderful with bacon rouille and it all served over rice.
The flavors of the broth don't end there, you can go spicy with the caldo picante or try the paella with shrimp, mussels and house-made pork sausage that is served in a saffron broth. Prawn also does a unque take on clam chowder as they go with a creamy clam broth that is much lighter than your typical chowder but this version allows you to take in all of that wonderful clam flavor without all of the fluff that others give you. The prawn chowder also has more fresh clams than you will find in two or three bowls of anyone elses chowder while also being served in a fresh bread bowl.
Prawn goes well beyond seafood and one of the most all-encompassing group of dishes around are the assortment of grain bowls. These seems to be the perfect compliment to the hustle and bustle of the Grand Central Market, all are very healthy and give the option to just walk up, order and keep moving. The Scottish salmon bowl is served with salmon steamed over a shiitake and seaweed broth, tossed with napa cabbage and pickled onions and served on brown rice and barley. The custom grain bowl allows you to choose any four toppings served on barley and quinoa, tossed in a roasted garlic-basil dressing garnished with pickled sweet peppers. In addition to the bowl itself, you can add extra veggies or additional protein such as an egg or tofu at a very reasonable price. If you are looking for a health, filling and flavorful lunch, these bowls are exactly what you are looking for.
You probably wouldn't be surprised to see a lobster roll on the menu, but Prawn also serves a crab salad roll, a fried shrimp and oyster version as well as one of the best chicken sandwiches in all of Los Angeles. This beer battered chicken has the same wonderfully light batter as the Prawn fish n' chips and it is topped with a refreshing shredded napa cabbage and mustard greens combination.
Regardless of whether you visit Prawn at the Grand Central Market or their Pasadena location, the one thing you will always find is fresh fish and plenty of it. If you love seafood but you are looking for a casual setting, Prawn gives you just that. Don't let fun and casual atmosphere fool you, Prawn is nothing but high class flavor.
For more information, visit: Prawn