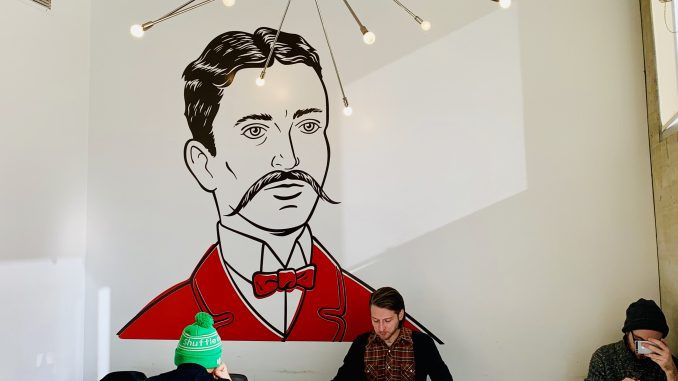 Vegans and vegetarians rejoice! Come dine at Upton's Breakroom, a cafe that serves light vegan fare in a bright, modern space. The cafe is a part of Chicago-based natural foods business Upton's Naturals. Since 2013, it has been home to the same West Town neighborhood building (2054 W. Grand).
The ingredients used at Upton's Breakroom are held to a high standard of quality, which is apparent in the menu, that's full of healthy, classic comfort foods made vegan. As a vegan-owned business, it is their goal to provide delicious, cruelty-free food, made with carefully chosen ingredients that anyone can enjoy. They offer lunch, dinner, and serve breakfast all day on weekends.
Customers can stuff their faces with popular menu items such as fried bacon Mac n cheese, the nacho plate, kale salad, the togarashi bowl, bacon ranch cheeseburger and Korean tacos. Fantastic desserts include the vegan everything cookie and their shakes, malts or monsoons, made from their creamy soft serve frozen yogurt.
I have been a vegetarian for twenty years, and eat vegan a couple of days a week. I am also proud to be a Chicago citizen, which is a city that caters to every food type. As we say hello to 2019, there are more vegan and vegetarian dining options available in this city than ever before. That's where Upton's Breakroom comes in! The café supplied every vegan-friendly craving I could think of. (This included successfully satisfying my meat-loving friend who accompanied me for lunch).
We were greeted by the company's marketing manager, Natalie Slater, who knew all the ins and outs of the vegan food business. I loved learning about the history of Upton's Naturals, and how it all got started fourteen years ago. Founded by owner Dan Staackmann, who has been vegan for over twenty years, started by making his own seitan, and then launched a line of pre-seasoned, heat-and-serve jackfruit, Ch'eesy Mac and vegan Meal Kits. Their products are now sold in grocery stores worldwide including Whole Foods, Target, Wal-Mart, Heinen's and Mariano's.
Upton Breakroom has a perfect vegan policy: though not all employees are vegan, no one can bring in meat products. This makes perfect sense to me considering the café and business ethics.
Our lunch was quite the delicious afternoon thanks to the fried bacon (housemade Mac and cheese with the signature bacon seitan), which was perfectly smoky and creamy, the nacho plate (a heaping tower of chorizo seitan, navy beans, salsa verde, cheese sauce, chopped tomatoes, pickled jalapeno, crema and cilantro with corn tortilla chips), the absolutely wonderful flavorful togarashi bowl (baked tofu, grilled kale, carrots, pickled radish, shredded seaweed and sesame seed, served over purple rice with a lemon tahini miso dressing and togarashi seasoning).
There were also the mouthwatering Korean tacos (chicken seitan marinated in Korean bbq sauce with house made kinship, avocado and cilantro on flour tortillas), and a fantastic meal finale thanks to the ultimate and huge vegan cookie (chocolate chips, oats, sunflower seeds kernels and cocoa nibs).
The cookie tasted wholesome with that right out of the oven feel. We were also given a special sample of their soft serve frozen yogurt, which was a spicy gingerbread seasonal flavor. I washed everything down with a bottle of Best Teas' Sparkling Hibiscus iced tea with lime, which was refreshing with no added sugar.
Everyone who works at Upton's Breakroom was courteous, welcoming and always smiling. They all were truly happy to work in a place that does not discriminate, and welcomes everyone, whether or not they eat animal products. I wish there were more of these places!
Photos: Jennifer Lunz
For more information about Upton's Breakroom, please call 312-666-7838, email [email protected], or visit the website.
Visit:
2054 W. Grand Ave., Chicago, IL 60612
Open daily 11am – 7:30pm