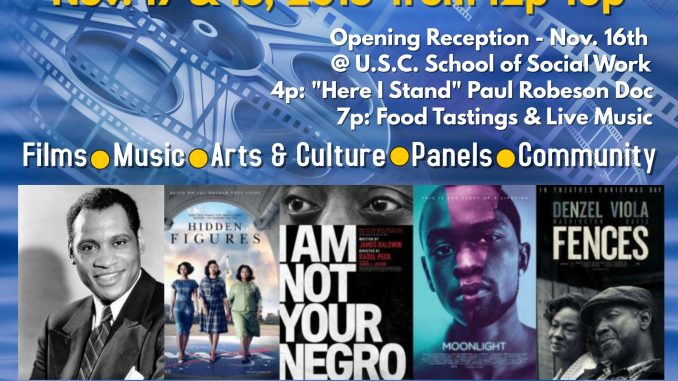 Paying homage to the legendary Human Rights Advocate/Sociologist W. E. B. DuBois and actor activist Paul Robeson, the Da Root Conference was formed to raise funds for iFamili,Inc.  The opening night celebration held on November 16, 2018 at USC Social Work campus, included singing from the internationally known  a'capella Doo Wop vocal group Street Corner Renaissance – singers Maurice Kitchen, Robert Henley III, Anthony Snead, Torrance B Reese, and Charles Banks, drums by Alpha Omega – K Cuesi, Debi, with vocals from singer Ferra Malika Oshun and a presentation from 8th congressional district's Marquez Harris Dawson, as well as an honor presented to filmmaker Ben Caldwell, a performance by actor Stogie Kenyattan. 
There was also an introduction to Earnestine Thomas Robertson, the international director for Southwest  College who has obtained 5 fire trucks that will be shipped to Zimbabwe to help people there and encourage investments. 
The event was organized by Torrence Brannon-Reese and Nina Womack, among others. In 1992, Torrence Brannon-Reese, who obtained his Masters in Social Work at USC, started iFamli, Inc, a 501c-3 , devoted to crafting realistic visions and goals for success in life especially geared for the young blacks struggling for identity and living in areas known for gang violence, teen pregnancy, substance abuse, low graduation rates and other difficulties. 
An African American male has better chance of being arrested for a crime he may or may not have committed than of obtaining a college degree. Due to the increasing death related shootings affecting African American, iFamli seeks to expand their reach and establish new programs.
As part of the group, he founded the transformative mentorship seminar See A Man, Be A Man and Princess 2 Queen, both of which are done in conjunction with Locke High School and Green Dot Public Schools, to give them a positive role model, help with goals, life mapping, as well as increasing self-esteem and transcending their environment. 
Hailing from New Orleans, growing up fatherless, he knew what it was to struggle with identity. In its 5th year, it's super to note the successes they are having – 100% of those who entered the 12th grade graduated with 80% going to college and 20% enlisting in the military.  Participants experienced stronger family ties and became more culturally literate. 
. 
Seminars, a black music concert, and films presented during the two days at various placers in Leirmert Park Village, a short drive from the USC campus, included Ain't I a Woman; Black Men: Toward a Positive Self-Determination; Black Leadership – fact or fiction; Gentrification, Economics & the Ways of the White Folks; Wellness & holistic health; and Love is -making sense of it all.  35 films in all were shown including "Thurgood Marshall – Portrait of an American Hero" produced by Jesse Wells Martin, Wayne Sharpe, and Dexter Reed; Belonging in the USA presented by storyteller Michael McCarthy, and other shorts like Prison Body, Mother's Fear, Black Fatherhood -trials and tribulations, Letters to the Ancestors, and Lead in the Water.
Jesse Wells Martin, who produced his PBS film on a National Endowment Grant many years ago, has continued his work in film and partners, at times, with European producer Kira Sesay, and has produced items including projects for Walt Disney World and Smithsonian's National Museum of American History.
He hopes to inspire others with kindness and activism and encourage five other "Jesses" including Humanitarian winner BET's Jesse Williams, the Rev. Jesse Jackson, Jesse Collins Entertainment, and Jesse L. Martin.
The cost for the event was $5-7 dollars per film or $25 for an all-day pass and $75 for the weekend pass. 
In the words of Curtis Mayfield, "I implore you to keep on pushin!"  Together they are changing the world one human at a time.