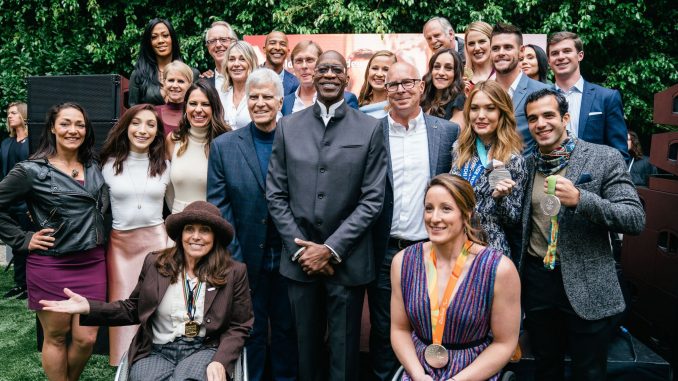 Hollywood has long been inspired by the sports industry and vice versa, but rarely do these two worlds have the chance to mix and mingle. On Saturday January 5, 2019, celebs and some of the greatest athletes headed to the House on Sunset for the Gold Meets Golden event to celebrate the Golden weekend.
The concept for the daytime brunch began when athletes at the London 2012 Olympic Games were surprised by shout-outs from their favorite Hollywood celebrities, and several of those athletes were invited to Hollywood Awards season. The outcome was "Gold Meets Golden" – a chance for Gold Medalists and other athletes to engage with some of the Entertainment Industry's best award nominees, and realize how much they inspire one another.
With the recent announcement of the Olympic's triumphant return to Los Angeles in 2028, Hollywood has been handed a fresh dose of Olympic Fever. While last year's Gold Meets Golden celebrated the past, the 2019 event looked at the future by celebrating Youth in Sports. The 6th Annual Gold Meets Golden event refreshed by Coca-Cola partnered with Angel City Sports, a leading Paralympic organization in California, with a panel of current, past and future adaptive athletes.
Celebrities in attendance included: Nicole Kidman, Jessica Chastain, Chrissy Metz, Matt Bomer, Topher Grace, Ocatavia Spencer, Amy Adams, Patricia Clarkson, Danielle Macdonald, Ryan Murphy, Billy Porter, Michelle Yeoh, Mark Ronson, Joe Alwyn, Hailie Sahar, Jenna Dewan, MJ Rodriguez, Emmanuelle Chriqui, Bryan Fogel and more.
"We're elated to celebrate the future and also to pay homage to Olympic and Hollywood history at this year's Gold Meets Golden event refreshed by Coca-Cola and smartwater," said Dina Gerson, director, Olympic Marketing, Coca-Cola North America. "Coca-Cola is proud of its 91-year relationship with the Olympic movement. From our company's commitment to offer more choice through countless brand innovations as well as the debut of new sports in Tokyo 2020 – the future is golden. SmartWater is also thrilled to use this platform to celebrate philanthropic organizations that champion those who are inspired by their passions to forge their own path – like Angel City Sports, which provides opportunities to future adaptive athletes."
At the event, attendees received a first look at the new LAX Private Suite program from United Airlines, the official travel partner for Gold Meets Golden and also a proud sponsor of TeamUSA. Renowned J Vineyards & Winery Michelin-star Chef Carl Shelton provided a gold-medal menu of Brunch libations, including gold-dusted marmalade pop-tarts, golden croquenbouches, and a gold signature sparkling wine coupe tower. Discovery Destinations and Farbound spotlighted the new 2020 Olympic sport of Sports Climbing, with a state-of-the-art projection-mapped, interactive Augmented Reality photo experience. Popular travel website "The Points Guy" and their founder Brian Kelly shared tips and tricks on how to maximize travel experiences and help future Olympic-bound passengers obtain gold status and beyond in the age of Golden travel.
As the longest continuous corporate partner of the Olympic Games, "Gold Meets Golden 6" was refreshed by The Coca-Cola Company, and produced and founded by CW3PR's Charley Cullen Walters and Cinema Magazine's Scott Orlin.