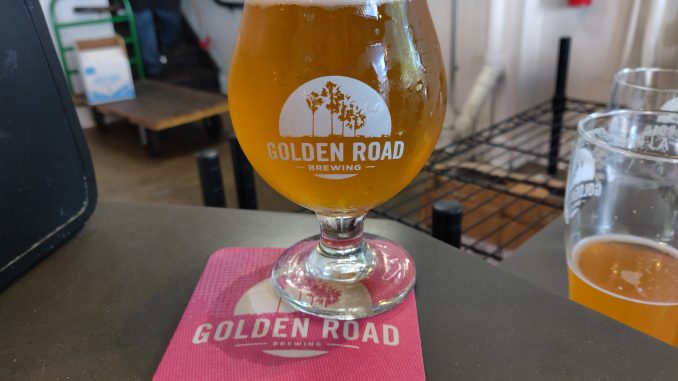 If you are looking to experience the flavors and cultures and the people of Los Angeles all in one setting, nothing does that quite like Grand Central Market. Grand Central Market has been a uniquely shared dining experience for over 100 years and with over 30,000 square feet of space, the food options seem almost endless.
Grand Central Market really puts no limits on your foodie experience, you can visit Belcampo Meat Co. and enjoy some of the best meat from the west coast from this full-service butcher shop or you can get some of the best Latin ingredients from Chiles Secos. From there when it comes to a dining experience, your only problem will be making a decision what to eat.
A great way to start your Grand Central Market experience is by stopping at the tasting bar from Golden Road Brewing. One of the great things about Grand Central Market is you are not limited by where you are buying your food, so start off with a Golden Road beer and start wandering around to experience all of the wonderful food that presents itself. While a huge part of the experience of Grand Central Market is just walking around and taking it all in, you can have an amazing experience just staying at Golden Road.
Golden Road has twenty beers on tap includings some of their all-time favorites such as: Get Up Offa That Brown, Mango Cart and Wolf Pup Session IPA, as well as newer beers like the Hazy LA IPA. In addition they have two great beers that give back, the Resillience Butte County Proud IPA that 100% of sales go to Butte County Fire Relief and the Heal the Bay IPA, with a portion of the proceeds going to Heal the Bay. Golden Road also offers a rotating beer handle from other brewers to allow you experience a beer that might be totally new to you.
Don't limit yourself to just beer at Golden Road, the food is fantastic and to start with they might have the best burger in all of Grand Central Market. The GRB BURGER is just a monster of a burger in terms of size and flavor, as you find it topped with aged white cheddar, sun-dried tomato, caramelized onion, smoked bacon, lettuce, remoulade sauce all on a fresh brioche bun. Pair this with the very garlicy garlic fries and you have a meal that will satisfy you regardless of whether have you have a beer. One of the great thing about Golden Road is that they not only make there burgers with the Impossible patty if you are vegan, but all of their sauces are vegan and if you aren't vegan, you will never know. Golden Road much like Grand Central Market is about sharing and hanging out with friends so they offer some great dishes that are perfect for just that. If you enjoy avocado, they have avocado tacos and avocado fritters. Both are fairly similar, the taco version just imagine a fish taco but instead of the fish you are getting avocado, which tastes great as an alternative to fish. The fritter is in the same similar batter as the taco and makes for a great appetizer. Another tasty menu item to share are the cauliflower buffalo wings. These have a great text that is about as close to an actual chicken wing as you will find and then it is slathered in their amazing buffalo sauce and accompanied by their vegan ranch sauce. You might wind up just eating these all day as they are so flavorful, yet so light. Whether it is beer, food or both, Golden Road is a must stop on your visit to Grand Central Market.
You might not expect to grab a seat at a counter style setting and have some of the best seafood in Los Angeles served to you in minutes, but that is exactly what you get at Prawn.
While the seafood is served in many varieties and always aplenty, the secret to these dishes truly has to be the broths that are created by Chef Mark Peel. The broths go well beyond just a typical seafood broth, each one is unique to their dish and is layered with flavor upon flavor. The signature dish of Prawn would have to be the Seattle fish stew. You could pick so many different things to love about this dish with the combination of shrimp, squid, clams, mussels and salmon, but it is the over-the-top richness of the lobster broth that brings everything together. When the Seattle fish stew is served the aroma from the lobster broth will give you pause before you dig in and then you will find after one sip it tastes just as good as your nose led you to believe. There is so much seafood in this dish each spoonful will be overflowing with seafood, broth and a wonderful with bacon rouille and it all served over rice. If you love seafood, Prawn is a must stop when you are at Grand Central Market.
Some other great options at Grand Central Market include: Lucky Bird, home of some of the best fried chicken in Los Angeles, McConnell's Fine Ice Cream, all you have to do is walk up and see the line of people to know how good this ice cream is. Whether you are a tourist, you work downtown and want to grab lunch or you are looking to have a fun day, Grand Central Market has it all.
For more information, visit: Grand Central Market