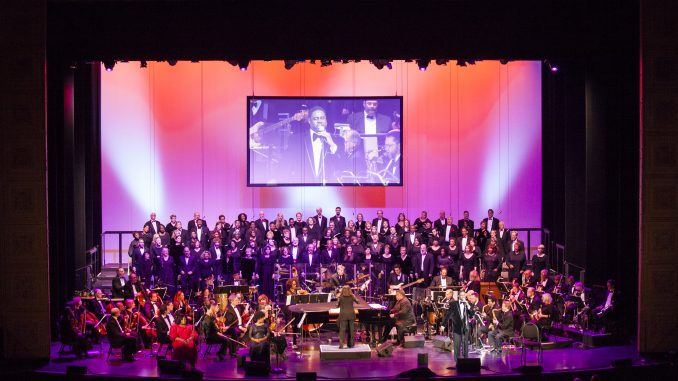 Extending the impact of TOO HOT TO HANDEL beyond the stage: Auditorium Theatre brings Dr. Martin Luther King, Jr.'s concept of "Beloved Community" to Chicago
 The Auditorium Theatre is proud to continue to extend the impact of its signature show Too Hot to Handel: The Jazz-Gospel Messiah beyond the stage with programs offered to schools, community groups, and correctional facilities. Too Hot, hosted annually on Martin Luther King, Jr. Day weekend in honor of his life and legacy, is a joyous, uplifting show that puts a jazz, gospel, rock, and blues twist on Handel's classic Messiah oratorio. The production features soloists Rodrick Dixon (tenor), Alfreda Burke (soprano), Karen Marie Richardson (alto), the famed Detroit pianist Alvin Waddles, a 100-person choir, an orchestra, and a jazz combo.
This reviewer interviewed Sarah Illiatovitch-Goldman, Auditorium Theatre Creative Engagement Associate, about the Too Hot to Handel School Engagement and C.J. Dillon, Auditorium Theatre Chief Programming Officer about the Too Hot to Handel Prison Engagement.
Each year, the Auditorium Theatre's Creative Engagement department works with students across the Chicagoland area, connecting the messages of Too Hot and Handel's Messiah to poetry, music, and King's texts and speeches.
Five-class music and poetry residencies are free to Chicago Public Schools, and many classes that participate also attend the one-hour Too Hot Student Matinee on January 18. In 2019, residencies will be hosted at elementary schools in the South Austin, Englewood, Eden Green, Bronzeville, Rogers Park, and Back of the Yards neighborhoods.
Debra Davy: "Can you describe how the music of Too Hot and such texts as Dr. King's 'I have a Dream' speech are used in the 5-day elementary school residencies to stimulate pride in ethnic heritage, access the ability of art to inspire positive emotions, and create new music and poetry?"
Sarah Illiatovitch-Goldman: "In our five-day music and poetry residencies, we ask our students to create their own work. For many, this is a new experience and not one that they feel qualified to do when we first start. Many have not studied music or poetry at all and have been led to believe that only 'special' or 'talented' people have something to offer. Our belief is every voice is essential and our goal is to empower them. Using the source material of Handel's Messiah, Too Hot to Handel, and Dr. King's 'I Have a Dream' speech as a diving-off point, we start our residencies by introducing the students to all three works. The words of the Messiah and Too Hot are identical and drawn directly from the Bible. By comparing and contrasting both versions, students are able to see how the different arrangements changes their experience of receiving the work and how, with the intention of reaching different communities, the composers were able to have different impacts on the groups they were connecting to. We then take it one step further by listening to sections of 'I Have a Dream' that were taken directly from scripture. For students, hearing the same words they just heard musically in Too Hot or in the Messiah used again in the powerful setting of The March on Washington is a further reminder that it's not the words you use, it's what you do with them. This allows us to focus the residencies on goal-oriented work – asking questions like 'What is your community?', 'How do you feel about it?', 'What do you want people to know about your community?', 'How would you describe it?' This can extend to culture, family, religion, language – whatever the students want to share with the world about themselves and their experience. This moves the residencies from being about good or bad art making and instead welcomes the students to explore deep intentionality and communication. The result is that students feel empowered by their own voices and connected to inspiring pieces of art that previously may have seemed irrelevant to their lives."
The Auditorium Theatre will be live-streaming the performances of Too Hot to correctional facilities in Illinois and the Louisiana State Penitentiary (Angola). Additionally, for the first time, the theatre will host residencies at the Illinois Youth Center (IYC)-Chicago and the Cook County Jail, working with residents to connect the messages of Too Hot to Dr. King's vision of a "beloved community." At IYC-Chicago, Auditorium Theatre Teaching Artists will conduct two five-class music residencies, with each class composing its own music piece after studying the lyrics and rhythms of Too Hot. Each residency ends with a presentation of each student's work and a screening of Too Hot to Handel. At Cook County Jail, Auditorium Theatre Teaching Artists will conduct a two-part poetry residency, based around Dr. King's famous "Letter from a Birmingham Jail" and the lyrics of Too Hot. Teaching Artists will also offer six viewings of the Too Hot to Handel performance and curate discussions around each screening at the Cook County facility.
Debra Davy: "Was the decision made to host new music and poetry residencies at The Illinois Youth Center and the Cook County Jail based upon the success of live-streaming Too Hot to correctional facilities as well as the prior student residencies? Can you speak to positive feedback you've gotten from prior years' streaming/residencies?"
C.J. Dillon: "Too Hot has always been about creating community. As we have grown our audiences over the past years, we have also grown our reach into the communities of Chicago, including substantial engagement activities in Chicago Public Schools. Through our ArtsXChange program, where a Teaching Artist mentor is paired with a non-arts teacher to help them imbed art into their curriculum, and our Too Hot in-school residencies, we have brought both Dr. King's message of non-violence and his concept of "beloved community" and the powerful impact of live performance to communities all over Chicago.
Three years ago, we identified the people in correctional institutions as one of the most neglected sectors of our community. Seeing the impact of our in-school residences, we set out to create a program that could be used in correctional facilities using the power of live music to bring the same message of non-violence and community. This year, for the first time, we are offering our music and poetry residencies to these communities, after receiving positive feedback regarding our engagement over the past two years."
 Further community engagement activities:
Too Hot soloists Rodrick Dixon and Alfreda Burke, along with conductor Suzanne Mallare Acton host a three-hour Master Class with the Our Lady of Mt. Carmel Choir in early January, 2019. The choir then joins the professional musicians on stage during the Too Hot Student Matinee on January 18 to perform the "Hallelujah!" chorus.
The Auditorium also selects three winners for its annual Too Hot Poetry Contest, open to students in grades 3-12 and prompting them to respond to the question, "How has my community shaped me?" Poetry Contest winners receive four tickets to a performance of Too Hot and the chance to perform their compositions on the Auditorium's landmark stage.
Thousands of students from across the Chicagoland area attend the Too Hot to Handel Student Matinee, a special one-hour performance, on January 18, 2019.
Through its ADMIT ONE program, community groups who may face barriers to experiencing the performing arts have the opportunity to see a production at the Auditorium Theatre. In addition to performance tickets, groups also have their transportation costs covered by the Auditorium and attend pre-show workshops, hosted by Auditorium Theatre Creative Engagement staff, to help them engage with the performance. More information about the ADMIT ONE program can be found here.     
Performance Information:
Too Hot to Handel: The Jazz-Gospel Messiah
Friday, January 18 | 11AM – One hour Student Matinee performance
Saturday, January 19 | 7:30PM
Sunday, January 20 | 3PM
Tickets start at $29 and are available online at AuditoriumTheatre.org, by phone at 312.341.2300, or in person at the Auditorium Theatre Box Office (50 E Ida B Wells Dr). Student Matinee tickets (for K-12 groups of 10 or more people) are $10 and are available by phone at 312.231.2357. Inquiries regarding Student Matinee tickets may also be submitted online here. Too Hot to Handel: The Jazz-Gospel Messiah is a part of the Auditorium Theatre's American Music Series subscription(which also features A Whole New World of Alan Menken), which offers a 20 percent discount on tickets. Discounts are also available for groups of 10 or more people.
The Auditorium Theatre also offers $15 student rush tickets to full-time college students and $5 tickets to young people ages 13-19 with Urban Gateways' Teen Arts Passprogram. Applications are also currently being accepted for the Auditorium's ADMIT ONE program, which offers complimentary tickets to Chicago-area community groups.
All photos by Kristie Kahns