San Francisco Ballet opens Program 02, Kaleidoscope, on February 12, with performances through February 23 at SF War Memorial Opera House. Kaleidoscope features the SF Ballet premiere of Benjamin Millepied's Appassionata, and the returns of Justin Peck's Hurry Up, We're Dreaming, created for Unbound: A Festival of New Works in 2018, and George Balanchine's Divertimento No. 15. I can't wait to see the response of my guest, an adult who has never seen a live ballet.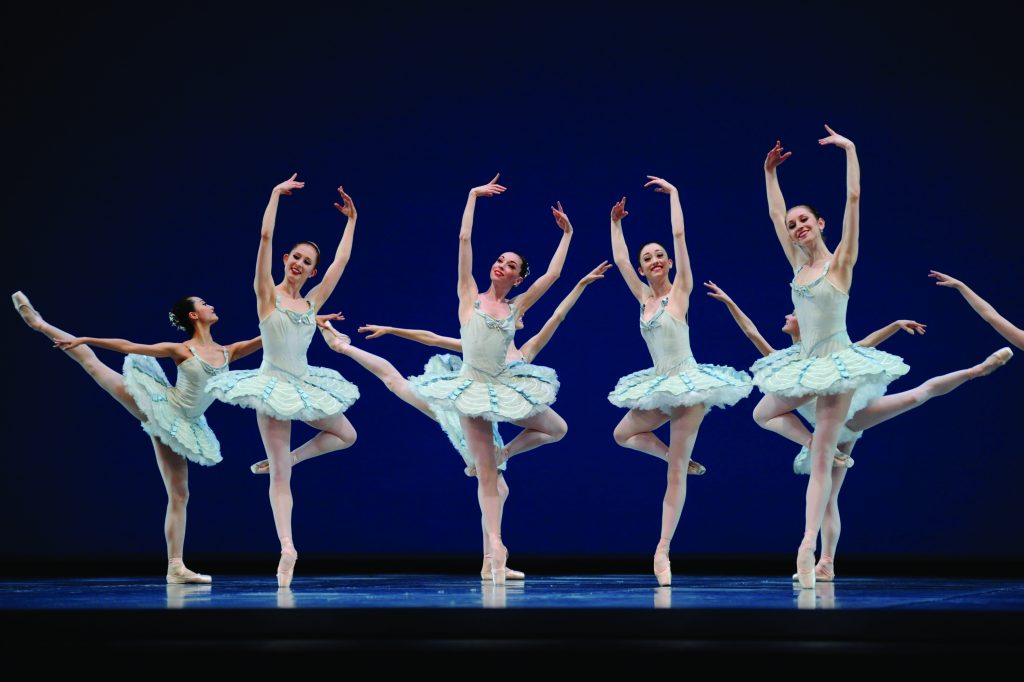 In addition, the February 15 performance of Program 02 marks the first of three 2019 Season Nite Out events, a series of performances and post-show parties celebrating diversity and San Francisco's LGBTQQIA community through dance. Following the 8 pm performance, a party with specialty cocktails, passed hors d'oeuvres, guest entertainment, music, and dancing will take place in the lower level of the War Memorial Opera House. The GLBT Historical Society, Lyric, and The Transgender Law Center will be individually honored at each Nite Out event, beginning with The Transgender Law Center for the February 15 performance. Single event tickets start at $64, and patrons who buy all three performances together can attend the post-show parties for free. Visit sfballet.org/niteout for more information.
Kaleidoscope opens with George Balanchine's 1956 Divertimento No. 15, last seen at SF Ballet in 2012.Setto music by Wolfgang Amadeus Mozart, Divertimento No. 15 typifies the choreographer's neoclassical style. Derived from the Italian "divertire" ("to amuse"), the divertimento exhibits 18th-century play in music and in Balanchine's opinion, Mozart's work was the best example of the genre ever composed. The score's six movements set the stage for diverse groupings of eight principal dancers—five women and three men—and an additional ensemble of eight women. Paired with costume designs after Karinska and lighting design by Mark Stanley, Balanchine's crystalline choreography results in a resplendent display of virtuosity and musical sensitivity.
The SF Ballet premiere of Benjamin Millepied's Appassionata, set to Ludwig van Beethoven's Piano Sonata No. 23 in F minor, continues the program. Appassionata premiered in 2016 at Paris Opera Ballet under its original title La Nuit S'Achève ("The Night Ends"). With scenic design by Camille Dugas, costume design by Alessandro Sartori, and lighting design by Jim French, the balletpairs three couples, each of whom embodies the breadth of emotions present in romantic love. Millepied's choreography fluidly transitions between pas de deuxs and turbulent, meticulous ensembles, supported by the "Sturm und Drang" on display in Beethoven's score.
Kaleidoscope closes with Tony Award winner Justin Peck's Hurry Up, We're Dreaming, returning to SF Ballet after the 2018 Unbound: A Festival of New Works. Peck's second commission for SF Ballet, Hurry Up, We're Dreaming is set to music by LA-based electronic music band M83 and features dancers in sneakers dressed in streetwear designed by Reid Bartelme and Harriet Jung, with lighting designed by James F. Ingalls. While the choreography is rooted in classical forms and training, Peck says he always sees how far he can "push the envelope." Included in The New York Times's "Best Dance of 2018" list, Hurry Up, We're Dreaming shows that "Mr. Peck means to shake up the norms of ballet, its partnering, gender, footwork. Surely good news for us all."
Casting for Kaleidoscope will be posted on SF Ballet's website at least one week prior to performances.
I love that the information which includes videos and interviews about Kaleidoscope is available on San Francisco Ballet's website, in its Discover section. Kaleidoscope's Meet the Artist pre-performance interviews occur on February 12 at 6:30 pm, February 15 at 7 pm, and February 17, at 1 pm. The program is more meaningful and interesting with the background information tucked away in memory.
Calendar information:
Kaleidoscope tickets start at $29 and may be purchasedvia the Ticket Services Office at 415 865 2000, Monday through Friday from 10 am to 4 pm or online at www.sfballet.org. Discounts are available for groups of 10 or more.
Divertimento No. 15
Composer: Wolfgang Amadeus Mozart
Choreographer: George Balanchine
Staging: Elyse Borne
Additional Coaching: Helgi Tomasson
Costume design: after Karinska
Lighting design: Mark Stanley
Appassionata (SF Ballet Premiere)
Composer: Ludwig van Beethoven
Choreographer: Benjamin Millepied
Staging: Janie Taylor and Sebastien Marcovici
Scenic design: Camille Dugas
Costume design: Alessandro Sartori
Lighting design: Jim French
Composers: Anthony Gonzalez, Yann Gonzalez, Bradley Laner, and Justin Meldal-Johnsen
Choreographer: Justin PeckCostume Design: Reid Bartelme and Harriet Jung
Lighting Design: James F. Ingalls
Total run time: 2 hours and 9 minutes with two intermissions
Casting to be announced soon at SF Ballet Casting
Tuesday, February 12, 2019 at 7:30 pm
Wednesday, February 13, 2019 at 7:30 pm
Friday, February 15, 2019 at 8:00 pm
Sunday, February 17, 2019 at 2:00 pm
Thursday, February 21, 2019 at 7:30 pm
Saturday, February 23, 2019 at 2:00 pm
Saturday, February 23, 2019 at 8:00 pm