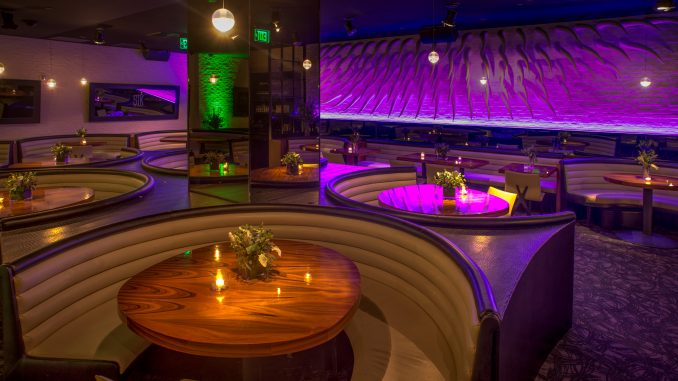 STK Steakhouse in Los Angeles is now located in the W Hotel in Westwood. Here they artfully blend a modern steakhouse with a chic lounge. A one stop for a great dinner, cocktails and dancing. They have been a favorite with the celebrity crowd since first opening in Hollywood before moving here to the W Hotel in Westwood. They also have locations in Las Vegas and San Diego. STK Steakhouse offers a terrific Social Hour from 330 to 630 PM with great priced appetizers and cocktails.
I took a date here on a rainy chilly February night and we both were taken by the warm inviting dining room and the friendly staff. We enjoyed the Chef's Tasting Dinner Menu for two. Each course is paired with your choice of beer, wine or bubbles.
We started with two of their dozen specialty cocktails. We began with the Appetizer portion of the tasting menu consisting of a nice Baby Gem Lettuce Caesar Salad. Followed by Lil BRG's, two bite size Wagyu Beef Burgers on a sesame seed bum with their house special sauce.
You can never go wrong with Wagyu Beef, very tasty. Ending the Starters with a Tuna Tartare. The tuna was over bed of Hass avocado in a soy emulsion accompanied with Taro Chips.
This was a superb dish for sushi style tuna lovers. Ordering off the dinner menu you will find five salads from a Burrata & Tomato to Heirloom Beet & Pear Salad. And the dinner menu Starters portion besides the tuna and wagyu burgers, offer Jumbo Lump Crab Cake, Lobster Ravioli, and Pan Seared Diver Scallops.
For our Entree portion of the Chef Tasting Dinner we started with a 14 Ounce Sirloin Steak sliced up. This way they can serve half well done the way I enjoy it and half medium for my dates taste.
The meat was tender to the cut and very flavorful. If you are ordering off the dinner menu they have nine wonderful steak selections to choose from. Next we were served Daily Chef's Selection of Fresh "Steak of the Sea." This day it was a very nice Monk Fish. A white fish, tender, flavorful, without a heavy fish taste or texture. We enjoyed it very much. If you are a seafood lover you will enjoy a large selection here on the dinner menu, from a half dozen options on the Raw Bar Menu to the eight options of Seafood Platters. Ranging from Alaska King Crab, Whole Maine Lobster to Oysters, Ceviche, Clams, Shrimp and more.
Our Entrees concluded with Mary's Farm Organic Chicken, prepared with farro & green lentil, tabbouleh, and baby summer squash. The chicken was excellent. they do offer a vegetarian option on the Chef's Tasting Menu as well.
Our meal was served with sides of Mac & Cheese, Sweet Corn Pudding, Jalapeno Cheddar Grits and Asparagus.
Other entrees on the dinner menu include Salmon, Lamb, Short Rib, and Lobster Duo. For dessert they served us a Flaming Pink Cotton Candy with strawberries and ice cream inside.
There are many dessert choices so save room. Whether your having an intimate romantic dinner, or cocktails and dancing with friends and family, make STK Steakhouse Los Angeles your next stop for a wonderful night out on the town. Photos provided by STK Restaurant.