Award-winning playwright August Wilson wrote his ten-play cycle to show just how things changed – or didn't – for America's African-Americans over the years. Beginning in 1904 and ending in 1997, Wilson's century is depicted powerfully and poignantly. It is no accident that Wilson won the Pulitzer Prize for Drama in 1990, as well as countless other awards beginning in the 1980's and continuing until his death in 2005.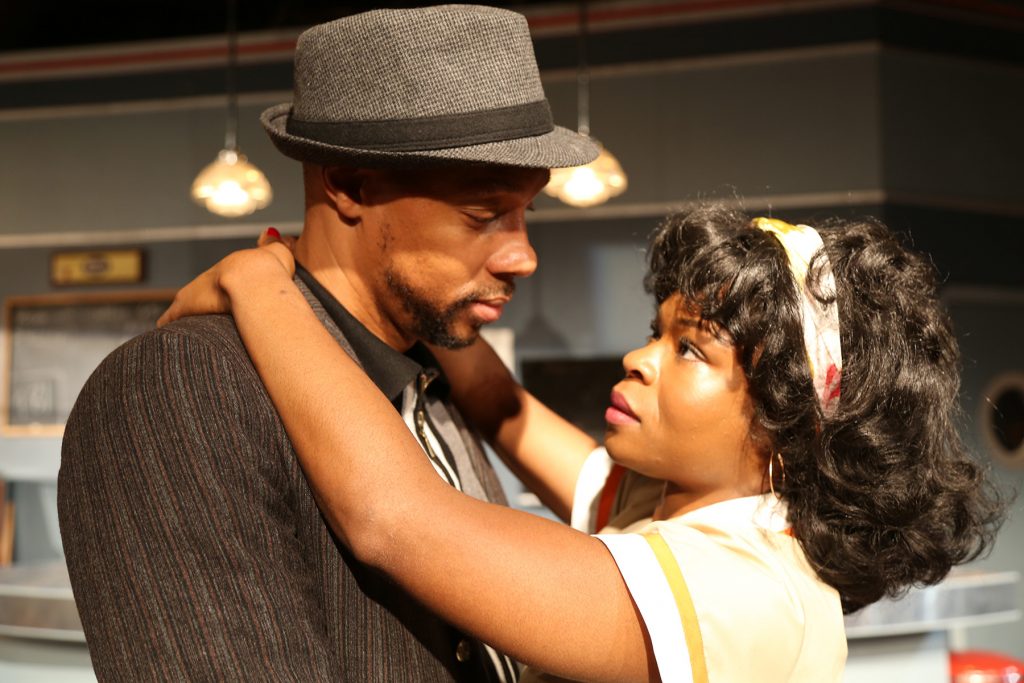 TWO TRAINS RUNNING is Wilson's play for the 1960's, a time when things were just beginning a shift and "Black Power" was the slogan of the day. Into this moment of time steps Memphis (Montae Russell), a black man who owns a diner in Pittsburgh's Hill District. This is also the time when urban blight was considered a plague, and efforts were being made to replace the ugliness of poverty with a new tomorrow. Memphis's turn has come, and developers are swarming over the area buying up buildings to make way for new construction. But Memphis has a plan, and he will not deviate from it. He has bowed under white domination for the last time and will not accept the pittance he is offered for his business. Now he will fight until he gets what he's owed – $25,000 for the property and not a penny less.
TWO TRAINS RUNNING is a saga of the black folk who live in the area and are Memphis' best customers and friends. There's Risa (Nija Okoro), the lonely waitress who's not ready to dip her toe into the dating pool. And there's Hambone (Ellis E. Williams), the crazy guy who's everybody's friend. And so it goes, with a superb ensemble cast (Terrell Tilford, Adolphus Ward, Dorian MIssick, Alex Morris) filling in the blanks. Director Michele Shay strikes just the right note with her diverse cast – all black, yet all different in ways that count and similar in ways that count even more.  While the backdrop is very serious, Wilson manages to keep the audience laughing when they're not crying just a little. With the skilled turn of his pen, Wilson captures the lilt and ebb and flow of conversations, the near-poetry of his characters' observations on the world.
Scenic designer John Iacovelli has outdone himself with the set, so meticulous and so completely reminiscent of the time period. It is a gem deserving special kudos. Mylette Nora's costumes are also perfect for each role, always evocative of a particular time and place and yet reflecting the different economics of each character. Brian Gale's lighting, Jeff Gardner's sound, and all the efforts of the production team yield splendid results. TWO TRAINS RUNNING is not as often produced as Wilson's other plays in the series – so it's a treat which the theater aficionado cannot afford to miss. It's also a great place to celebrate Black History Month.
TWO TRAINS RUNNING runs through March 3, 2018, with performances at 8 p.m. on Thursdays and Fridays, at 2 p.m. and 8 p.m. on Saturdays, and at 2 p.m. on Sundays. The Matrix Theatre is located at 7657 Melrose Avenue, Los Angeles, CA 90046. Tickets are $35. For information and reservations, call 855-326-9945 or go online.