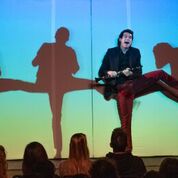 =Mortimer's Magical Dream will keep you wide awake as you wonder, "How does he do that?" The Las Vegas show, which stars Xavier Mortimer, opened in February in Bally's 250 seat Windows Showroom is a delight for all ages. It's 6:00 P.M. time slot means early risers and children can enjoy the sense of amazement and delight that this multi-talented Frenchman brings to the stage.
Xavier Mortimer is more than a magician with unique illusions that you most likely have never seen. He is an artist who combines illusions, mime, music, comedy, and a bit of drama. The thin plot line of a man who pursues a woman works well as the delightful talented performer Allie Sparks, aka Belle, his dream girl and love interest, crosses paths with him throughout the show.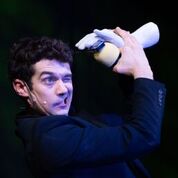 If you saw Mortimer's previous show (at Planet Hollywood)– go see him again. He has added so many new unique segments of magic, music, and fun to the new production along with some of the traditional tricks.
This personable young man honed his skills well as part of Cirque du Soleil's Michael Jackson One. He brings a myriad of talents to the showroom. I was not surprised to discover that the magician studied ballet and mime as I so appreciated the way he moves gracefully about the stage as he astounds us with his slight of hand. And he brings his musical talents as well on various instruments.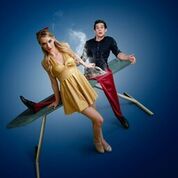 There are no lions or tigers or bears, but I love the hand in the suitcase that has a life of its own – actually two hands. You'll understand when you see the show. Mortimer has brought along the white screen from his previous production. He appears at various times on both sides, as does Belle, as they slide gracefully from reality to dreams and back. His levitation and jump rope routine renders me speechless. It's gotta be magic.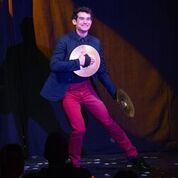 The 70 minute show flies by in this well-paced presentation. Audience participation adds to the fun. And don't rush off. He'll be there to take photos and chat as well. Check out Mortimer's Magical Dream at Bally's.