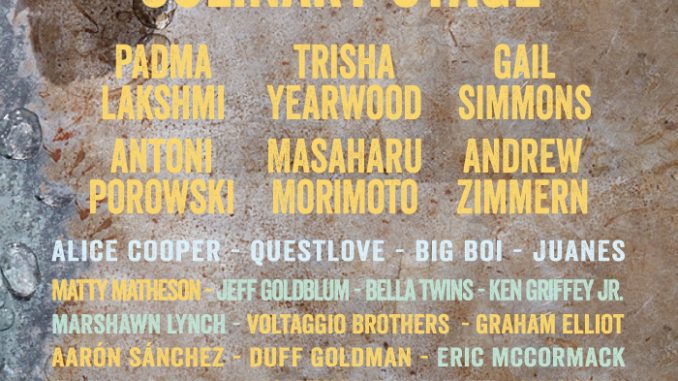 In less than a month music lovers and foodies will descend into Napa Valley for BottleRock Napa Valley for an unforgettable and delectable weekend!
Presented by JaM Cellars, the festival has announced that Top Chef's Padma Lakshmi and Gail Simmons, GRAMMY™ award-winning musician, television host, and three-time New York Times bestselling cookbook author Trisha Yearwood,Queer Eye's Antoni Porowski, Iron Chef Masaharu Morimoto and Travel Channel star Andrew Zimmernwill headline the Williams Sonoma Culinary Stage, leading a star-studded lineup of celebrated personalities that will deliver memorable mash-up moments during the three-day festival, May 24-26, 2019, in historic downtown Napa. 
In addition to the headliners, the crowd-pleasing Williams Sonoma Culinary Stage will feature star chefs paired with musicians, athletes and celebrities for engaging demonstrations, performances and culinary-infused antics. The 2019 culinary stars appearing on the stage include Vice Network star Matty Matheson, Top Chef's Voltaggio Brothers of Estuary restaurant, Top Chef hostGraham Elliot, Aarón Sánchez of Fox's Masterchef,Food Network star Duff Goldman, Top ChefMasters Ludo LeFebvre, Travel Channel star Adam Richman, Top Chef Richard Blais, Top ChefMasters Hubert Keller, Flour Shop bakery founder Amirah Kassem and Nic Jones from Goose & Gander in St. Helena Napa Valley. As part of winning Top Chef Season 16, chef Kelsey Barnard Clark will also be making her debut appearance on the Williams Sonoma Culinary Stage.
"The Williams Sonoma Culinary Stage, just like the entire BottleRock festival, celebrates the best of what can happen when food and music come together," said Janet Hayes, President of Williams Sonoma."We've had Martha Stewart cook with Macklemore, Giada De Laurentiis make pasta with Halsey and we even broke a World Record with Snoop Dogg and Michael Voltaggio making the World's Largest Gin and Juice last year.  The 2019 Williams Sonoma Culinary Stage lineup has more surprises in store than ever before."
Joining the culinary talent on the Williams Sonoma Stage are musicians Alice Cooper, Questlove, Big Boi, Juanes, Michael Franti, Tré Cool of Green Day, Ben McKee of Imagine Dragons, Daniel Platzman of Imagine Dragons, Taylor Hawkins of Chevy Metal, Too $hort, Lukas Nelson, AJR, The Regrettes and Shannon Shaw. WWEstar wrestlers The Bella Twins, along with sports stars Ken Griffey Jr., Marshawn Lynch and Jake Peavy will also join the fun, as well as celebrities Jeff Goldblum, Will & Grace's Eric McCormack, Kristian Nairn (aka Hodor) on Game of Thrones, Gary Dell A'Bate (Baba Booey) of The Howard Stern Show, Ali Lartner of the Resident Evil films, KTVU Sports Director Mark Ibanez and Napa City Mayor Jill Techel. The Culinary Stage emcee is two-time Emmy award winner and KCBS "Foodie Chap"Liam Mayclem. Kitchen equipment for the stage is provided in part by Signature Kitchen Suite.
"Each year the culinary stage becomes more popular and entertaining," stated Dave Graham, of BottleRock Napa Valley. "This is another great lineup that promises many surprises and classic moments our attendees won't want to miss!"
In addition to the Williams Sonoma Culinary Stage, BottleRock guests will enjoy a variety of dining options throughout the festival grounds featuring many of the most celebrated chefs and restaurateurs from the Napa Valley and beyond.
BottleRock Napa Valley offers an exciting and diverse lineup of musical artists and performers, presenting headliners Mumford & Sons, Imagine Dragons, Neil Young + Promise of the Real, Pharrell Williams, Santana, Logic and more than 70 additional bands on five music stages, plus the Williams Sonoma culinary stage featuring top chef and celebrity mashups. All VIP passes for the 2019 festival are sold out, limited 3-day and single-day general admission passes are available at www.bottlerocknapavalley.com. Visit the official ticket exchange (lyte.com/bottlerocknapavalley) to access sold out VIP passes.
To keep up to date on festival pass availability and additional details about the festival, please visit www.bottlerocknapavalley.com and sign up to receive email notifications. Join the conversation on Facebook and follow us on Twitter (@BottleRockNapa, #BottleRock) and Instagram (@BottleRockNapa, #BottleRock).