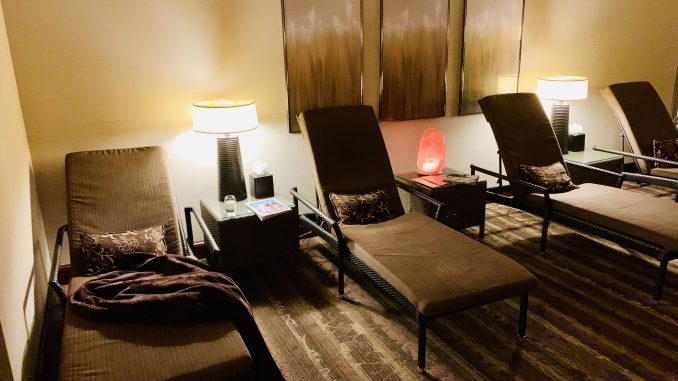 For the ultimate spa escape, renew your well-being at WELL Spa + Salon, located at Grand Geneva Spa Resort in Lake Geneva, Wisconsin. The full-service salon and day spa offers services ranging from soothing massages to gorgeous hairstyling, or luxurious manicures, pedicures and makeup consultations, all provided by very talented artists. The 42,000 square foot spa and salon is perfect for a 'you' day, or a group gathering, such as a bachelorette party, girl's weekend, or even a memorable couple's retreat. A large state of the art fitness center is also onsite for hotel guests.


WELL Spa + Salon is part of Grand Geneva Spa Resort, a retreat away from all the noise and distractions of everyday life. The AAA Four Diamond Wisconsin resort is situated on 1,300 acres of woodlands, rolling hills, world class golf courses, and award-winning dining. The resort also boasts a century of private Chicago vacationing millionaires, and was taken over from 1968 to 1982 by Hugh Hefner and his Playboy bunnies with the debut of the Playboy Club-Hotel's Penthouse Theater. Fast forward to the present day, and the resort is under the stewardship of the Marcus Corporation, which keeps the resort in national "Best Of" lists, as well as keeping Lake Geneva a top tourist travel destination for travelers.
My friend and I arrived at the resort to spend time at the WELL Spa + Salon, but first we enjoyed a lovely lunch at the resort's Grand Café, which is built over where the old Playboy Club hotel pool used to be. Grand Café is located on the first level in the Main Lodge, and features a seasonal menu reflecting the scents and flavors of the midwestern seasons in a casual setting for breakfast, lunch, and dinner. On Friday and Saturday nights, there is a prime rib and seafood buffet with an annual fish fry, and a breakfast buffet on Saturday and Sunday mornings. Grand Geneva Executive Chef, Nelly Buleje, boasts an amazing menu of American, elegant comfort food.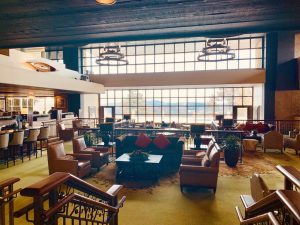 Our lunches were simple, yet delicious and filling. I enjoyed a roasted vegetable panini with balsamic grilled Portobello mushroom, roasted red peppers, zucchini, provolone cheese, pickled red onion, and muffuletta relish on a hoagie roll. It was warm, cheesy, and hearty. My friend ordered the ribeye steak sandwich complete with provolone, lettuce, tomatoes, with au jus for dipping. She loved how flavorful the meat tasted when dipped. Both sandwiches came with crunchy, housemade chips. The desserts were amazing as well: luscious, dark chocolate layered cake with mocha sauce and fresh whipped cream, and a creamy crème brulee topped with fresh berries. The two of use toasted our meal with glasses of Freixenet, Blanc de Blanc, a lovely, dry Cava from Spain.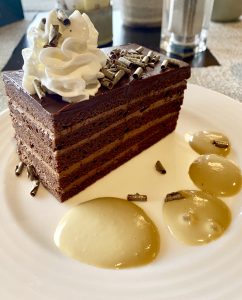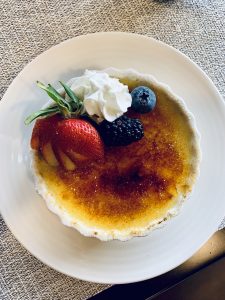 After the lunch, it was time for the spa experience. We were both scheduled for the luxury anti-aging manicure and pedicure service. WELL Spa + Salon is the perfect way to escape and relax and reinvigorate yourself. The spa is tranquil and beautiful when you go inside. You are given a robe and slippers to wear before your appointment, and a locker in which to keep your belongings and personal items. The main room at check in is fun to look around as well. The spa and salon sells fitness clothing and accessories, bath products, makeup, and skin care lines.
My friend and I sat in a peacefully lit waiting area before our appointments, and forgot what was happening outside in the real world. When our nail technicians sat us down for the pedicures, we were handed refreshing peach mimosas. It was also a fun experience picking out our nail colors, designed by celebrity manicurist, Deborah Lippmann, who specializes in long lasting polishes, which include her gel lab pro line (a healthy alternative to gel manicures), and brightening skin treatments. I chose a fun, colorful glittery color I had never worn before for both hands and feet. My friend got her nails painted in a pretty purple and blue reflective hue.
Our appointments involved the spa's luxurious anti-aging nail services, which include professional grade serums, lotions, and masks, to help rehydrate the skin to keep it looking more healthy and youthful. The spa works with the client to determine personal skin needs.
First were the pedicures, which was a rather indulgent and relaxing experience. My stress melted away and I felt very pampered. My nail technician, Becca, was amazing when it came to technique with nails-best part was the foot massage! My heels felt so smooth afterwards too. Her nail technician, Michelle, was a real sweetie as well. 
The manicure was also very impressive and I simply loved the products used on my hands and nails. Part of the manicure service included a marshmallow sugar scrub (which smelled wonderful!) to invigorate and exfoliate the skin. Then, the cuticles were groomed, followed by a soothing massage with the Deborah Lippmann SPF blended lotion. When my nails were all finished and dry, I kept admiring them and wishing that I could work this same magic on my hands and feet at home.
Following the amazing manicures and pedicure services, my friend and I relaxed for a while in the tranquility room, which has soft lighting, comfortable chairs to lay on, soft blankets, rock salt lamps, fresh fruit, and citrus infused water to drink. The only downside to this room is that the tranquility was ruined by loud talking coming from next door, which is part of the fitness center. Our experience in the room, which was supposed to be tranquil and relaxing, was spoiled due to walls that were not soundproof.
Overall, the entire day was a wonderfully relaxing and stress-melting experience. It felt great to sit back for once and let someone else take care of and pamper you. If you ever need a day to yourself to relax and unwind, take a drive up to the WELL Spa + Salon, at the Grand Geneva Resort Spa-you won't be disappointed.
Photos: Jennifer Lunz
For more information on Grand Geneva Resort Spa and WELL Spa + Salon, visit the website.