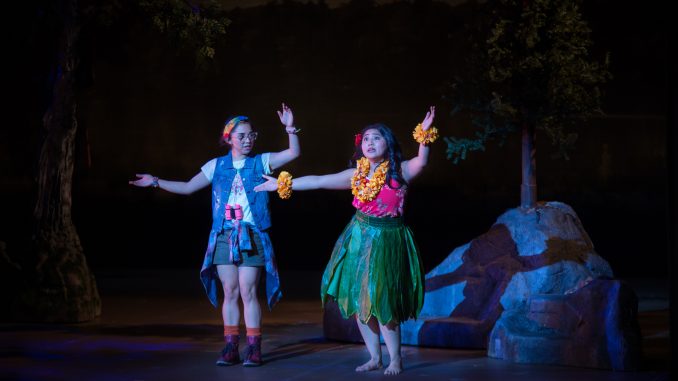 All things considered, American girls are fortunate to be growing up when and where they are, as cultural barometers such as the new production of American Girl Live, now in a Broadway in Chicago production at Broadway Playhouse at Water Tower Place, would suggest. From its first moment to its last, this peppy production, directed by Gina Rattan and choreographed by Emilie Renier, delivers a consistent message to the delighted little girls in the audience: Be who you are, be proud of who you are, and become what you want to be.
None of this may sound all that remarkable – indeed, it may seem downright banal – but looked at in a historical context, or for that matter in comparison to many other countries around the globe today, where a seemingly innocent show like this would create a small scandal, it is a powerful message for its intended audience.
The songs, by Sandy Rustin, who also wrote the book, are agreeable if not all that memorable (Emily Chiu and Meg Zervoulis are co-composers). And the story – girls at a sleepaway camp called Camp American Girl, clutching their historically themed American Girl dolls, each with their own tale of obstacles overcome on the road to empowerment, having adventures, getting lost, twisting their ankles, improvising crutches, building campfires and so on – couldn't be simpler. Interestingly, the girls are portrayed not by pre-teen performers, but by young women with college degrees in performance and drama – Monica Poston, Jenna Bruce, Kelsey Pressnall, Ashley Diane, Shelby L. Miguel and Laila E. Drew — each of whom does a convincing job of playing a young camper or a counselor, in addition to portraying one of the American Girl doll characters come to life.
Those looking for transporting fantasy or dazzling stagecraft of the Lion King variety will be disappointed, but this show isn't about anything fantastical: It is about reality, or, at least, a hopeful and positive view of what that reality could be for young girls growing up in 21st Century America.
Sure, the show is a highly commercial enterprise that is produced in association with Mattel, owner of American Girl Dolls, which have been suffering sharp sales declines lately and have been a drag on Mattel's share price and profits. But any show for children that manages to name-check Marie Curie and astrophysicist Sir Arthur Eddington is all right with me. And while American Girl dolls may be a fading fad, America girls themselves have a world of opportunities ahead.