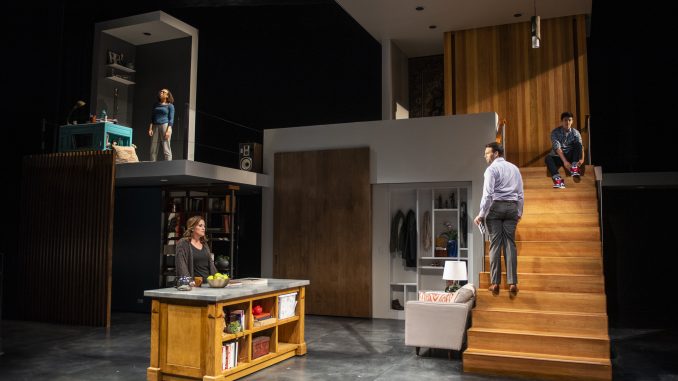 The central feature of Regina Garcia's puzzle box set design for Next to Normal at is a wooden staircase, the epitome of sleek suburban luxe and an apt metaphor for the workings of the human mind.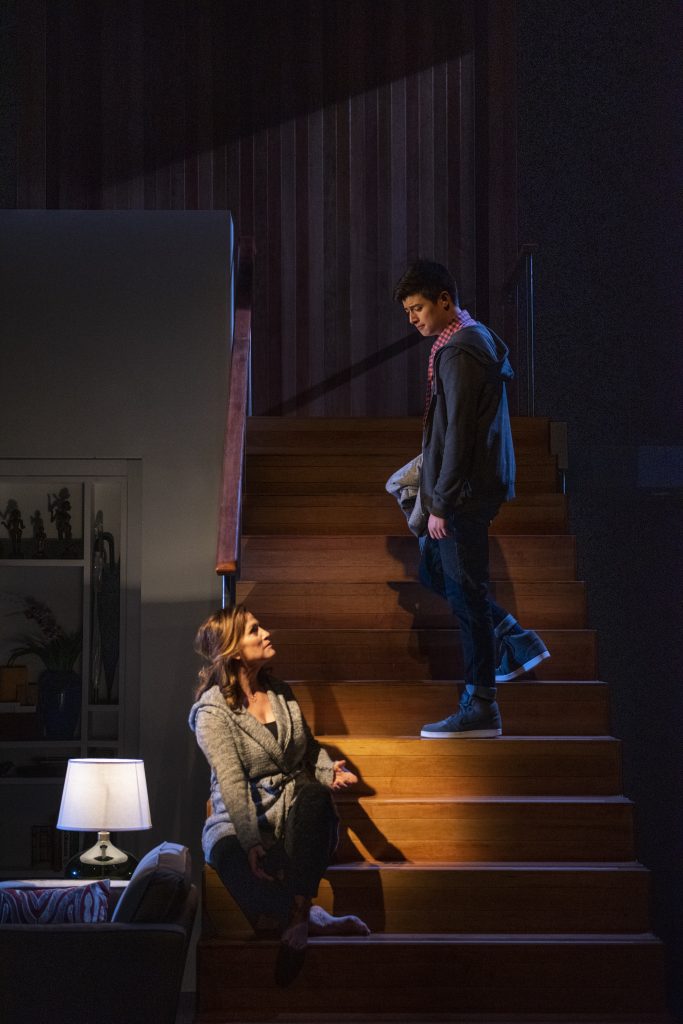 Characters climb the staircase as if ascending to the upper reaches of consciousness or race down into the messier subconscious. Buried secrets claw their way out from behind slatted screens. Longtime sufferer of bipolar disorder Diana Goodman (Keely Vasquez in a virtuoso performance), clings to the kitchen island as if trying to survive a shipwreck.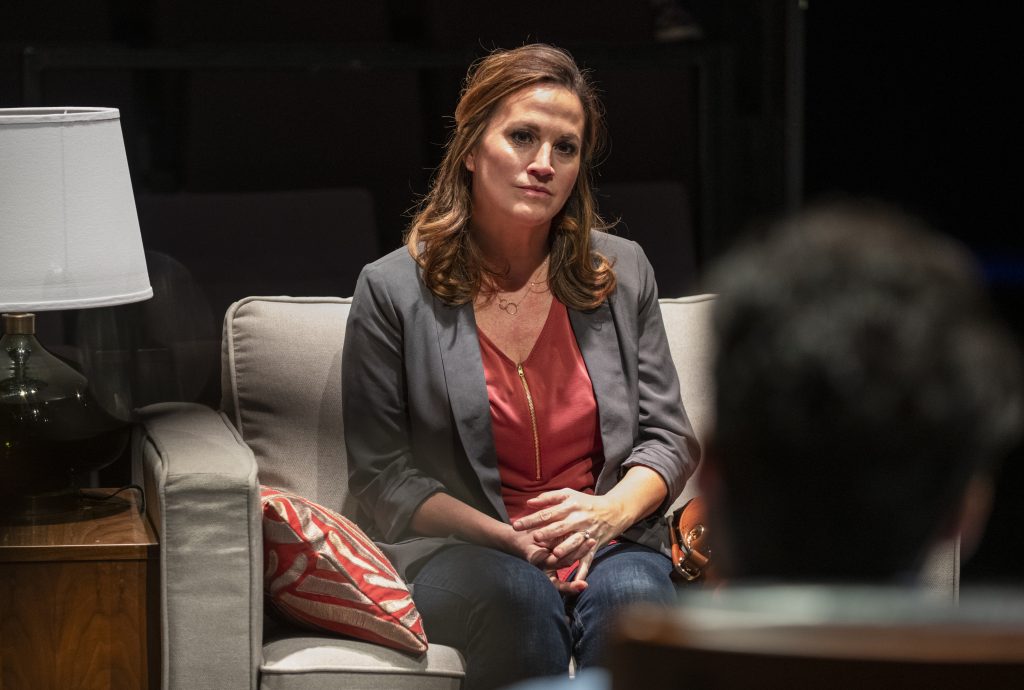 Diana's salvation may or may not come from family support or medical intervention, but art uplifts all in this 2008 musical now at Writers Theatre. With thought-provoking book and lyrics by Brian Yorkey and a lush score by Tom Kitt, Next to Normal was an unexpected hit on Broadway, winning the 2010 Pulitzer Prize for Drama.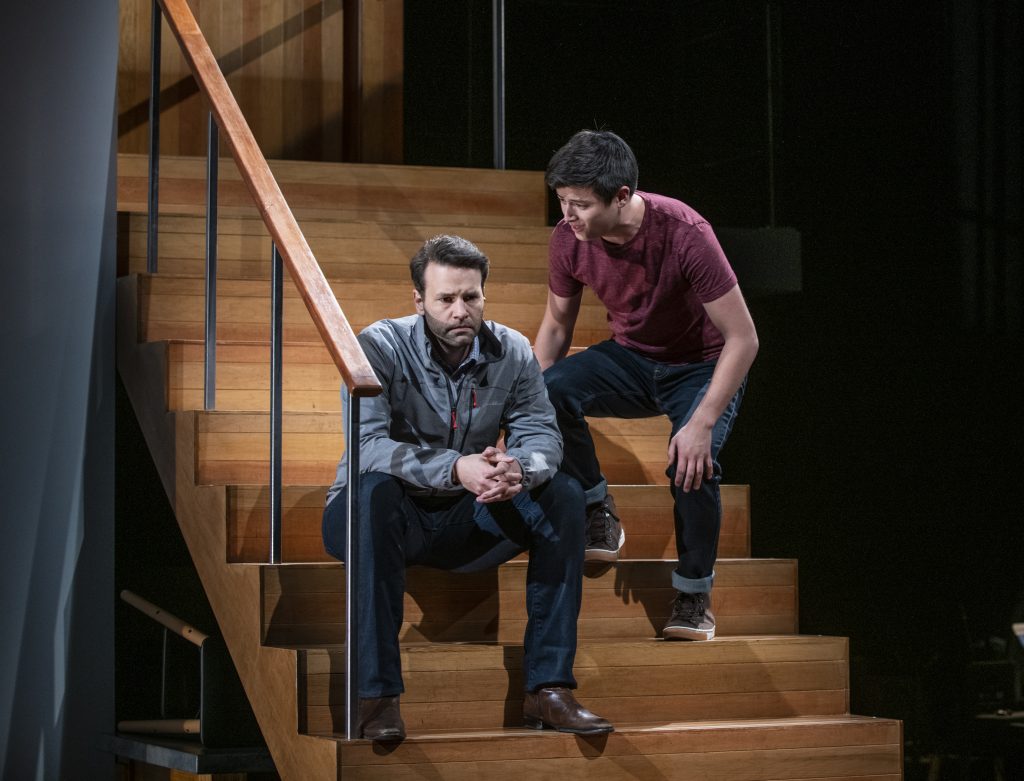 This introspective drama is right-sized at Writers Theatre, given razor sharp focus by director David Cromer, boy wonder of Skokie who took Broadway by storm and earned a MacArthur Foundation "Genius Grant" for "reinvigorating classic American Plays and illuminating their relationship to the present."
Cromer's touch is everywhere, but he lets the cast speak for themselves, like patients on the psychiatric couch. And what a cast it is, all superlative in their roles and all with beautiful singing voices.
David Schlumpf embodies understated desperation as Diana's husband, Dan. Kyrie Courter pulls in the audience as Natalie, the couple's brainy, quirky daughter. Bundle of energy Liam Oh charms as son Gabe, and Alex Levy wins over the audience in his attempts to win over Natalie. Gabriel Ruiz is compelling in dual doctor roles as a psychopharmacologist and as a "rock star" psychiatrist, breathing fire as seen from Diana's perspective.
Seated out of the audience's sight, nine musicians under the direction of Andra Velis Simon create the music that buoys the drama.
Next to Normal is more than an artful and moving piece of theater. It provides a public service by shedding light on mental health issues, including depression and suicide. The program features the phone number for the National Suicide Prevention Lifeline, and WT artistic director Michael Halberstam shares his own struggles: "I had myself stood upon the precipice of self-harm and contemplated making the jump."
Such openness is what it takes to tackle these difficult issues and erase stigma. Turning it into high art is all the more remarkable.
Next to Normal
Through June 16, 2019
Writers Theatre, 25 Tudor Court, Glencoe
Running time: 2 hours, 40 minutes
Tickets: $35­–$80 at (847) 242-6000 or Writers Theatre
Photos: Michael Brosilow