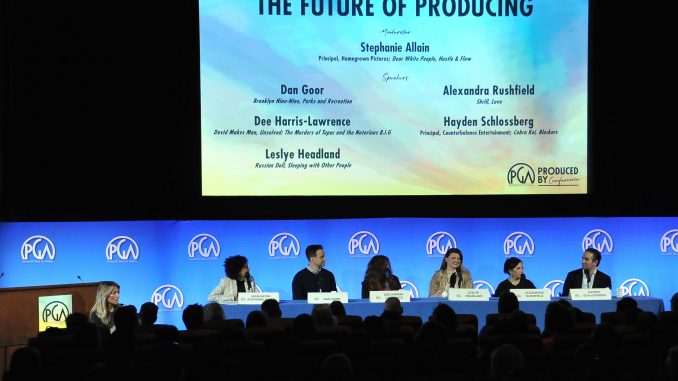 Sunday proved to be another great day for the 11th Produced By Conference held this year at Warner Brothers Studio.
For many the day started with the popular THE ART & CRAFT OF PITCHING. Paneled by Gail Berman– President of the Producers Guild of America and Chairperson of SIDECAR; Mike Farah – Chief Executive Officer of Funny or Die; Barry Jossen – head of A+E Studios; and James F. Lopez – President of Will Packer Production, known for Little and What Men Want it gave several lucky participants a chance to pitch and get feedback from these well-known producers – something rarely experienced. They stressed that it is important to be personal when you relate to the producers. Know not only what the story is about and the tone, but why is it important to you and why is it something that needs to be told now? How does it fill the hole in the marketplace? Why are you the person to write it?
In a feature, what's going on that builds the pressure and how is it driven by the character's emotions. The listener wants to root for the character achieving his desire. Stories should transport them in a way nothing else has before. They want provocative stories and situations that they don't usually hear and motivations they don't see…and yet they want it to feel familiar. They should be leaning forward at the end, "This is unique, and I want to buy it and I want to see it!"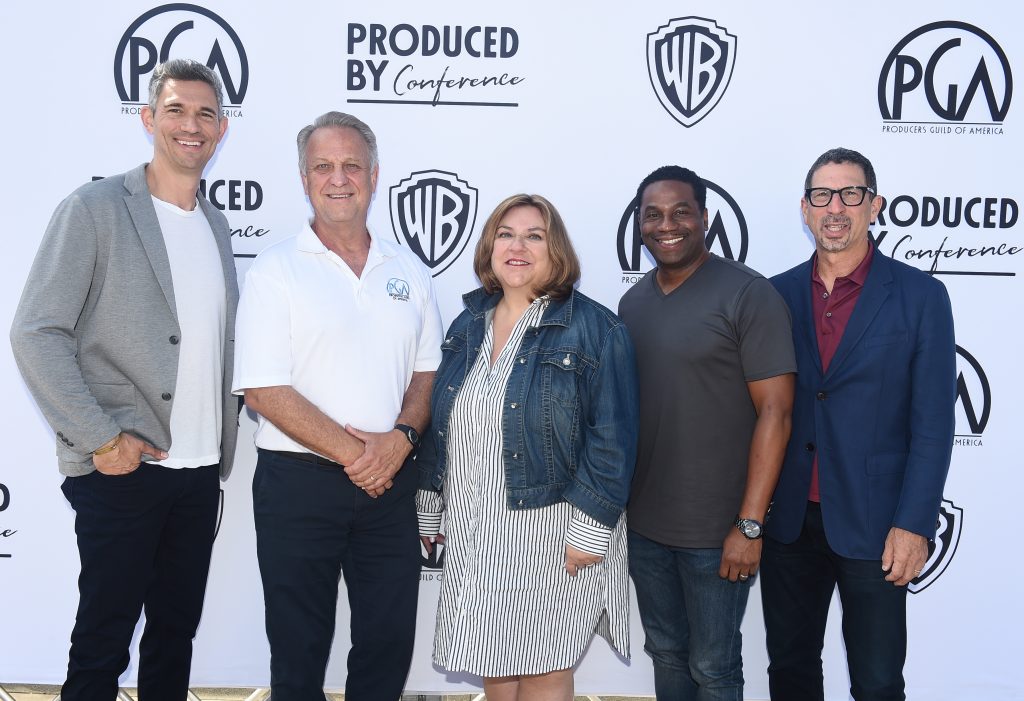 For TV, they urged the creators to think out of the box and not lean towards what everyone else is doing but to stake your claim in an area where few are circling so that you can stand out in the marketplace. Establish what's at stake in the first episode and what is being set up over the course of the series. Make it clear that there is a defined story in the first showing. What are the themes that the series or film will explore? What is the arc of the series and how will the characters explore it? Remember, TV is about characters that the audience comes back to watch week after week. It's not about gimmicks. Why would they want to spend 100 episodes with these people? Who are they and what is their relationship to each other – show their complications and conflicts with each other? How will the conflict and situations arise that make it feel there's a lot of story and how are their emotions coming across? Why is this a sustainable concept? What makes it different from other shows similar? Then end with some examples of future stories for episodes or seasons but stressing the characters emotional journey since no one will care about plot if the characters are interesting to them. Pitch characters that orbit the main character and provide emotional development for that MC. Don't just put in characters to service the plot and move the story forward.
And if you are pitching comedy, then you must be funny.
Practice before hand with others who know how to pitch and be passionate, don't just read but be well-rehearsed. Give us the character's world and make the listener feel the situation and the emotions. Remember, they are hearing pitches all the time and are easily bored. If you pitch to Netflix, you might be depressed by seeing all the people there waiting their turn. You might be one of 12 that morning. So, you need to think of your audience. Why is my show going to be the one that people remember? If you can, bring a sizzle reel as a leave behind for them to show their bosses, but it has to be well done. Consider, too, if there are any brands that might integrate with your show.
And remember you only need one "Yes," so keep plugging away.
Also on the slate was THE FUTURE OF PRODUCING which featured Dan Goor – known for Brooklyn Nine-Nine and Parks and Recreation; Dee Harris-Lawrence known for David Makes Man; Unsolved: The Murders of Tupac and The Notorious B.I.G; Leslye Headland – known for Russian Doll, Sleeping with Other People; Alexandra Rushfield – known for Shrill and Love; and Hayden Schlossberg of Counterbalance Entertainment known for Cobra Kai and Blockers. The event was moderated by Stephanie Allain, Principal of Homegrown Pictures and known for Dear White People and Hustle & Flow.
Because of streaming, the new content is more diverse. There are more start up platforms and all are looking for new content. Ms. Headland stated that "When you look at something like streaming, you are actually getting those marginalized voices – female filmmakers of color or gay filmmakers, for example, that maybe can't or don't have the same access out in front of the world." While networks look for broad appeal, pitching to them and showing the changes of your show can be challenging. She warns producers not to be closed minded. "If the script doesn't say white than consider others and be more diverse." And she warns writers that the audience needs to feel comfortable with what the actors are doing so they can relate to them. Create characters with a variety of POVs so that the story doesn't fall flat.
More diversity in the room makes it a more natural place, Mr. Goor said. He warned writers to be conscious about the message over taking the story. When pitching, he suggested to focus on the emotional journey and character arcs and not to bring up twists or the end of season 5. "The pilot must set up the show's conflict for the entire first season and yet end on an up note while keeping the characters believable."
Ms. Harris-Lawrence says that "Too many shows are dropped in the beginning before they can get traction. HBO keeps up talk after the first episode" which helps the show. She likes to see if what she is hearing is a three or five season show. "The writing room needs to feel safe and that the writers can share anything." Even with breaking the story and several weeks, you might have only a week and half to do the script.
Mr. Schlossberg felt that with Netflix there is now more serialized storytelling, though he prefers the weekly model. Also, with Netflix the film can be more brutal ala When They See Us. "Ava couldn't have done it anywhere but on Netflix." The intent, he said, is always to create a great room and a streat story.
Another point made by the panel was to make sure the cast and crew's needs on the set – not just physical but emotional, as well – were met. One company used an intimacy coordinator to ensure not only safety but comfort especially during sensitive scenes, especially anything sexual or violent. Protect your crew and give them an opportunity to express their feelings.
5 THINGS EVERY PRODUCER CAN DO TO PROTECT THEIR CONTENT was sponsored by Box and featured Ted Gagliano – President of Feature Post Production from 20th Century Fox; and Phil Lieberman – Cybersecurity Expert from In Stealth Mode. The moderator was Jade McQueen, Managing Director of Media & Entertainment from Box. Keeping track of where their material is sent to as well as copyrighting it officially with the US copyright office and not with Writer's Guild (which really can do little to protect you in court) is something that most producers and writers forget about.
Next choices included –
THE STREAMERS:MEET THE BUYERS that was sponsored by General Motors and featured Agnes Chu – SVP Content of Disney; Craig Erwich – SVP Content of Hulu; Vernon Sanders – Co-Head of Television from Amazon Studios; and Michael Wright– President of EPIX. The session was moderated by Chris Thomas, VP Marketing Strategy from ABC Studios. The audience was packed as these top buyers shared their insights on their future plans. Ms. Chu indicated that the new Disney +streaming service will be family friendly and that Marvel will lead the way with several superhero spin-off series.
REPRESENTATION FOR EVERYONE: WHY IT MAKES SENSE NOW MORE THAN EVER was sponsored by Freeform and featured Steven Canals known for Pose and Dead of Summer; Leila Jarman – creative Director for Women's Voices Now; Lori McCreary – CEO & Co-Founder of Revelations Entertainment and known for Madam Secretary and Story of God; Tricia Melton – SVP of Marketing for Freeform; Scott Silveri – Creator & Executive Producer known for Speechless. The event was moderated by Lucy Fisher, President of the Producers Guild of America and Partner of Red Wagon Entertainment and known for The Great Gatsby and Divergent series. Ms. Fisher encouraged producers to take responsibility and pride in bringing new voices to the table. "We have to own these problems. We can make the biggest difference; we can find the people that we don't know."
Ms. Melton voiced that culture is driving us and it's moving fast and that makes the stories told more personal. "That's the power that we have in our industry –to make it (the stories) personal."
Saving the last for least I truly enjoyed the session – 360 PROFILE:WHEN THEY SEE US – that featured Ava DuVernay – Founder/President the Forward Movement and Array Now and known for When They See Us and Queen Sugar; Cindy Holland – VP Original Content of Netflix; Jonathan King, President for Narrative Film &TV of Participant Media and known for When They See Us and Roma; Jane Rosenthal – Founder/CEO and Barry Welsh, SVP for Production and Development both from Tribeca Productions and known for When They Us, The Irishman. Moderator for this was Franklin Leonard, Founder and CEO of The Black List.
Ripped from their normal teen lives – having planned to play the trumpet or become baseball players or other dreams of young men – the doors in 1989 were slammed in the face of these boys despite there being no DNA and no other physical evidence to convict them. Only the massaged taped confessions – done without their parents or legal representation – condemned them. Some of them, like Anton McCray, have never been able to overcome the grief and angst of what they had faced. He feels no redemption from the injustice. Young Kharey Wise had the worse of it. He had gone along merely to be a friend to Yusef with his arrest and wound up being the one the prosecutors focused on. While the other boys went on to Juvenile hall, Kharey, at the age of 16, went directly to Rikers and had to fight to defend himself constantly. Since rape was a top crime – almost as bad as child molestation – the inmates there had already planned how they were going to torment the boy and make his life difficult. None of the others – Kevin Richardson, Raymond Santana, or Yusef Salaam – knew that Kharey had it as bad as he had.
Ava DuVernay had started the story as a feature film but after doing all the research she realized it was a mini-series. She had been at a cocktail party when Raymond texted her in 2015 asking her what she was doing after Selma. It was he who introduced her to the other men…and then she approached Jonathan King.
The writers dug not only into court and police transcripts but also items given to them anonymously. They interviewed over 89 people for the story. Some of the material written never appeared in the film. "Netflix was wonderful to work with." They trusted her to do the story unrestrained and gave her no notes.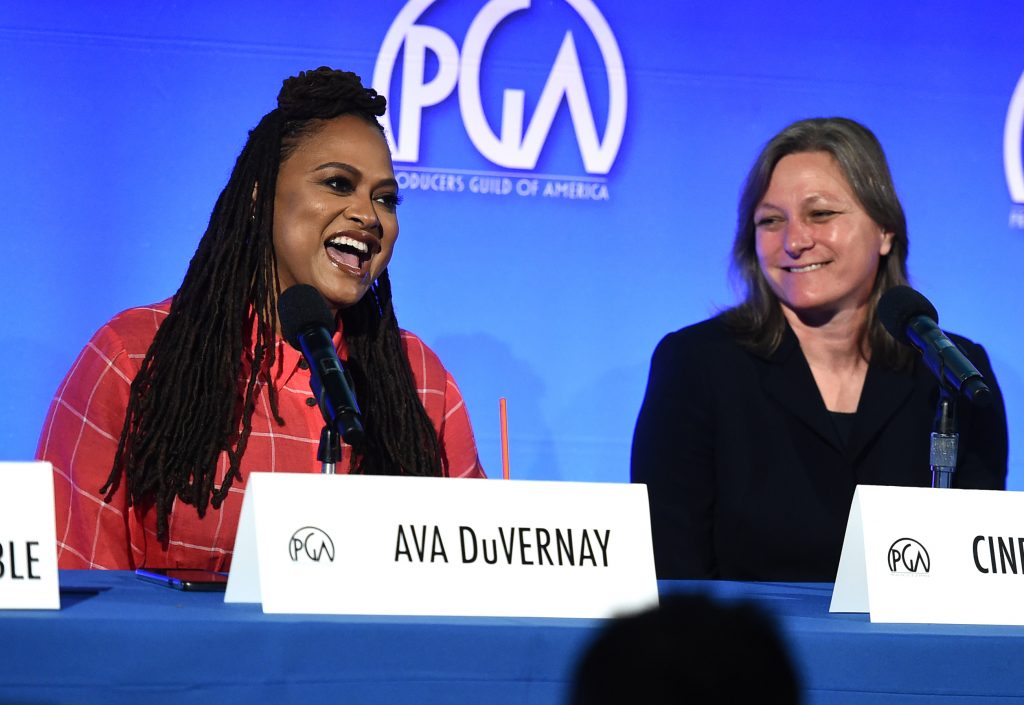 Part of the effect of this story came from the human drama – the backstories of the men's families and how they dealt with things – their anger, shame and difficulty in surviving on their own. Despite the time lapse, the actress who played Korey's mom could still hear the anger residue in the woman's voice – and rightly so. How does it feel to be unjustly arrested as a black person? And after, even though you are innocent, you cannot get a proper job or live as a full citizen since the echo of the crime follows you. To Jane Rosenthal, it was important to show what happened to the boys as they became men and the effect on their families. "The intention was to bring people to the experience of what the boys went through." But because of the difficult material, they made sure mental health was available to all 24/7.
Jonathan King says that "The movie challenges all our ideas and who we are as a society."
One of the men said that he is constantly aware that his freedom can be taken away at any moment. Hearing the word "guilty" echo through the courtroom, the floor fell out beneath them. Be it 5 or 15 years of hell for them, life as they knew it, life as they had hoped it would be for them, was over. And the actor who played the role of Aton's father – who had convinced him to lie hoping that it would make things go away – said that he had been so acutely aware of the events at the time that he even changed the way he dressed and the way he did things – not wanting to be associated with the men. No one knew anything but what the news told them and that the boys had "confessed" (thou no one really knew or understand at the time how they had been forced.) When hearing about the man who finally confessed, they feared that the prosecutors would still forget about them and just claim that the real criminal would just be a 6th man.
In a recent interview the men agreed that the main prosecutor, Linda Fairstein, was one of the main people behind their arrest, conviction and horrific events that followed them. While she was "doing her job" there many times when she could have taken a step back and looked at what was really going on. In the movie, she believed that Korey "was the glue. We'll make sure Korey knows where he was." Apparently over 40 young men had been interviewed. No DNA, no physical evidence linked any of them and especially not these 5 young men to the raped jogger, yet Linda pushed on. She could have backed down and admitted she was making a mistake at any time but apparently the momentum and the thrill of getting a notch in her belt propelled her forward. Even today, she calls the movie a "pack of lies" and refused to talk to the writers if they insisted on talking with the wrongly convicted, but has been since forced to resign from several boards she was on and has been dropped by her publisher as a mystery writer.
This became the biggest cast that Ms. DuVernay has dealt with and took over 4 years to accomplish. She stressed that film is a family and a collaboration of all departments. Reaching 190 countries, the mini-series quickly rose to the top of the charts.
NYC now is not the same as NYC 1989, but many things still have not changed.
What can we do now? Be aware and work toward justice. We must change the world around us. As father's they tell their sons when presented with the police "Don't say anything. Wait for me. Ask for an attorney."
Among the conference sponsors were Delta Air Lines; General Motors; A+E Studios; Blackmagic Design; Box; Branded Entertainment Network (BEN); CallPlease; Cast & Crew; Coca-Cola; Cherry Picks; Don Francisco's Coffee; Endcrawl; Fetzer; Film in Illinois; Film Sakartvelo; Film US Virgin Islands; Final Draft; Florida Office of Film & Entertainment; Freeform; GreenSlate; Heineken; Honolulu Film Office; Imagecraft; Equipment Rentals; KIND; Light Iron; Marriott Bonvoy; Massachusetts Film Office; Microsoft; Netflix; Panavision; PRG VER; Produce Iowa; The Royal Film Commission – Jordan; SAG-AFTRA; SAGindie; The Skoll Center for Social Impact Entertainment at UCLA School of Theater, Film, and Television; SmartSource, SunTrust Robinson Humphrey; The Switch; TM Digital Onboarding; and William Grant & Sons. Sunshine Sachs did the public relations.
Hope to see you again next year!