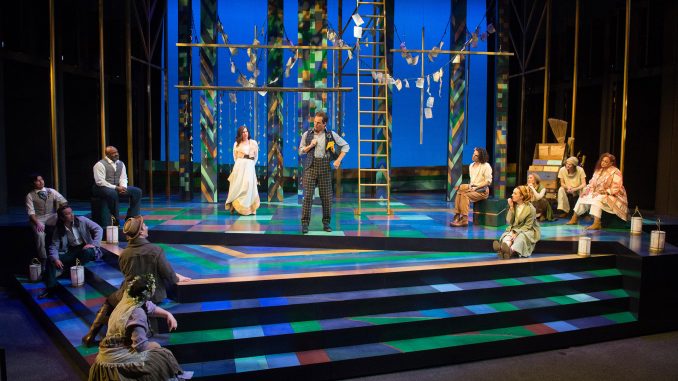 Kudos to San Francisco's Pocket Opera and Ashland's Oregon Shakespeare Festival
The search for love and equality in human relationships, a universal theme of life and literature, unite Shakespeare and Offenbach. The fluidity of gender is the theme of As You Like It, with characters assuming cross gender persona not as mere disguises but as enacted identities, whereas in Tales of Hoffman, rigid roles create heartache and frustration. A massed phalanx of performers sweep across the stage drawing the audience into a complex multi variable gender bending tale of Rousseauean return to nature and redemption. When Shakespeare says we all play many roles, the interpretive emphasis is that we all play many gender roles, male, female and permutations of same, simultaneously and successively, with varying degrees of playfulness and seriousness. Indeed, the very deepest meaning of the play's title that is no play at all but a matter of fundamental humanity.
Tales of Hoffman
The Pocket Opera's magnificent performance of Offenbach Tales of Hoffmann awed and enlightened. Awed to find a "pocket" opera performance group whose name connotes diminutive scale and ambition performing at the high end of chamber opera, indeed reaching the power and impact of grand opera when the massed voices of no more than a dozen deliver a stirring performance.  Rabihah Dunni is a stand-out as Giuletta, a powerful female presence while Chelsea Hollow as Olympia, an early 19th century female automaton is a balletic vision. The hapless Hoffman, a poet cycling through a series of romantic and quasi romantic relationships with a "fake" woman, an erstwhile daughter and a peer who overwhelms his presence and reduces him to the diminutive persona that is is fate.  Hoffman is something of an "automaton" himself, set in motion at the outset of the performance by his muse and caught and retrieved at the close of the performance when she re-reveals herself.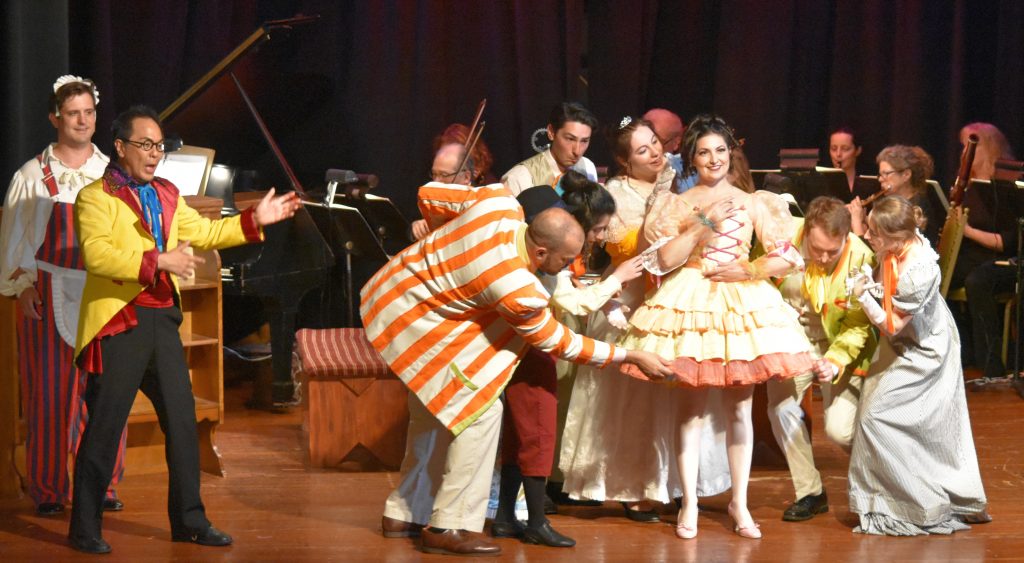 Tales of Hoffmann begins and ends in a Nuremberg "winestube" or bar, more than suggesting an ethos of "wine women and song" but beneath the text there is a serious subtext of gender inequality. It cannot be said that Offenbach is a critic of traditional gender roles of female subservience. Indeed, in Hoffman's expression, asking his putative love to give up her career in favor of a traditional female marital role, classic gender stereotypes are upheld, even glorified. Nevertheless, powerful female performances, the hallmark of the pocket production, override mere words with vocal expression that transcends the meanings expressed. Pocket Opera sings above its niche, rivaling it's larger, better funded, regional operatic cousins in beauty of  vocal interpretation and clarity of performance.  Look out for Barber of Seville, upcoming 14-21-28 July)
Institutionalizing Cultural Ventures
San Francisco's Pocket Opera and Ashland's Shakespeare Festival have well more than a century of performance history between them. These two long-standing, indeed iconic, West Coast performing arts organizations share a dedication to translation of a classic European repertoire into an American context. The Ashland Festival, founded in the 1930's, while continuing its dedication to the Bard champions contemporary playwrights as well. Founded in 1977a fter a quarter century predecessor history of concerts, Pocket focuses upon the less often performed as well as the well familiar chamber operatic repertoire in English translation, its hallmark accomplishment that it makes available to other groups. As it happens, the Ashland Festival is currently engaged in translating Shakespeare into contemporary English, with a similar objective of enhancing accessibility.
Pocket and Ashland exemplify a broad and deep bench of regional performing arts organizations, at various stages of development, maintaining an identity and purpose. Some, like TheatreWorks. Silicon Valley, have original founders still active, while others, like the Ashland Festival, Lamplighters and San Jose Opera have accomplished a leadership succession, with Pocket in transition as its inspirational founder takes emeritus status. Both Pocket and Ashland benefited from government support, as a necessary but not sufficient condition of survival and growth. The Ashland' Festival's initial theatre was built by the Roosevelt era federal Works Progress Administration on the old Chautauqua site and received a US Economic Development Administration grant in the 60's for its first all year round theatre as well as local support from municipal parking revenues. Pocket received early support from a California Arts Council grant in support of its operational budget.
.Both companies share in common an origin history within a deep local cultural substrate, Ashland from  the town's 19th  century Chautauqua tradition and Pocket in San Francisco's post war avante garde cultural scene,  exemplified by the Hungry I and Old Spaghetti Factory. The Ashland Festival grew out of a town-gown collaboration between then Oregon State Teachers College (now Southern Oregon University) and  a local civic club. Both performance groups had charismatic founders, in the classic sense of inspiring belief in a project vision rather than individual persona. Angus Bowmer, an English and drama teacher and Donald Pippin, an accompanist cum conductor, who created arts organizations to be able to practice their respective crafts as well as accomplish broader creative goals.
Photos: Courtesy of Pocket Opera and as otherwise specified
More information on the Ashland Oregon Shakespeare Festival.
More information about Pocket Opera.