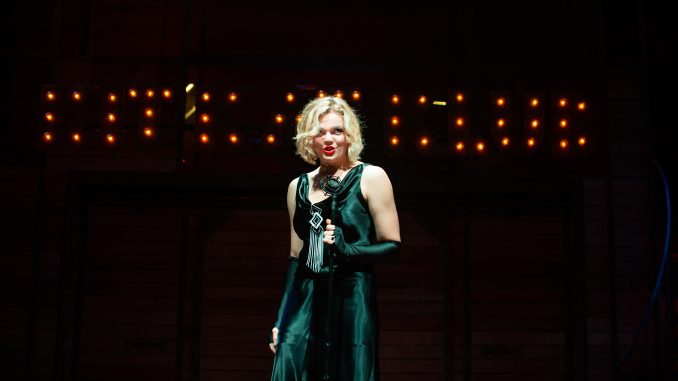 CABARET is the Tony Award Winning Musical, now titillating audiences at the San Francisco Playhouse.
The Kit Kat Klub's biggest star Sally Bowles, played ravishingly by Cate Hayman, is fired by her boyfriend/lover Max and steals her way into Clifford Bradshaw's heart, and apartment, with nowhere else to go. Atticus Shaindlin plays Cliff, an American aspiring novelist who has come to Berlin New Years Eve, 1929.  
John Paul Gonzalez is our delightful, and foreboding, Master of Ceremonies and guides us through Sally and Cliff's risqué filled romance along with the characters of Kit Kat Klub and Berlin. Sally and Cliff's Landlady is Fraulein Schneider, Jennie Brick, who strikes up a doomed romance with her elderly suitor Herr Schultz, Louis Parnell. Herr Schultz is only a fruit vendor who has fallen in love with the Fraulein. The elderly couple's romance seems cute at first, juxtaposed with Sally and Cliff's whirlwind fling of sex and booze at the Kit Kat Klub.  
The cast of performers were all truly wonderful; I was knocked out by Cate Hayman's performance, and vocals, as Sally Bowles. Cate Hayman is easy on the eyes with legs to heaven. Her voice is like a fine whiskey; Smooth as velvet going down, only to knock you on-your-ass with that last belt. Watch out Liza Minnelli, there is a new Sally Bowles in town!  
We come to see the Kit Kat Klub as a character as well as a place: Modeled after the infamous `Resident-Casino,' "The Resi," in the Weimar Republic (Germany's Government 1918-1933). The Kit Kat Klub as well as Cabaret's overseer and Master of Ceremonies stand in as the operative for the ominous political and intimately immoral developments in late Weimar Germany.
Seemingly unaware of the economic collapse of the world around them, artists and aristocrats flocked to seedy nightlife's scene at `The Resi,' aka The Kit Kat Klub. All this decadence and gluttony creates a delicious visual and musical potpourri for which Director Susi Damilano weaves into a beautiful, yet ultimately dark story.
The classic opening number, "Wilkommen" is performed by John Paul Gonzalez, our Master of Ceremonies, along with the Kit Kat dancers; it's an erotically stimulating romp full of verve and pomp, starting everyone's juices flowing for the evening.
Cate Hayman's poignant renditions of "Maybe This Time" in the First Act, is a show stopper, along with her mesmerizing performance and vocals of "Cabaret" at the end of the second act, which leaves the audience spellbound and wanting more.
Fifty years later this Tony Award winning musical remains tearfully prophetic, contrasting the gluttony and financial collapse of society with the Nazi's and the ultra-nationalism that followed. "Today, as the last of the Holocaust survivors are passing, it feels more important than ever to revisit this great story. We must never forget and always stand watch against the power of ultra-nationalist hatred [working] to take away [all of] our human rights," said Bill English, the Artistic Director.
The San Francisco Playhouse was founded by Bill English and Susi Damilano as a non-profit organization in 2003. It is a sublimely intimate venue committed to providing a creative home and inspiring environment where actors, directors, writers, designers, and theater lovers converge to create and enjoy work that celebrates the human spirit.
Located in the heart of the Union Square Theater District, the San Francisco Playhouse is the city's Off-Broadway company, an intimate alternative to the larger more traditional Union Square theater fare. The San Francisco Playhouse provides audiences the opportunity to experience professional theater with top-notch actors and world-class design in a setting where they are close to the action. I was impressed with the quality of the lighting and the sound, kudos to Michael Oesch, Lighting, and Teddy Hulsker, Sound, Designers.
The intimacy of the San Francisco Playhouse provides an up-close perspective to each actor's performance. You are right there with them, seeing every move, every expression, and feeling their pain and sharing the electricity of the Kit Kat Klub's debauchery. The costuming was deliciously sexy and would make Bob Fosse blush, thanks to Abra Berman.  
Another great touch is the On-Stage seating which is part of the VIP Experience and definitely worth checking out. Audience members are seated On-Stage and become a part of the Play, as Patrons of the Kit Kat Klub.
Cabaret has been produced worldwide, theatrically as well as on film. This San Francisco Playhouse production was directed by Susi Damilano, with Music Direction by Dave Dobrusky and Choreographed by Nicole Helfer. Music by John Kander and Lyrics by Fred Ebb. Original books and plays by Joe Masteroff (Book), John Van Druten (Playwright), and Christopher Isherwood (novelist).
Other members of the wonderfully salacious Cast includes: Melissa WolfKlain, Loreigna Sinclair, Mary Kalita, Jean-Paul Jones, Zoe Swenson-Graham, Carlos Guerrero, Zachary Isen, Will Springhorn Jr., Abby Haug, Leslie Thomas, and Samuel Vernick.
San Francisco Playhouse's production of Cabaret is made possible by executive producer Robert Hulteng; producers Samuel and Sharon Muir & Morgan and Michael Callahan; and associate producers Anne and Martin Roher, Wayne Bryan and Dick Bufania, Elizabeth Werter and Henry Trevor, Vicki and David Fleishacker, Carol and Duff Nusinow Kurland; and artistic underwriters Richard Andersen and Ursula Schorn, Fred Karren, Jackie and Richard Mayer, Larry Russo, Samuel Test, and Joan C. Zinner.
When: Now through Sept 14, 2019
Where: San Francisco Playhouse – 450 Post Street, 2nd Floor of the Kensington Park Hotel
Show Schedule: Tu, Wed, Thur, and Sunday 7 pm, Fri & Sat 8 pm, Matinees: Sat 3 pm and Sun 2 pm
Tickets run $35 – $125, check the website for tickets and more information. There are parking lots nearby and at Union Square. Rates vary.
Connect with me, Greg Autry, on Instagram @gregautry.cga, and on Facebook Facebook.com/GregAutryPhoto .
*Photos courtesy of The San Francisco Playhouse
photographed by Jessica Palopoli