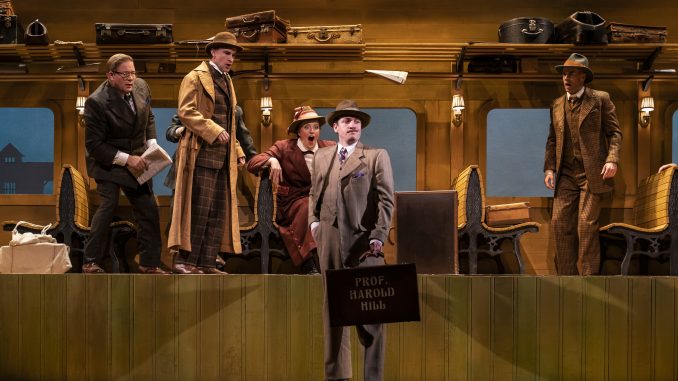 Goodman Theatre, 170 N. Dearborn, Chicago, closes out its 2018/2019 Season with a major revival of The Music Man, already extended twice by popular demand through August 18, 2019. Written by Meredith Willson, based on the story by Willson and Franklin Lacey, the production is directed by Tony Award-winner Mary Zimmerman, for 25 years the Goodman's Manilow Resident Director. 
The Music Man is a quintessentially American play, possibly the greatest of the golden era for the genre, opening on Broadway in 1957 with Robert Preston in the lead role of Professor Harold Hill, which he performed almost 900 times before starring in the film version with Shirley Jones, 1962.
Hill is a grifter and traveling salesman who navigates by train throughout the country, promising to give small towns a marching band, but instead bilking them out of their money for uniforms and instruments, then leaving them cold. Hill, played by Geoff Packard, is also a roué who loves 'em and leaves 'em in every town, looking for "the sadder but wiser girl". In River City, Iowa, however, he gets caught, falling in love with librarian/music teacher Marian Paroo, here played by Monica West, whose lustrous voice rings out like a carillon, particularly in the beloved and poignant songs Till There Was You and Goodnight, My Someone.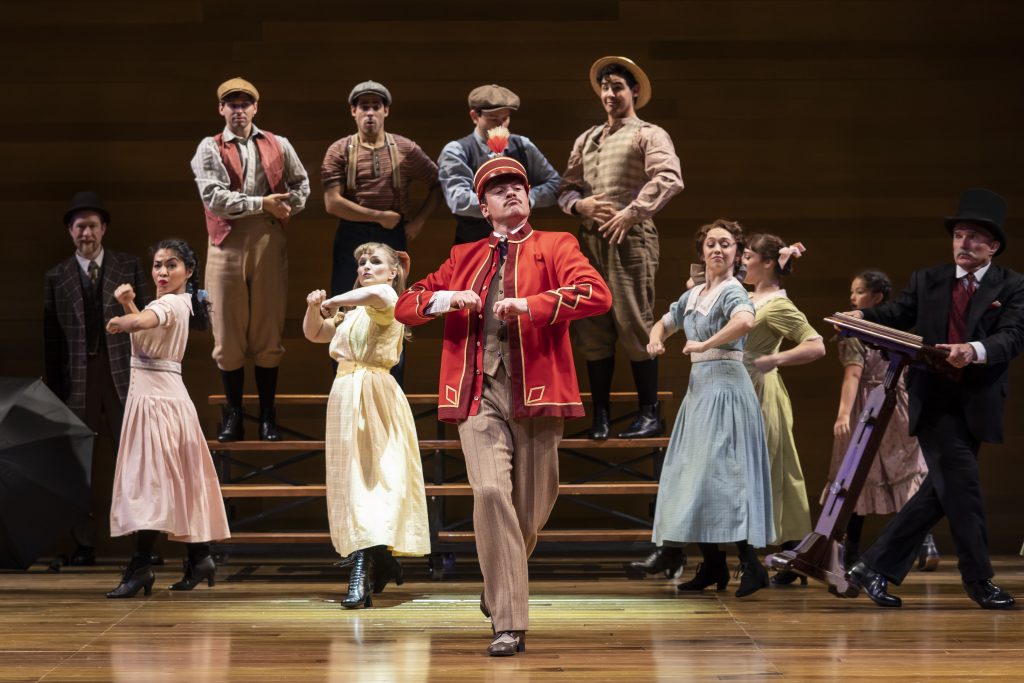 The idea of the admirable or lovable confidence (or con) man/woman is one that has been treated in American film for decades- consider The Sting 1973, The Grifters 1990, and The Hustle 2013, just to name a few. "Reality is what we take to be true", said physicist David Bohm in a 1977 lecture, "What we take to be true is what we believe…What we believe determines what we take to be true". It seems we are mesmerized by the concept of crook/masterminds of reality manipulation preying on the propensity for believing what we wish were true. 
We also appear to be fascinated by the idea of the "good" woman who can overcome the diabolical nature of the trickster, possibly because we are addicted as a culture to the notion (the paradox?) of romance: is the person we fall in love with really the person of our dreams?! In The Music Man, we are given a hero who not only is a dedicated con, and wins the female lead, but is won over by her AND by the people he deceives, who forgive him. At the end, of course, his fantasy band even becomes a reality.
 In the current Goodman revival, the stagecraft is absolutely delightful, creating a tongue-in-cheek vision of small town Americana that matched up perfectly with the cornpone lyrics, Hoosier accents and very quick yet perfectly enunciated dialogue. The opener, Rock Island, was an immediate pacesetter, with numerous salesmen bobbing and weaving to the movement, while chatting about how hard it was to sell in Iowa. They also swap stories about the scandalous Harold Hill- he doesn't know the territory! – in a rap-infused syncopated form of elocution.
Other especially memorable scenes are the Pick-a-Little, Talk-a-Little numbers, both initially and in reprise, a lot of fun to watch and hear, as the town gossips pick apart Marian's reputation. Ya Got Trouble was vastly entertaining, the oh-so-slick lyrics cascading from Professor Hill, and in call and response from the people of River City. Similarly, Marian the Librarian was a carefully choreographed and exciting scene of ensemble soft shoe footwork and broad physical comedy. 
Indeed, the pitch and timing of the entire performance is high quality and spot-on; it flowed with bounce and spirit. The costumes matched in exuberance the scenery; in particular, The Wells Fargo Wagon's moving backdrop of horse drawn carriage set the audience into gales of appreciative laughter. Even the silly square dance sounding Shipoopi and the extravagantly harmonizing barbershop quartets were delivered in a finely calibrated effort to stick to the original epic while making fun of the characters and their mores.  By the end, the Sousa march 76 Trombones found a cheering response from the sold out and won over crowd.
The only aspect of this casting that could have been improved upon involved the lack of sex appeal between the two stars, a matter that would've been a serious flaw in a serious drama, but really didn't spoil the sense of the whole, given all the other satisfying and heartwarming interactions/relationships, such as those between the Paroo family members, and of course, the endearingly zany Shinn family dynamics which helped fuel the plot. It's a great show; don't miss it!
Featuring Sophie Ackerman (Amaryllis Squires), Jonathan Butler-Duplessis (Marcellus Washburn), Lillian Castillo (Ethel Toffelmier), Matt Crowle (Charlie Cowell), Danielle Davis (Mrs. Squires), Mary Ernster (Mrs. Paroo), Kelly Felthous (Zaneeta Shinn), Carter Graf (Winthrop Paroo), Nicole Michelle Haskins (Alma Hix), Jeremy Peter Johnson (Oliver Hix), Christopher Kale Jones (Jacey Squires), Heidi Kettenring (Eulalie Mackecknie Shinn), James Konicek (Olin Britt), Milla Liss (Gracie Shinn), Ron E. Rains (Mayor Shinn), Tommy Rivera-Vega (Tommy Djilas), Jonathan Schwart (Ewart Dunlop), Bri Sudia (Maud Dunlop) and George Andrew Wolff (Constable Locke). Ensemble members include Cooper Carlisle, Matt Casey, Alejandro Fonseca, Anya Haverfield, Sammy Menapace, Zach Porter, Laura Savage, Adrienne Storrs and Ayana Strutz. 
Kudos to the design team, including sparkling set design by Dan Ostling; superb costume (those hats!) design by Ana Kuzmanic; truly inspired multi-colored lighting design by T.J. Gerckens; scintillating group choreography by Denis Jones;  and worthy sound design by Ray Nardelli. Under Jermaine Hill's dynamic direction, the 11-member orchestra  featuring three trumpeters, four reed players, one violinist, a bassist, a drummer and a pianist, perform 30 +songs well in tune and with on point stops and starts.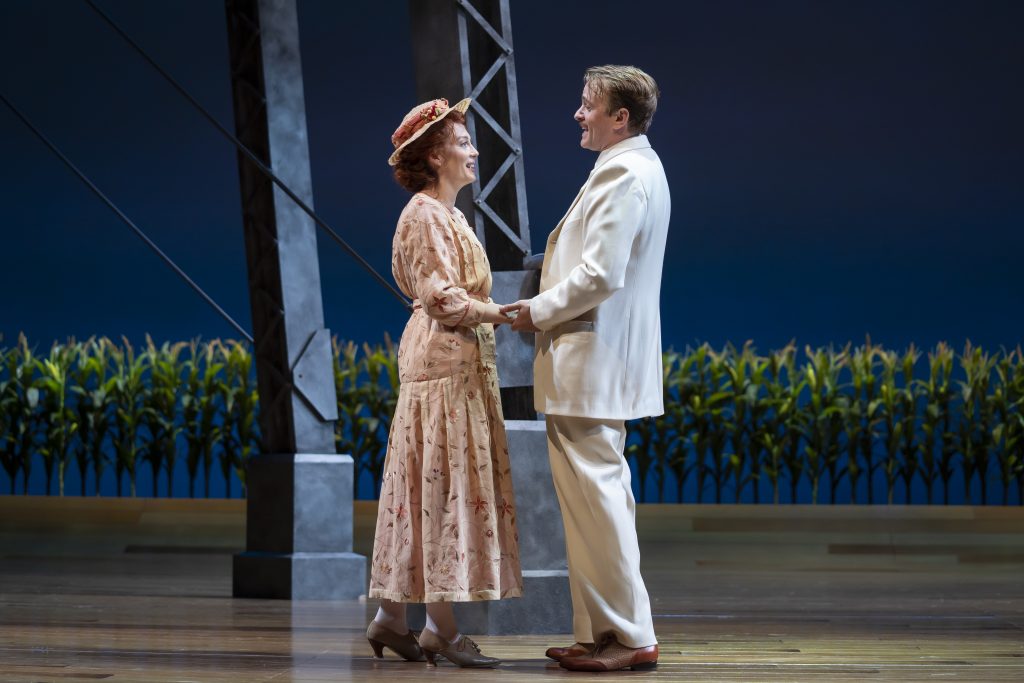 The Music Man appears at Goodman Theatre from June 29 to August 18, 2019, in the 856-seat Albert Theatre. Tickets ($45 – $142; subject to change) are available at GoodmanTheatre.org/MusicMan, by phone at 312.443.3800 or at the box office (170 North Dearborn). 
All photos by Liz Lauren